The Hunt For Ted Kaczynski Is Officially On In This Week's 'Manhunt: Unabomber'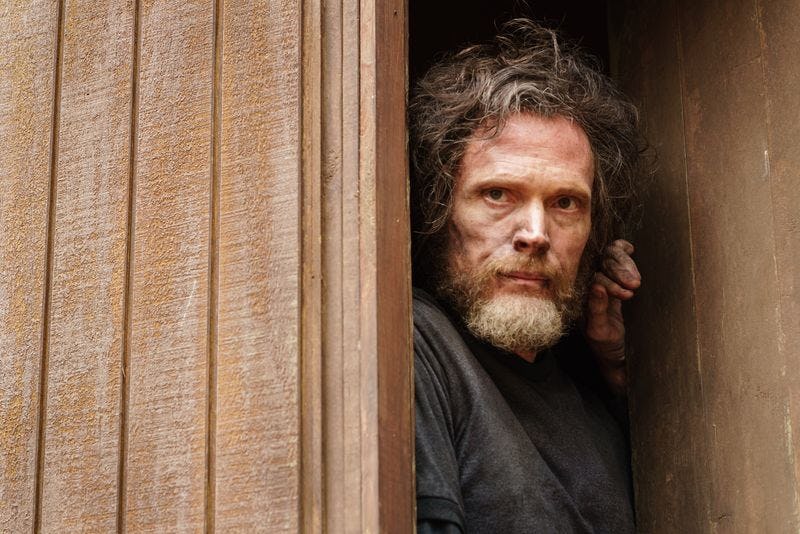 Discovery
Amidst the true crime sea that has recently flooded onto television screens everywhere, Discovery Channel's eight-part limited series, Manhunt: Unabomber takes a new deep dive into an infamous case that spans decades and changed criminal profiling forever. As seen in the below exclusive clip from Tuesday's Manhunt: Unabomber (airing at 10 p.m. ET on Discovery), FBI agent and brilliant criminal profiler James "Fitz" Fitzgerald, played by Sam Worthington uses Ted Kaczynski's own writing to narrow down his true identity. Fitzgerald's profiling skills aided in Kaczynski's capture at his tiny cabin in the Montana wilderness. So, what happened to the Unabomber's cabin? First off, since Kaczynski is serving a life sentence in prison after he plead guilty to 16 bombings that killed three people and injured dozens, he never gets to live in that cabin again.
CNN reported back in 2003 that the one-room shack would be destroyed at Kaczynski's request and in order to provide closure for the victim's families. Later in that same year, CNN reported that the cabin would actually not be destroyed, as the ownership had been transferred from Kaczynski to an unnamed female investigator on the case, who seemingly changed her mind about the demolition. Today the cabin is part of an exhibit at the Newseum in Washington, D.C. called "Inside Today's FBI."
Now, in this exclusive clip from Tuesday's episode of Manhunt: Unabomber, watch as Fitzgerald links Kaczynski's lifestyle to the Unabomber's beliefs. Fitz cites Kaczynski's off-the-grid living situation in his Montana cabin and his clear repulsion from modern technology as running themes from the Unabomber's "manifesto," brining his criminal profile full circle and finally determining an accurate suspect.
Watch the rest of the episode Aug. 22 at 10 p.m. on Discovery Channel to see the hunt for Kaczynski reach new heights.