Don't Encourage Nicki Minaj & Remy Ma's Feud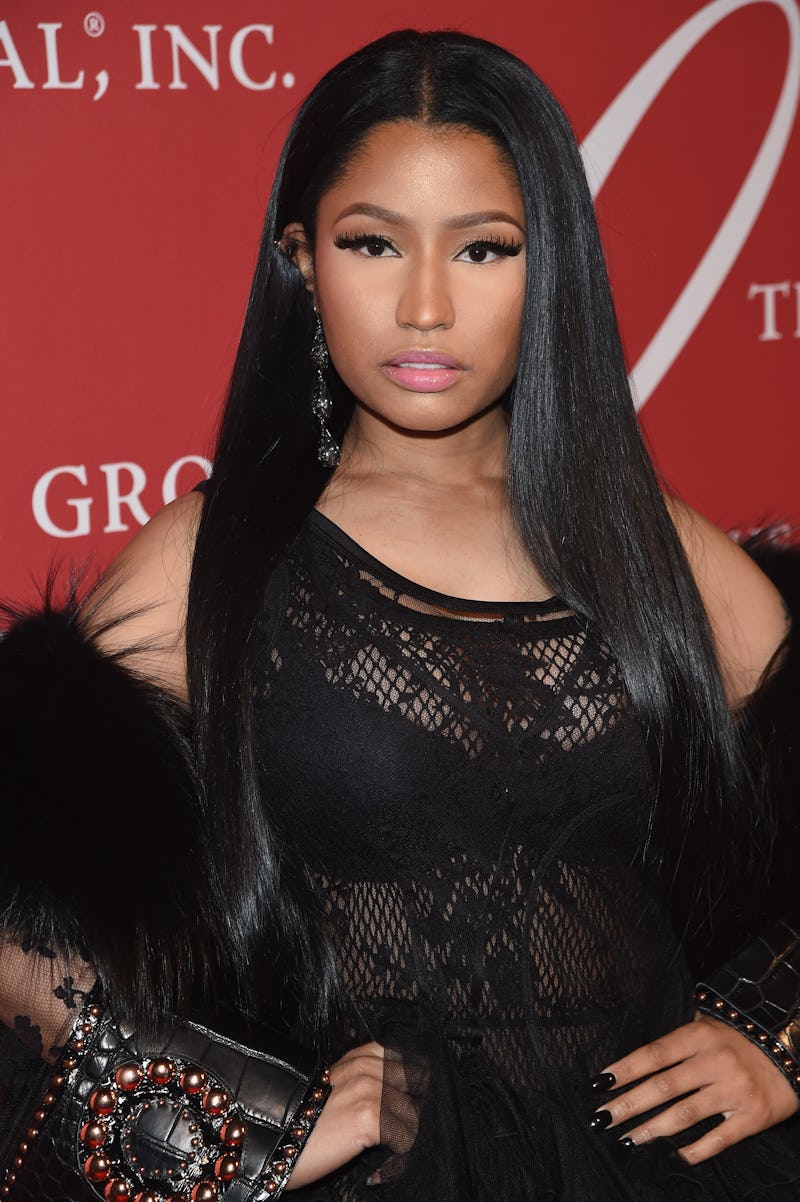 Jamie McCarthy/Getty Images Entertainment/Getty Images
There is a new celebrity feud brewing, and to be honest, it's bumming me out. Music fans are busy asking what happened with Nicki Minaj and Remy Ma to cause the rappers to engage in supposed diss tracks and social media feuds, but the Twitterverse is also busy pitting them against one another. That's just not cool, guys.
While it's hard to say how far back the feud goes, it appears Minaj and Remy Ma's dispute is at least in part inspired by the women comparing their levels of success. According to Pitchfork, Minaj allegedly released the first diss track with Gucci Mane entitled, "Make Love." The track features the following lyrics which may be aimed at Remy Ma:
"You see, silly rabbit, to be the queen of rap / You gotta sell records, you gotta get plaques."
Remy Ma quickly fired back with a tweet featuring a dismembered Barbie doll with pink hair (Minaj's fans are called Barbies), and a nearly seven-minute long track called "ShETHER." In her track, Remy Ma blasted Minaj for allegedly comparing herself to Jay Z, and more. The public feud is only being encouraged by Twitter, where fans are taking sides and ensuring the beef continues.
Pitting these two talented women against one another is not helping anyone. Both rappers have passionate fanbases, and they are absolutely dominating in a musical field usually known for its male artists. Fans cannot make Minaj and Remy Ma suddenly start being besties simply by ignoring their heated exchanges on social media, but they can resist the urge to fan the flames.
No one wins when women feud with each other. Just because you are a woman that doesn't mean you are contractually obligated to like, or even support, every other woman on the planet. However, encouraging a disagreement between two female rappers online is just not a productive way for anyone to spend their valuable time. The best approach is the one the incredible Issa Rae is taking. In a tweet, she advised Minaj not to "Meek this up." The Insecure creator was likely referring to the Meek Mill and Drake feud that led to a great deal of embarrassment for both artists in the long run.
Continuing to air their grievances in public is only going to do more harm than good. There is way too much hate in the world as it is. Minaj and Remy Ma may not be able to agree on much right now, but their fans can at least agree these two gifted artists would be better off spending their time making incredible music than tearing each other down.
As tempting as it is to watch the social media feud continue on Twitter, adding to the hate only perpetuates it. Stop escalating the drama, and let's hope these two artists find a way to move past their disagreements.
Editor's Note: After the publication of this post, we published two counter pieces, Why The Nick Minaj & Remy Ma Beef Is A Good Thing For Women In Hip Hop and Remy Ma & Nicki Minaj's Beef Is Just What The Black Community Needs Right Now. A previous version of this story incorrectly referred to "Gucci Mane" as "Gucci Main." We regret the error.