Meghan & Harry's Wedding Plans Will Change In One Major Way If It Rains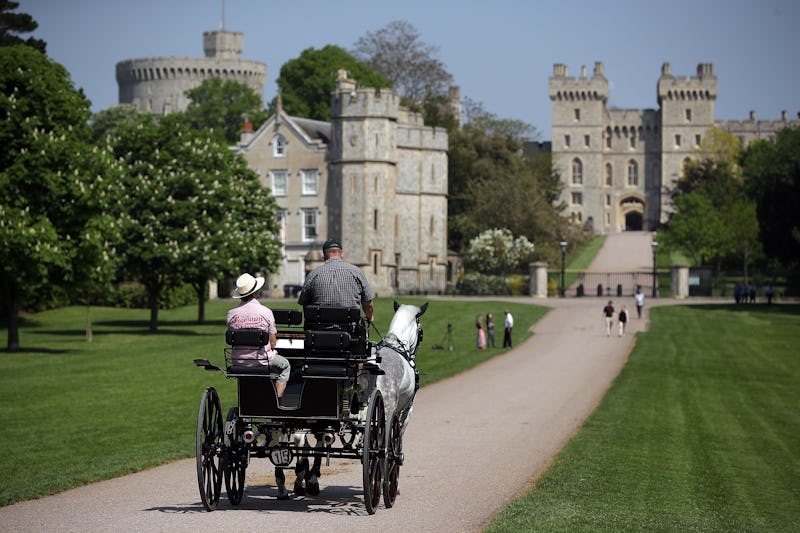 Dan Kitwood/Getty Images Entertainment/Getty Images
The Royal Wedding is approaching quickly, and all the exciting plans — the ceremony at St. George Chapel, the reception at St. George Hall, the horse-drawn procession from one spot to the next — are starting to come together. But while the forecast for May 19th looks sunny and pleasant, weather is tricky across the pond, and it's possible the heavens will open up and drip water all over everyone's Philip Treacly hat. All the best BBC Masterpiece Theatre specials are full of rain and mud, after all. So what happens if it rains at the Royal Wedding?
The good news is, the majority of the wedding, which will take place at various locales at Windsor Palace, is inside. The ceremony is being held at St. George Chapel, a historic venue where Prince Charles and Camilla Parker Bowles tied the knot in 2005. After the ceremony, the wedding party will move to the reception at St. George Hall, which is also at Windsor Palace, and won't require much movement from one place to the other. Following the reception, Harry, Markle, and about 200 of their closest friends and relatives will indulge in an evening party at Frogmore House, an eight-minute drive from St. George's Hall, or a 30-minute walk, if the weather is nice.
None of those locales require much time outside, so, for the most part, wedding guests are covered, should the weather turn nasty. But there are a few caveats. For instance, Harry and Meghan are set to take part in a horse-drawn carriage wedding procession from the ceremony to the reception, so members of the public/those of us watching at home will get a glimpse of them in all their wedding finery. The carriage they've chosen, which comes from the Royal Mews, is a gorgeous Ascot Landau carriage, with red trim and an open top. (It'll be pulled by six white horses: Sir Basil, Tyrone, Plymouth, Londonderry, Milford Haven, and Storm, all of whom must be my friends immediately.)
Unfortunately, if it rains, that open top carriage won't be much fun, so Kensington Palace has made a contingency plan. "If it is raining on the day of the Royal Wedding, the Scottish State Coach will be used," Kensington Palace wrote on the official Royal website. "The Coach was commissioned in 1830 by Prince Adolphus, The Duke of Cambridge (brother of William IV and grandfather of the future Queen Mary) as a glass 'town' (i.e. enclosed) Coach. His family used it for many years, before it was sold to William Keppel, 7th Earl of Ablemarle who converted in into a semi-state Landau. In 1920 it was presented as gift to The Royal Family for Queen Mary." That carriage has a glass top, so it'll keep the couple dry for the procession.
It's pretty likely that contingency plan won't come into play. According to Accuweather, May 19 will be 63 degrees Fahrenheit in London, with times of sun and clouds. Accuweather noted earlier this week that even though England is notoriously grey and drizzly, the average amount of rainfall in London on May 19 is only about 0.05 of an inch, which means it's fairly unlikely rain will screw with Harry and Markle's very special day. And only seven percent of London's total rainfall falls in the entire month of May, which means that it's one of the less rainy months of the year.
And if it does rain, though Alanis Morisette says otherwise, rain isn't really a big deal on a wedding day. In fact, according to some cultures, rain on your wedding day is actually good luck — though seeing how in love Prince Harry and Meghan Markle are, they probably won't be needing it.