Harry & Meghan's Reception Venue Is Breathtakingly Gorgeous — And The Pictures Prove It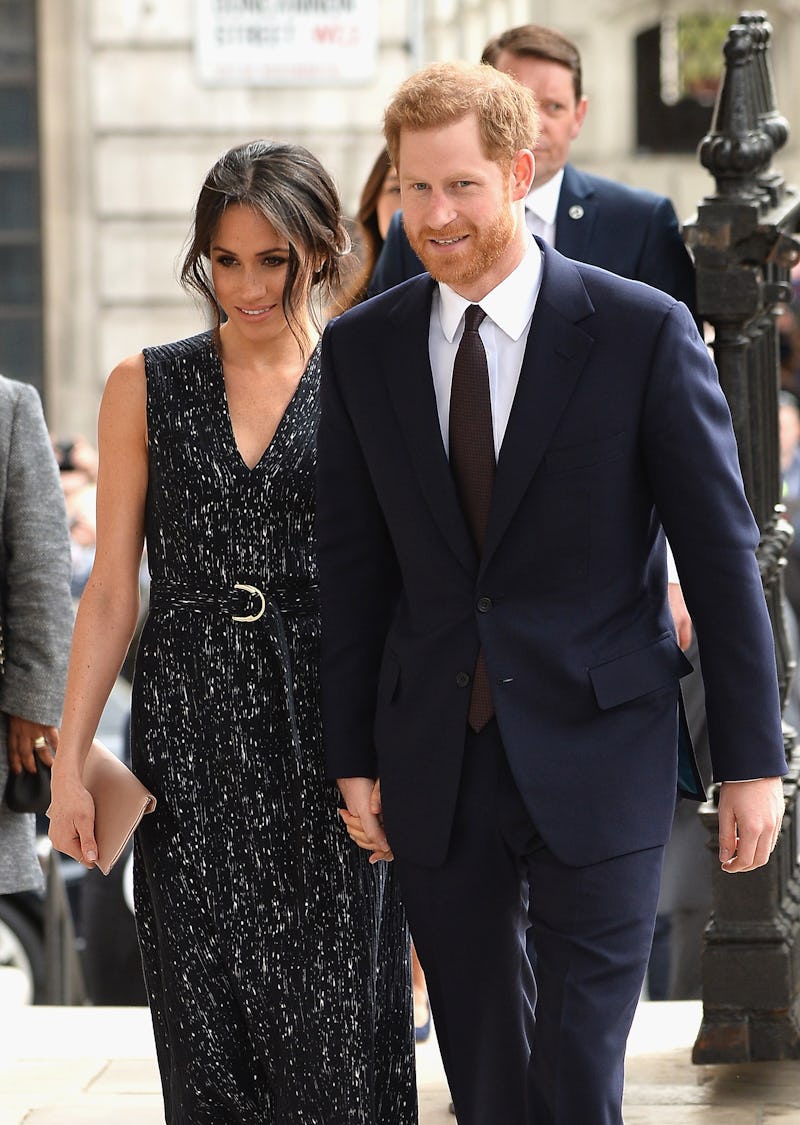 Jeff Spicer/Getty Images Entertainment/Getty Images
Prince Harry and Meghan Markle are officially tying the knot in less than THREE WEEKS, which seems wild to me — didn't she just make Dater's Handbook? Or is it that I just watched Dater's Handbook? Probably the latter. If you too are still waiting for your invitation (ANY DAY NOW!) you may be wondering where the royal wedding reception is being held. Good news: I've got the lowdown.
Harper's Bazaar has a full rundown of royal wedding details, including the date (May 19!), the ceremony start time (noon!), and how Harry and Meghan are traveling to the reception (by carriage, like Cinderella!). The ceremony itself is being held at St. George's Chapel at Windsor Castle, an 800-capacity historic venue where Prince Charles wed Camilla Parker Bowles in 2005. Other royals, including the children of Queen Victoria, have tied the knot in St. George's Chapel, as did Queen Elizabeth II's son Prince Edward, Earl of Wessex, and Peter Phillips, son of Princess Anne, per People. (Kate Middleton and Prince William wed at Westminster Abbey, a decidedly larger and more well known locale.) St. George's Chapel is also where Harry was christened, which is very cute.
The reception, meanwhile will take place at St. George's Hall — this is also located at Windsor Castle, and should not be confused with St. George's Hall in Liverpool, which genuinely threw me. Harper's says St. George's Hall is the biggest room in the royal residence, and was remodeled in a modern Gothic style following a fire in the castle in 1992, according to the Royal Collection Trust. The Hall boasts beautiful cathedral ceilings with elegant buttresses, and is decorated with shields and coats of armor, with portraits along one wall and windows on the other.
Currently, the Queen tends to use St. George's Hall to host official dinners and state visits, with far fewer folks in attendance than the 600 guests invited to Harry and Meghan's wedding — though based on the photos, it looks like the venue can squish in a few extra people.
Post-reception, Harry and Meghan will retreat to Frogmore House for a more intimate evening party, hosted by Prince Charles. Only 200 people are invited to that reception. Frogmore House was a popular weekend retreat for Queen Elizabeth II, Prince Philip, and their corgis, and is notably where Harry and Meghan took their engagement photos.
According to Britannica, Windsor Castle is located in the county of Berkshire, about 22 miles outside of London. It was built in the 11th century, not long after William the Conqueror invaded England and kicked off the royal lineage the country still follows today. It's been rebuilt a number of times, including by King Charles II after the English Civil War, as well as by King Georges III and IV in the 18th century. The Queen likes to use the castle for weekend stays.
Though Windsor Castle is lovely, and a popular tourist destination, it's a departure from some of the more grandiose wedding reception venues royals have used over the years. Kate Middleton and Prince William had their reception at Buckingham Palace, as did Prince Charles and Princess Diana, and Queen Elizabeth and Prince Philip, as I'm sure you recall from The Crown.
But Harry and Meghan are low-key royals — not that this will stop them from accepting Queen Elizabeth's wedding gift to the couple, which, if you're curious, is rumored to be an entire house. Indeed, the Herald reports that a source told them the Queen plans to bestow upon the couple York Cottage in Norfolk — which sounds like a simple home, but in fact is a bonafide manor located on the grounds of the Queen's Sandringham Estate. Remind me why I wasn't born a royal?