Here's What Happens To The 'Bachelor' Ring When There's A Break Up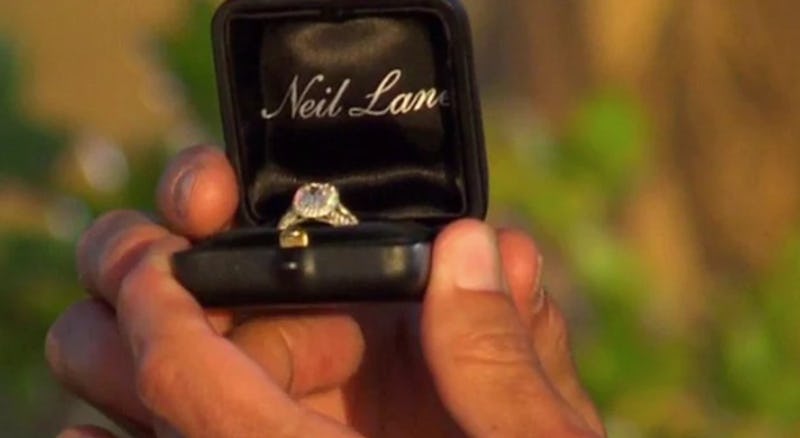 ABC
By now, any Bachelor fan worth his or her salt knows that Arie proposed to Becca on the finale of The Bachelor. But, to further complicate matters, Arie then broke up with Becca in favor of Lauren, his runner-up, leaving Becca in a metaphorical trash heap. No one said the road to love would be easy. But Arie did propose to Becca on national television, and he did slip that Neil Lane ring on her slender finger as he did it. Now that they're broken up, what happens to Becca's ring on The Bachelor?
Neil Lane has long been involved with the Bachelor franchise, and about the time he shows up to display a selection of similar-looking diamond engagement rings, you know it's the time that the show means business. Someone has to propose, and that diamond is the one that seals the deal. Interestingly enough, the Bachelor (or contestant, if this is a Bachelorette or Bachelor In Paradise situation) isn't required to pay for the ring. It's not exactly known if Neil Lane offers up the jewelry in exchange for the years and years of free advertising he's gotten from The Bachelor or if ABC pays for it, but the Bachelor does not have to lighten his wallet (probably significantly, as these are big rocks) in order to propose to his bride-to-be.
But that diamond doesn't come with the couple no matter what, and this is what will happen to Becca's ring — she'll have to give it back. According to Jesse Csincsak, who appeared on The Bachelorette and got engaged to DeAnna Pappas in 2008, "In the contract, it says if you are not together for two years after the final day of the show airing, you have to give them the ring back." I can't recall any Bachelor couple breaking up after two years, so suffice it to say that basically everyone has given back the rock. If the couple lasts longer than two years, however, they can collectively decide what to do with the ring. If the couple decides to sell it, ABC gets the first crack at buying the sparkler back, which seems fair — all of the rings look so similar to me that I wouldn't be surprised if it was just the same diamond engagement ring used over and over and over, until Chris Harrison is an old man and we all keel over watching a septuagenarian Juan Pablo Galavis on The Bachelor Season 63.
It's fair that ABC asks for the ring back, because these things are worth a pretty penny. Jef "With One F" Holm proposed to Emily Maynard with a $68,000 rock. According to Us Weekly, it had a 2.5-carat center square-cut diamond set on a pave band, making the total carat weight of the ring at 3.5 carats. Ben Flajnik's proposal to Courtney Robertson boasted an $80,000 bauble (seriously), and, according to E! Online, the biggest rock to date on The Bachelor came from Ben Higgins to Lauren Bushnell. It was a custom 4.25-carat art deco-style ring reportedly worth almost $100,000. That's some serious bling!
Becca may have to give back her ring, but she also has to pick up the pieces of her broken heart. Luckily, there is a good chance that Becca could be the next star of The Bachelorette. ABC hasn't announced its final decision as of press time, but this Bachelorette season has to be hers to lose — she just got dumped very harshly on national television. Everyone will be rooting for this woman to find love. Of course, she may have a bad taste about The Bachelor now and just choose to fade back into obscurity. Whichever Becca chooses, her hand will be just a few ounces lighter.