Kate Went Into Early Labor On 'This Is Us' — Here's What Fans Should Know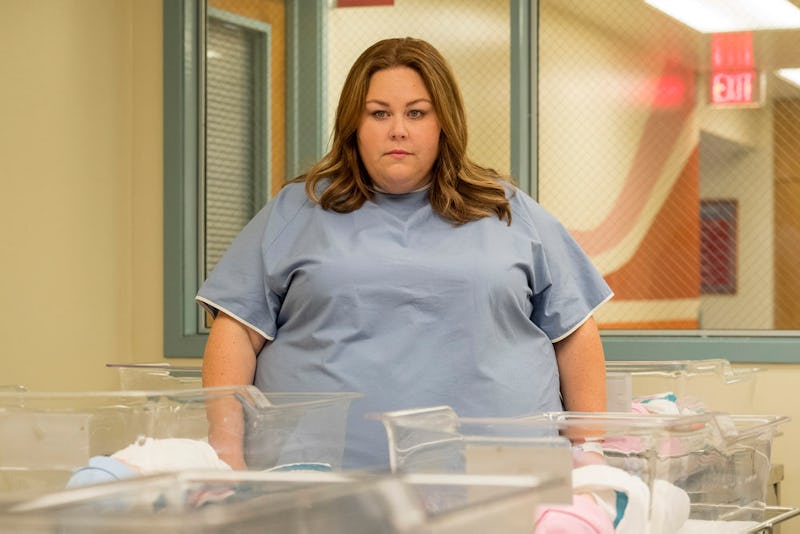 Ron Batzdorff/NBC
Spoilers ahead for This Is Us Season 3, Episode 14. Kate can't catch a break when it comes to pregnancy on This Is Us. After her miscarriage in Season 2, Kate has been cautious about her Season 3 pregnancy. She understandably doesn't want something like that to happen again. But Kate just went into early labor on This Is Us, and now she has to worry about what will happen to her baby if he's born too soon.
Kate's water broke while she was driving Kevin to an AA meeting. (He had fallen off the wagon after everything with their Uncle Nicky unfolded.) Kevin instructed Kate to pull over the car and called her an ambulance since he was too drunk to drive. "This can't be happening, it's too soon. It's too soon. I'm only 28 weeks. It's too soon," she kept saying.
Later, at the hospital, Kate told Randall and Kevin, "This baby can't die, you guys." Her brothers promised her that wouldn't happen. But is that a promise that can come true? Obviously, this is a TV show, so it doesn't necessarily have to play by real life science. But let's say it does — here's what fans know about real life premature deliveries.
According to the New York Department of Health, a full term pregnancy is 40 weeks. If Kate has her baby at 28 weeks, that would make her son "extremely preterm." But Kate's doctor gave her a shot to help delay her labor, which has already worked for 10 hours. Although Kate laments, "I don't need hours, Kev. I need weeks," she may not need that many weeks. If she can delay her labor until just 29 weeks, it moves her baby into the "moderately preterm" category. And with every hour or week she's able to stave off delivery, her baby has a higher chance at surviving.
But even if she's not able to delay too long and she still gives birth at 28 weeks, all hope isn't lost. According to the University of Utah Health, babies born at 28 weeks have an 80-90 percent survival rate. They also have only a 10 percent chance of developing any long-term health issues. And while those stats probably sound scary to any expecting parent, they're not as bad as Kate may think.
But, again, this is a TV show. That means the writers can really do whatever they want. And after Kate already lost one baby, it would be really cruel for it to happen again. Chrissy Metz, who plays Kate, told USA Today that the show's creator Dan Fogelman "specifically said, 'I think people will kill us [if the baby dies].'" She added that Fogelman told her, "'It cannot be all terrible awful things for Kate and Toby.' And I was like, 'That's right!'" Metz added that Kate's pregnancy journey is "not going to be easy, but there is joy at the end of it all."
In another interview with Entertainment Weekly, Metz also hinted that fans would get to see Kate and Toby's parenting. "Toby and Kate are going to have a bit of an unconventional parenting situation," she said. "Not unconventional in that people aren't doing it, but not what I think either of them ever had in mind ... it's something I don't think we've ever seen, at least not on network television."
The fact that Metz specifically mentioned that we'd see their "unconventional parenting situation" is a good sign. That implies that her baby survives to be parented at all — even if it is unconventionally. But, as Metz said to EW, "nothing about Kate and Toby's journey thus far has been pretty conventional," so this is par for the course.
It may not always be a smooth journey for Kate and Toby, but it doesn't seem like losing their baby again will be part of that — which is great news, because Kate needs and deserves a win here.