Kate's Storyline On 'This Is Us' Is As Therapeutic For Chrissy Metz As It Is For You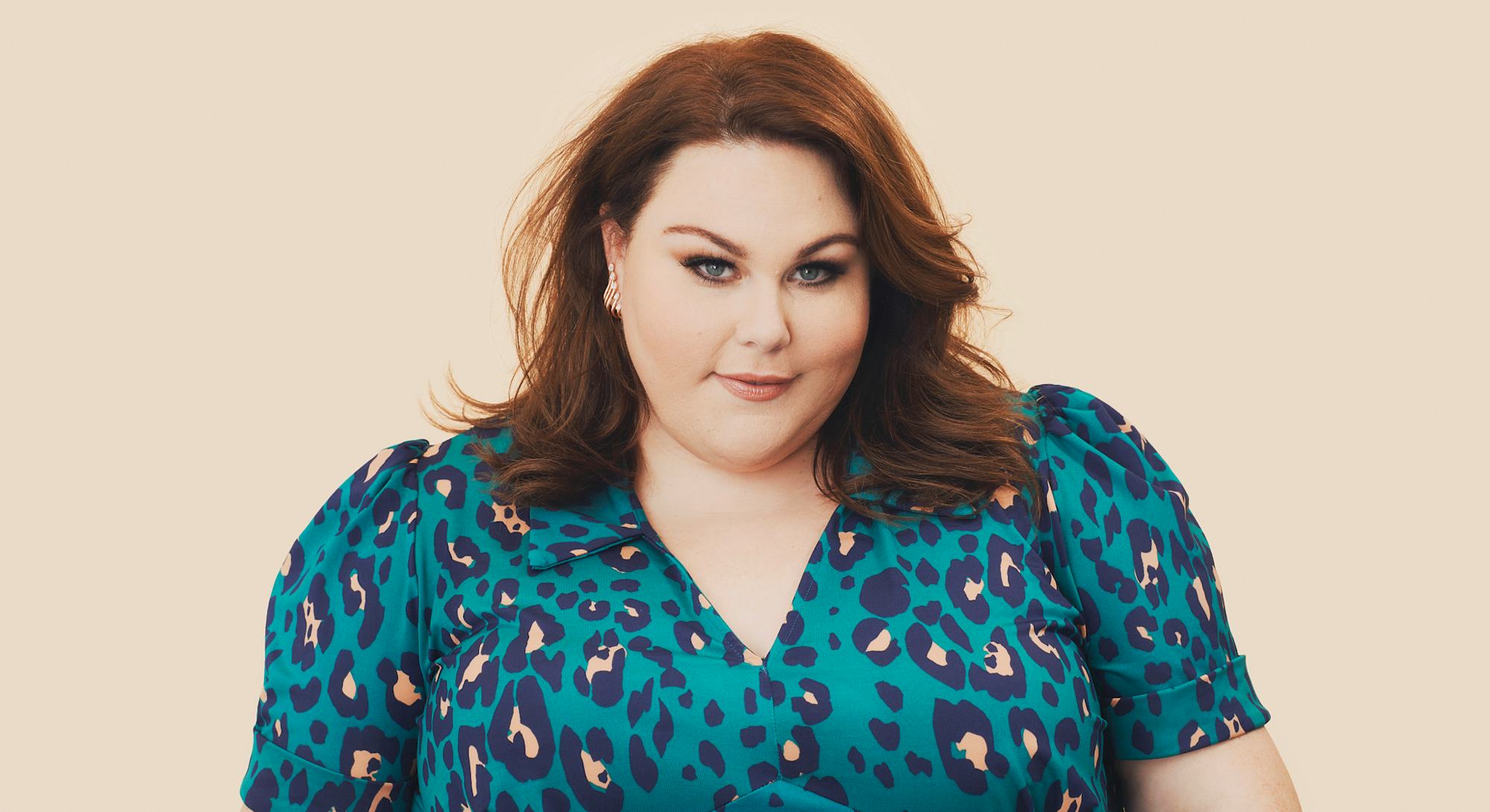 Colette Aboussouan/Bustle
Chrissy Metz makes millions of people cry every single week. It's nearly impossible to watch her character Kate Pearson's emotional evolution on This Is Us from happy-go-lucky kid to devastated teenager to picking-up-the-pieces adult without being reduced to a pile of salty tears. But when we meet on a blustery October afternoon, Metz lacks the cloud that Kate usually has over her head. She's just weathered what seems like an avalanche of interviews and appearances crammed into one blink-and-you'll-miss-it trip to New York. She has to work again in the morning, and she's already fresh off taping two Today show segments in the early morning hours — and yet she still radiates warmth and kindness. She's more than willing to answer questions and help fix the set during her photoshoot. Metz is happy to be here, and she couldn't have done any of it without Kate (and all of America's tears).
This Is Us, the show that has made Metz a household name, is a breakout hit. It's been nominated for 95 awards, including Best Television Series - Drama at the Golden Globes (it won in 2017); Metz was nominated for Outstanding Supporting Actress in a Drama Series at the 2017 Primetime Emmy Awards. It has a 91 percent rating on Rotten Tomatoes, garnering praise from fans and critics alike. And even though ratings for Season 3 have dipped slightly, 10 million Americans still tune in every week to process the trauma of the Pearson family, according to Variety. For Metz, who had less than $1 in her checking account when she booked This Is Us, it feels like the universe is laying out its path for her.
"I'm grateful… I really, truly believe that things that are meant for you will come, because on paper, it doesn't quite make sense that I have the success that I do," she says. "I feel like the universe will conspire with you and for you… I have faith in that. I have trust in that."
Metz's story starts the same way as many actors' — with a move to Los Angeles. A Navy brat, Metz was born in Florida, raised in Japan, and returned to Florida when she was a teen. She set out for California to make it big, but found herself in a place that many actors dread — behind a desk. At the "very strong suggestion" of her first manager, Metz began working as an agent's assistant while going on auditions.
"I was like, 'What does it mean? She doesn't believe in me?'" Metz says of her new gig at the time. "And then I realized that there was so much that I needed to learn, and what a great opportunity to do so." Metz tends to speak in an upbeat, inspirational manner, but it's never cloying; you get the feeling that it comes from somewhere genuine. Like This Is Us' touchy-feely, heartwarming melodrama, Metz's gratitude and emotional openness is a lovely antidote to the cynicism of much of the modern world.
We are all so much more alike than we are different. I think it's just about expressing the feelings.
By being an agent's assistant, Metz continues, she learned a lot about the less glamorous, nitty-gritty side of the entertainment business. Acting isn't all signing autographs and getting amazing clothes sent to you for free, and in seeing how the sausage actually gets made, Metz got an invaluable education that would help her in navigating her own acting career.
"Now I can read contracts, and I can see like, hmmm, you guys gotta check the fine print. You can't agent me, because you can't agent an agent," Metz says. "That's advantageous for this whole process." She's open about how difficult of a time this was for her ("I literally felt like I ate my feelings with Sprinkles cupcakes — I never want to see another Sprinkles cupcake ever again," she says) but she's quick to give that struggle a larger meaning in her own narrative, too. "It became a little discouraging for a time, but I know that things happen for us and not to us," she says.
It's a philosophy that could help her character Kate on This Is Us, who emotionally and mentally struggles with her weight and how to grieve her father's death; in her attempts to get pregnant, she's had a miscarriage and a tenuous round of IVF. Such honest struggles with weight and fertility are a new phenomenon on network television, and both fans in the Twittersphere and in real life often want to interact with Metz, to tell her that she is making a difference in sharing these stories and making them feel seen. To have fans constantly reaching out to you to tell you about their deepest personal struggles could be overwhelming, but Metz doesn't fret. She is riding the wave, grateful that she gets the opportunity to do what she loves, because she remembers what it's like to not.
"I'm not Kate. I'm Chrissy. I'm not perfect, and I might have a bad day or a bad morning, or something traumatic happened in my life, and you gotta put the brave face on," Metz says, growing serious. "I think as human beings, we can sort of have a little more grace and empathy. I really try to take time with people… I'm a work in progress, so, I'm trying to be as grateful as I can as much as I can, because I know how important other actors in other shows have been to me."
Speaking with Metz is like getting one long pep talk. She believes in believing in oneself, in taking inventory of feelings and what's going on inside. For many stars, this could come off as a bunch of new-age platitudes, but Metz works hard to be both true to herself and in the moment, and, perhaps most importantly, admits that she still has plenty of room for self-improvement. And she has Kate to thank a little bit for that.
"Art imitates life, and life imitates art, and my character informs me and [I inform] my character, whether it's just having a little more empathy or patience," Metz says, leaning forward as if to drive home the point. The plots on This Is Us are much more emotionally raw than America is used to seeing on a network television show, Metz continues, and it forces everyone who watches to "question morals, standards, values, in every way."
Much of Kate's journey on This Is Us has followed her as she acts out of guilt or sadness, as she blames herself for her father Jack's death. Kate's struggles with her size are a part of this, as she's looking to fill a hole for the loved one she lost. But while many are thrilled to have true, honest, plus-size representation on television, some critics argue that This Is Us is eschewing developing other aspects of Kate's character in favor of discussing her physicality. Metz bristles at the criticism, clearly protective of her character.
"If weight is an issue, it's going to inform so much of Kate's life. They're not separate, the woman to the weight, and especially with her, because so much of it has been centered around her guilt and shame that she's literally physically held onto about Jack's death," Metz says. "You can't really separate the two… So, I don't hold onto what people say. I just can't. It's not helpful for me."
I try to really grieve if I'm feeling something ... and I try to communicate how I'm feeling...
Kate's problem isn't her weight, according to the star — it's the way that she's used it to shield herself from feeling things in the wake of Jack's death. Metz sees this, and she tries to avoid it in her personal life. "I think Kate in particular has had to protect herself and be tough... She never really got to the core of grieving, and so I try to really grieve if I'm feeling something," Metz says. "And I try to communicate how I'm feeling, and whether it's gonna be uncomfortable for myself or someone else, it's like, 'Well, when you said this, it made me feel this way.'" Owning our own parts in our relationships, Metz says, is difficult. "It's hard to say 'I'm sorry,' or 'I was wrong,' or 'How can I fix this?' because our egos are — oof, they're strong. And of course, cultivated to protect us, but ultimately, they can destroy us, too."
According to Metz, Kate will soon have to find new strength when it comes to her relationship with her husband, Toby, who is suffering from a severe case of depression in Season 3. When pressed for spoilers, Metz stays mum on details, but she says she's definitely proud of her character's growth this season.
"Kate and Toby are really going to have to move through what Toby's going through. And she's really going to have step up to the plate for him in ways she never has for anyone or for herself, really," Metz says. "She's learned a lot from Toby, and she's going to exercise that, which is I think beautiful, and he deserves it."
While Toby and Kate are happy-ish now, the internet is filled with theories that they'll eventually break up, and that Kate is the mysterious "her" Randall refers to in an early flash forward. Toby doesn't have his wedding ring on, and he's alone in bed! Does it mean Kate and Toby eventually split? Metz won't say anything specific, but she promises fans will get answers.
"I think, pretty sure, we'll find out who 'her' is, and what does it mean that Toby doesn't have his wedding ring on, and where is Kate? And she could be right around the corner," Metz teases. "Because the show isn't linear, we can go back and forth." There will also be a lot more on Jack and Nicky ("the why and how Jack became Jack," Metz says) and an opportunity to see Kate later on in her life. Metz is especially excited about the prosthetics and makeup employed by the show to make the characters look older. "I'm like, 'Age me up,'" Metz jokes. "Mandy [Moore, who plays Rebecca Pearson and ages several decades in the show] is like, 'Yeah, right, [sit there for] three and a half hours!'"
Speaking with Metz is just as cathartic as watching This Is Us (or, perhaps, a good therapy session). It's like getting the sagest advice possible, the pep talk you really needed. It took Metz awhile to get there, though. Before writing her book, This Is Me: Loving the Person You Are Today, Metz says she didn't think she had anything to say. It wasn't until a conversation with her ghostwriter convinced her that yes, she has had some notable experiences, and yes, millions of readers could empathize with the things she's gone through.
"We are all so much more alike than we are different. I think it's just about expressing the feelings," Metz says. "We're not taught to be vulnerable, it's like, 'No, don't show that you're weak,' especially for men!" Her advice for those wanting to find the courage to tell their own stories? Start journaling or writing down notes about how you're feeling. "It doesn't have to make sense," she says. "Don't judge it. You don't even have to reread it. Just get those feelings out… You'll feel so much better because of it. Process those feelings!"
It's a process that seems to be pretty important to Metz these days — she's doing it with her own feelings and the feelings of others, and frankly, she's enjoying the whole thing, too.
Photographed by Colette Aboussouan
Hair by Cameron Rains at The Wall Group using Harry Josh Pro Tools
Makeup by Billie Gene for Exclusive Artists using Tarte Cosmetics