Eureka Is Returning For The Next Season Of 'Drag Race' & It's Her Time To Shine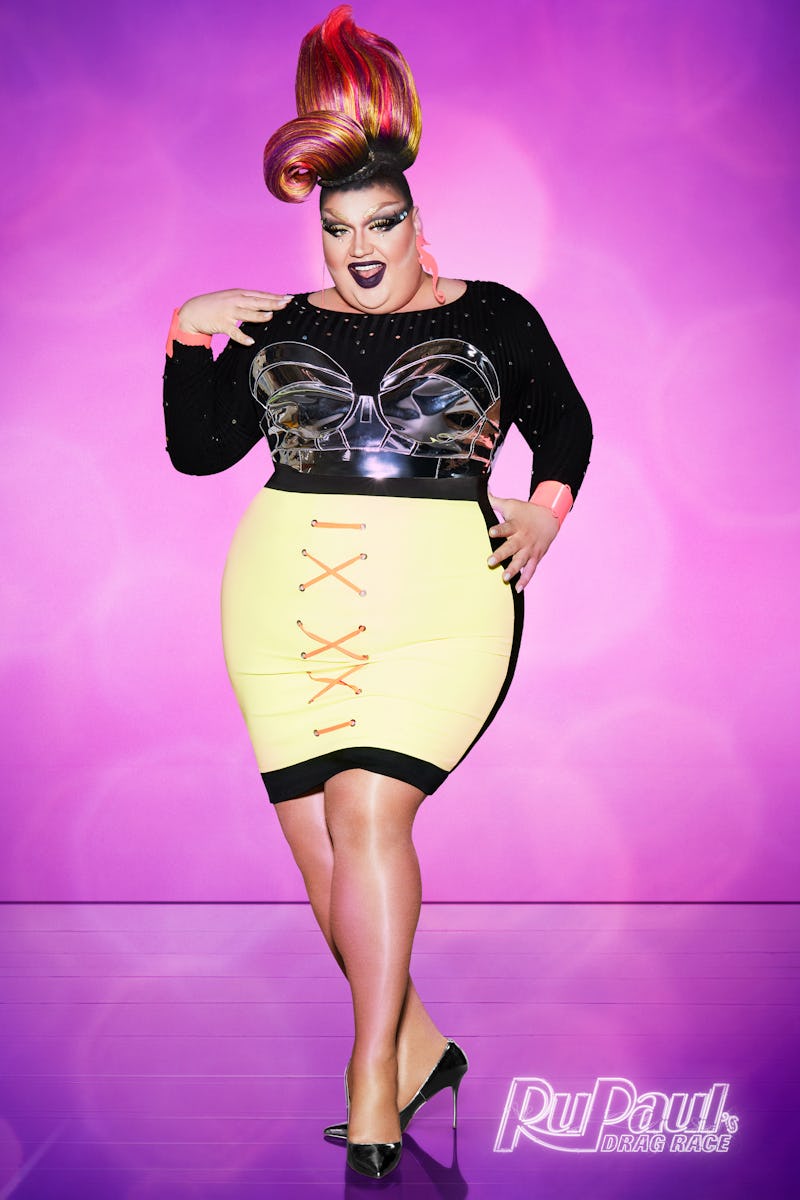 VH1
Start your engines. After a shocking, early departure due to a knee injury on Season 9, one queen is coming back to compete for the crown again on Season 10. So, what has Eureka been doing since RuPaul's Drag Race, after leaving per doctor's orders? Preparing to win, obviously.
On Feb. 22, VH1 announced the next group of queens who will be competing for the title of America's Next Drag Superstar. In addition to the 13 brand-new queens set to walk the runway on Season 10, fan-favorite Eureka O'Hara — who was eliminated unexpectedly during Season 9 — will be returning for her much-deserved reprieve. At the end of episode 5, Eureka got an "open invitation" from Mama Ru herself to come back and compete again after she took some "time to heal." And according to an interview with TVLine, that's one of the first things she did.
The interview took place shortly after episode 5 aired — which was, in real-life time, 6 months later in April 2017. Eureka revealed that since being eliminated, she'd undergone emergency ACL reconstruction surgery, and was at the end of her medical care. Not one to sit around and mope in her makeup, though, Eureka started performing again as soon as she got the OK.
According to her Instagram, she had her first return performance of 2017 on April 23 in Texas, debuted her new single "Stomp" in California on April 27, and appeared at RuPaul's DragCon in Los Angeles on April 30. Eureka continued to lip-sync for her life on tour for the next several months (and not, like, casually, either — she stomped into a new city on an almost-daily basis), got a good read in on her old rival Trinity Taylor during the Season 9 finale reunion, and also managed to make it to a few Pride Month celebrations in various cities.
In September, Eureka worked her way to New York for a panel appearance at RuPaul's DragCon, traveled overseas for some U.K. shows, beat her face by boat on the Drag Stars Sea Cruise to Cuba in December, and closed out the year with a few dates on the Drag Queen Christmas: A Naughty Tour, alongside some of her former competitors (including Trinity Taylor).
Think she was ready to sashay away after ringing in the new year? Think again. Eureka has continued to perform in cities across the U.S. throughout 2018 — and honestly, fans should be impressed. And for two reasons: One, because her constant, whirlwind touring schedule would legitimately make anyone nauseous; and two: because the looks Eureka has been serving almost immediately after tearing her ACL are absolutely awe-inducing. She's stepped up her game in a major way, and I, for one, am living for them all — especially Piggy Izalea, which is by far a personal favorite.
Fans on Twitter are equally excited for her to return to the Drag Race stage.
Eureka undoubtedly has the charisma, uniqueness, nerve, and talent needed to kill the competition in Season 10, but in terms of what she plans on doing differently this time around, she told TVLine last April, "I'm going to respect the leg up I'm going to have. I'm trying to observe how I'm being perceived by people, what I see myself looking like on the runway."
In the event, however, that Eureka and/or any of the other Season 10 queens find themselves in need of a little extra encouragement, perhaps they'll heed the wise words of Olympic ice skater and Drag Race super-fan, Adam Rippon, who said: "I have failed many times many times in my life. But more importantly, I've learned from every setback, proudly own up to my mistakes, grown from disappointments, and now I'm a glamazon b*tch ready for the runway."
Season 10 of RuPaul's Drag Race is slated to drop on Thursday, March 22.