This Is What Having Your Holiday Decorations Up Super Early Says About Your Personality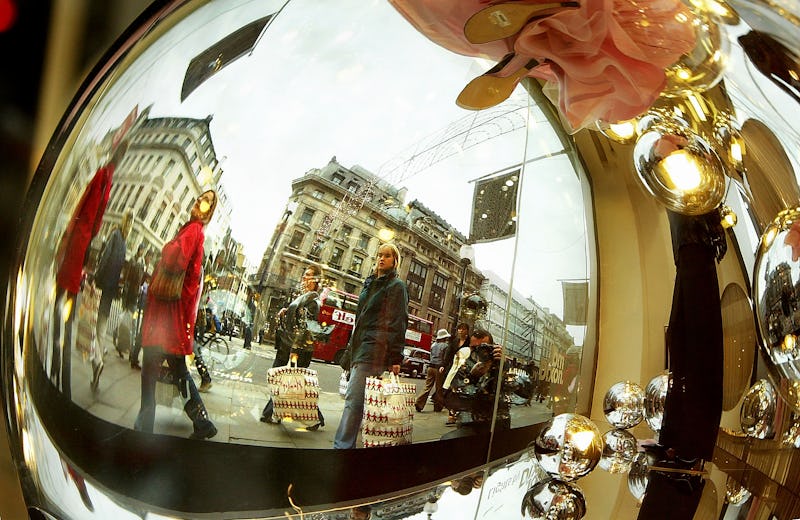 Scott Barbour/Getty Images News/Getty Images
The days are getting shorter, and if you're beginning to descend into your annual winter melancholy, there's a quick fix for feeling better. Just what could combat this malaise? Having holiday decorations up early might just make you happier, according to a study published in the Journal of Environmental Psychology. While the OG version of this study was published before some of you were born, the world is in such a state of chaos that this 1989 study has gone viral in 2018. Because, let's face it, it's worth trying just about anything to feel a little joy these days.
Data from Gallup found that in the past two years overall feelings of well-being have declined among people living in the U.S. If you want to get a little of that sparkle back to salvage what's left of the year, it might be time to deck the halls. According to the study, decorating ASAP for the holidays can not only boost your mood (I also suggest listening to Michael Bublé's holiday album on repeat while you're decorating), it can also make you appear friendlier to others. What's more, experts told the UK news site UNILAD that sprucing up your pad for the holidays taps into a part of your brain that reminds you of happy childhood memories.
"In a world full of stress and anxiety, people like to associate to things that make them happy and [holiday] decorations evoke those strong feelings of the childhood," Psychoanalyst Steve McKeown told UNILAD. "Decorations are simply an anchor or pathway to those old childhood magical emotions of excitement."
Additionally, because the holidays often fall short of expectations, if everything goes sideways you can still take comfort in your beautiful holiday pineapple, your table-top snow globes, and your Star Wars stockings hung by the radiator with care. "The holiday season stirs up a sense of nostalgia. Nostalgia helps link people to their personal past and it helps people understand their identity," Amy Morin, psychotherapist and best-selling author of 13 Things Mentally Strong People Don't Do, told UNILAD.
Despite this evidence, a poll by Confused.com found that 86 percent of people think November is too early to deck the halls. This means that the other 14 percent who throw caution to the wind and string the lights on Nov. 1 might be a helluva lot happier. If you're feeling glum, don't let the holiday haters dictate when you decorate.
If Starbucks can debut their holiday cups in November, you can 100 percent dress your apartment in tinsel beginning the day after Halloween. Light the candles that smell like holiday cookies, get pantsdrunk on eggnog, queue up your holiday movie marathon on Netflix, and settle in for some well-deserved pre-holiday hygge.
If you need some holiday-decorating ideas, Pinterest has eleventy-million examples of how to make your spirits bright. And if you know you tend to feel blue post holidays, you are 100-percent empowered to leave your decorations up as long as you want, or consider swapping your holiday decor for a winter wonderland theme. Whatever gets you through — you do you.