9 Life-Changing Lessons I Learned When I Started Taking Myself Out On Dates Every Week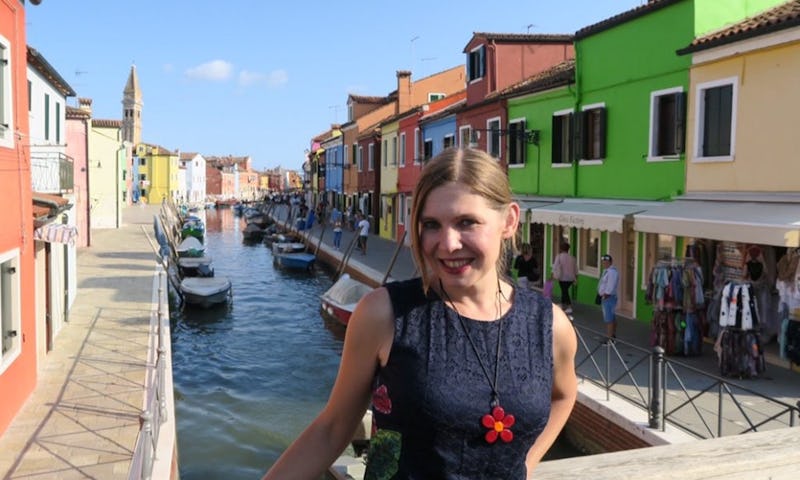 Natalia Lusinski/Fotolia
"Alone?" the waiter asked in a Spanish accent, two menus in his hand. "Yes," I said as I sat down at a table for two, couples occupying the tables around me. "Alone forever?" he asked, laughing. "I hope not," I said, forcing myself to smile as he handed me a menu and walked away. Maybe this was a bad idea, taking myself out on a date, trying to go out alone for the first time — to a hip L.A. café on a Sunday morning, no less — since my boyfriend and I broke up.
Did that red-headed woman with the cool bangs, cherry red lipstick, and tattoos just look at me with pity, and point me out to her hot boyfriend? Should I pick up my phone and pretend to call someone who wasn't coming to meet me? Should I start emailing someone? Should I get another menu and put it across from me as a prop, indicating that I'm only here alone temporarily… waiting? Or should I simply leave?
I stared at the empty seat across from me, my new brunch companion, a reminder of what I no longer had — as though it would be filled the more I looked at it, that my ex-boyfriend would magically appear when I blinked and say he changed his mind about us, that all his doubts had been resolved. My eyes started to water — I'd hate for the red-headed woman to see me cry — so I hid behind my menu, debating between flatbreads: mozzarella, spinach, potato, or beef? Too many choices.
When the waiter returned, I pointed to a flatbread with a Turkish name, trying to pronounce it syllable-by-syllable like I was back in kindergarten. The waiter said it takes practice, adding that he just learned English this year and now he's learning Turkish foods. "Your English is good," I said. "I try," he said. "Don't worry. It'll get easier."
Truth be told, I used to hate the thought of going out alone — not to the grocery store or an ordinary activity like that, but going to do something that I'd only done with an ex, like going out a cafe in L.A.. And, the thing is, the more I got out of my comfort zone and started taking myself out on dates every week, the more life-changing lessons I learned along the way. Not only did I go out solo, from brunch to dinner dates, but I also started doing activities that either my ex didn't want to do (and I didn't want to do alone at the time) or things that I'd never tried before.
One week, I'd go hike a new trail in mountains I hadn't explored before; another, I'd go see Milky Chance in concert. These were opposite extremes — one was appreciating the quiet, solitude, nature, and no WiFi connection around me while the other was amidst an insanely loud yet energetic crowd, where it was also easy to get a lot of thinking done. The more that an event was one that people didn't tend to do alone, the more I'd push myself to do it. In every scenario, I'd discover that the end result was worth the initial few minutes of awkwardness à la, "What the heck am I doing here?"
Yes, I had friends I could have contacted to go out to eat with or try a new hiking trail, but there's something about doing things on your own that builds your self-esteem and reassurance like nothing else can. Even if you have a significant other, it's still healthy to spend time with yourself. All that said, I learned several life-changing lessons from taking myself out on dates every week.