A.D. Has A New Puzzle For The 'Pretty Little Liars'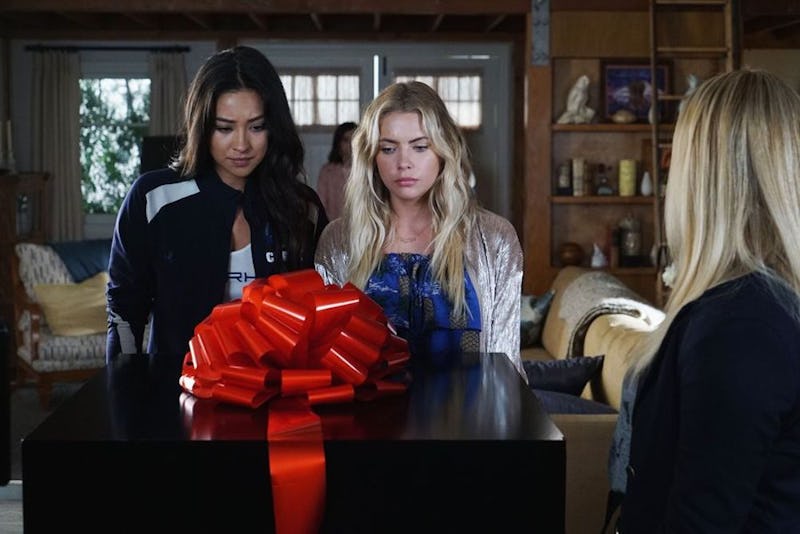 Freeform/Eric McCandless
Pretty Little Liars is officially in the home stretch, kicking off Season 7B with "Playtime." PLL's final season premiere ended with A.D. teasing the girls with a literal puzzle piece, but what is A.D.'s puzzle on Pretty Little Liars? And what does the puzzle have to do with A.D.'s master plan? As part of their final plan, A.D. sent the liars an elaborate board game called the Liar's Lament. Part of the game involves completing a puzzle, but so far the girls only have one piece.
Unfortunately, the puzzle piece doesn't have any distinctive marks or images on it, at least not that I could make out. It does, however, appear to be the first in a series, and Spencer, Aria, Aly, Hanna, and Emily will have to continue playing A.D.'s game if they want more pieces. My best guess is that the puzzle either reveals the answer to one of the many PLL mysteries of the past, like who killed Charlotte or what the deal is with Elliott Rollins, or will unmask A.D. That's right: I think that A.D. is giving the girls a chance to figure out who he/she is. Maybe when they complete all of A.D.'s tasks and receive all the puzzle pieces, the image on the puzzle will be A.D.'s non-hooded face. And we'll finally find out who A.D. is on PLL.
I know what you're thinking — why would A.D. want to reveal his/her identity now? If A.D. continues to believe he/she is completely in charge of the situation, it makes sense A.D. would get a bit cocky. Maybe A.D. thinks that, by the time they get to the end of the game, the liars will have done so much damage to themselves and those around them, it won't matter if they know who A.D. is. Or, A.D. wants credit. Let's face it, A.D. is definitely insane, which means not everything he or she does will be logical. And A.D. is definitely self-centered; it makes sense that the person behind all of this would want credit in the end. Then again, that's just one PLL lover's theory. And, I hate to break it to you, but I'm no A.D.