Australia's Refugee Policy Has Its Own Flaws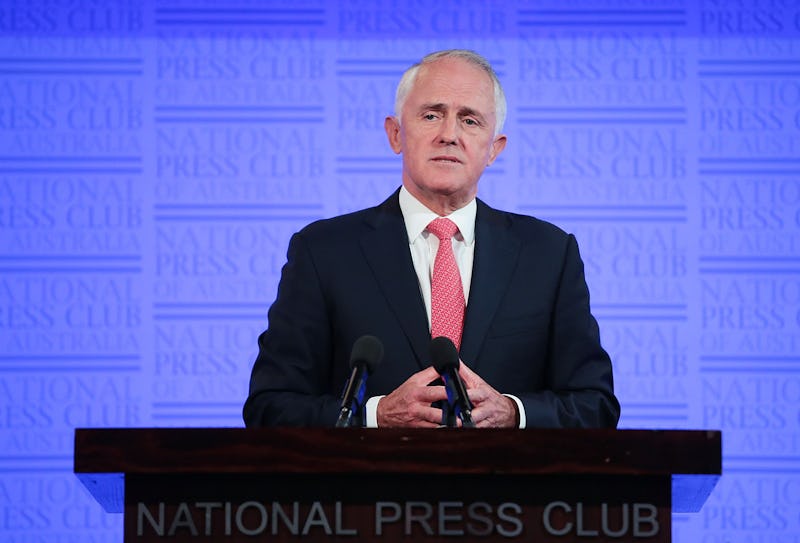 Stefan Postles/Getty Images News/Getty Images
On Wednesday night, Donald Trump sent out an angry tweet referencing a one-time refugee deal with Australia that Barack Obama agreed to in November. The deal itself obliges the United States to resettle asylum seekers currently split between the Nauru and Manus Islands. It was shaped in part by Australia's refugee policy, which is stringent, barring boat-borne refugees from settling on the mainland until their asylum claims have been fully evaluated and processed.
When boats of people inevitably arrive, fleeing war or famine, they are then placed in an Australian detention camp on either Manus or Nauru Island for an indefinite amount of time. Basically, until they've completed the application and resettlement process to leave the island and enter a host country (which is not Australia).
According to a BBC report from August 2016, "Even if these asylum seekers are found to be refugees, they are not allowed to be settled in Australia. They may be settled in Nauru or Papua New Guinea."
The two leading political parties in Australia are the ruling Liberal-National coalition and the Labor party. Although they differ on other topics, both parties tend to agree on the strict asylum policies. When the Liberal-National coalition took power in 2013, they introduced Operation Sovereign Borders, which gives the military the power to oversee asylum operations.
‌This is where the U.S. comes in — or at least, where Obama came in and Trump doesn't want to. According to The Guardian, the one-off U.S.-Australia refugee deal between Obama and Turnbull would resettle roughly 1,250 people currently living in the offshore detention camps in the United States, much to the chagrin of Trump, based on his tweet.
‌While the spotlight for these refugees has now shifted to Trump and the United States' end of the deal, during the summer, the United Nation Human Rights Office called on Australia to end offshore detention.
In an interview with The Guardian Australia, the high commissioner for the United Nations human rights office shared her concerns regarding the treatment of asylum seekers at Nauru, particularly the lack of resources on the detention camps.
"We have repeatedly reported our concerns around healthcare, around education, access to justice." she said, "It's difficult for me to find words to describe how somebody can go from being at a breaking point and just continue to be at a breaking point endlessly."
At this point, it looks like best-case scenario for asylum seekers may be if Trump keeps the deal Obama made and the 12,500 people currently held in detention camps can fly to America and resettle. Unfortunately, even after potential resettlement, Trump's executive order could present another obstacle for people trying to get their lives back.