Here's What Brad Pitt Is Up To Post-Brangelina Divorce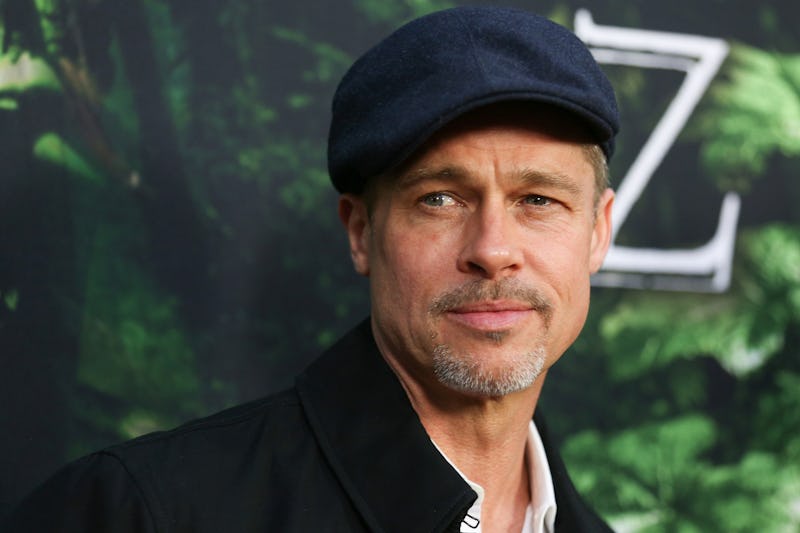 Rich Fury/Getty Images Entertainment/Getty Images
Though Brad Pitt is likely taking a backseat this award season — he was only in one movie released in 2017, a comedy called War Machine — he remains a big player in Hollywood. So, what is Brad Pitt doing with his time? Well, these days People magazine's two-time "sexiest man alive" is keeping his handsome face mostly away from the cameras and is working behind the scenes as a producer.
This move probably isn't too big a surprise for many of his most loyal fans who have been paying attention to Pitt's career trajectory. Though Pitt has received three Best Actor Oscar-nominations throughout his career, it was only as a producer that he finally won one of those much coveted statues with the 2014 Best Picture award for 12 Years a Slave. Furthermore, the Oscar nods he received for acting (Best Supporting Actor for 1996's 12 Monkeys, and Best Actor for 2009's The Curious Case of Benjamin Button and 2012's Moneyball) appeared earlier in his career than his more recent producer credits, starting with his Best Picture nod for backing the film for which he got his last acting nom, Moneyball, the aforementioned winner 12 Years a Slave and, most recently, 2016's The Big Short. This past year he produced the not-so-typical monster movie Okja, and in 2016 he backed Brit Marling's mind-bending, sci-fi, fantasy drama The OA.
That's not to say he's given up acting completely. While there are no movies or television projects currently listed with 2018 release dates on his IMDB page, he does have a couple acting roles on the horizon. According to Variety, Pitt plays a man who travels across the solar system to find his father, a renegade scientist (Tommy Lee Jones) in the sci-fi thriller Ad Astra. That movie is scheduled to hit theaters in January 2019 and also features Ruth Negga, Jamie Kennedy, and Donald Sutherland.
There's also the long-awaited World War Z sequel, which currently doesn't have a release date, but director David Fincher (Fight Club, Seven) promised that he's "trying" to make it happen. "A lot of stones have been laid," Fincher told Little White Lies. "We're just deconstructing it right now against the mythology that exists to see where we can go."
Which leaves Pitt's aforementioned producer work. This year could be a pretty good one for Pitt-backed projects. He is credited as one of the producers of Beautiful Boy, a drama that's based on David Sheff's best-selling memoir Beautiful Boy: A Father's Journey Through His Son's Addiction. According to The Hollywood Reporter, Steve Carell plays Scheff while Sheff's son, who was addicted to methamphetamine, Nic is portrayed by Call Me By Your Name's breakout actor Timothee Chalamet.
Pitt's production company, Plan B, is also behind Wrong Answer, a movie based on Rachel Aviv's 2014 New Yorker article about a Georgia high school involved in a systemic standardized-test cheating scandal. According to Deadline, award-winning journalist and author Ta-Nehisi Coates is writing the screenplay and Michael B. Jordan is attached to play the lead.
And, OK, since I know you want to know: What's up with his personal life?
Back in September of 2016, Pitt and Angelina Jolie announced they were getting a divorce after two years of marriage and 12 years in a relationship. However, reportedly, the former couple, who have six children together, have not finalized the split.
In a profile in GQ in May of last year, Pitt didn't talk much about his love life, but he did talk at length about being sober. "I enjoy wine very, very much, but I just ran it to the ground," Pitt said. "I had to step away for a minute." His current drink of choice is a cranberry juice with fizzy water.
Whether or not he is still refraining from alcohol is unclear, but he told GQ that it was a good change for him. "I'm really happy it's been half a year now, which is bittersweet, but I've got my feelings in my fingertips again," he explained.
Let's hope that 2018 is another healthy, productive year for Pitt.