Here's How Much Money Super Bowl Announcer Cris Collinsworth Is Worth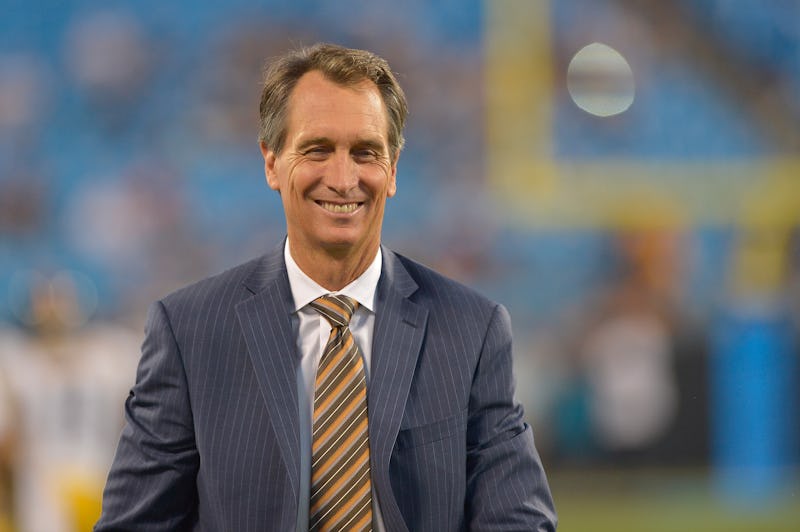 Grant Halverson/Getty Images Sport/Getty Images
From wide receiver for the Cincinnati Bengals to NFL commentator, this particular man has had a successful career in football for decades. On Sunday, he will be the announcer for the 2018 Super Bowl, and if you're seeing him on the field, you might be wondering what Cris Collinsworth's net worth is given his time in the league.
According to the website Celebrity Net Worth, Collinsworth's estimated net worth is $12 million. As a former professional football player, his salary as NFL announcer is said to be more than $1 million; Celebrity Net Worth pegs it at $2 million. That's a large sum, but iconic announcers like Al Michaels — who, incidentally, will be providing commentary on the 2018 Super Bowl alongside Collinsworth on Sunday — earn about $5 million, according to Chron.
Considering the cultural impact the NFL has in the country, it should be a no-brainer that those who occupy prominent roles in a game are rewarded handsomely. However, in 2012, Forbes reported that NFL players — who studies have determined have a higher risk of getting brain damage — get paid an average of $1.9 million a year, a lot less than NBA and MLB players. And NFL cheerleaders have faced a notoriously difficult struggle to be compensated fairly.
The Super Bowl, however, is a different matter. Players on the winning team will get $112,000, while those on the losing team still make a nice $56,000, according to SB Nation. Referees are rumored to make a five-figure bonus, too; according to TIME, referees in the 2001 Super Bowl made about $11,900. It's unclear whether Super Bowl announcers like Collinsworth and Michaels will be compensated for the game.
The 2018 Super Bowl will not be Collinsworth's first time at the rodeo; he's been an announcer for three Super Bowls before. Interestingly, his first Super Bowl telecast in 2005 was a match-up between the New England Patriots and the Philadelphia Eagles — the same teams that will be playing in the Super Bowl LII. But this was not how Collinsworth envisioned his life after eight years as wide receiver for the Bengals.
During his time as a professional football player, Collinsworth was attending law school on the side. He had an accounting degree and was interested in tax law, and, according to the Star Tribune, had planned to become a tax attorney after his football career.
That didn't pan out. After a radio station asked him to come on air as a fill-in host, Collinsworth instead decided to pivot to becoming a football commentator. "[Broadcasting] seemed like a good go-between, a way to make a little money while I was finishing school,'' he told the Star Tribune. "But somehow, I'm still doing it.''
Collinsworth's talent at breaking down the game to both experts and casual viewers has been widely praised by many of his peers. Fred Gaudelli, the executive producer of the NBC's NFL live telecasts, told the Star Tribune:
He's not an ex-football player doing television. He's a television broadcaster who happens to be an ex-football player. He made it a point to really study, understand and become proficient in the job of broadcasting. And not every ex-pro athlete is able to do that.
Collinsworth's skill will be on display during Sunday's game. He's also likely prepared a lot; Drew Esocoff, the director of NBC's NFL live telecasts called Collinsworth's preparation "insane," according to the Star Tribune. "Between the film study and the coaches' meetings and the note-taking and the statistical review," Esocoff said, "he comes into a game so well-prepared that if he said on the air 5 percent of what's in that brain of his, it would still be sensational.''