What Is 2018's Scariest Movie 'Hereditary' Actually About, Because It Looks Terrifying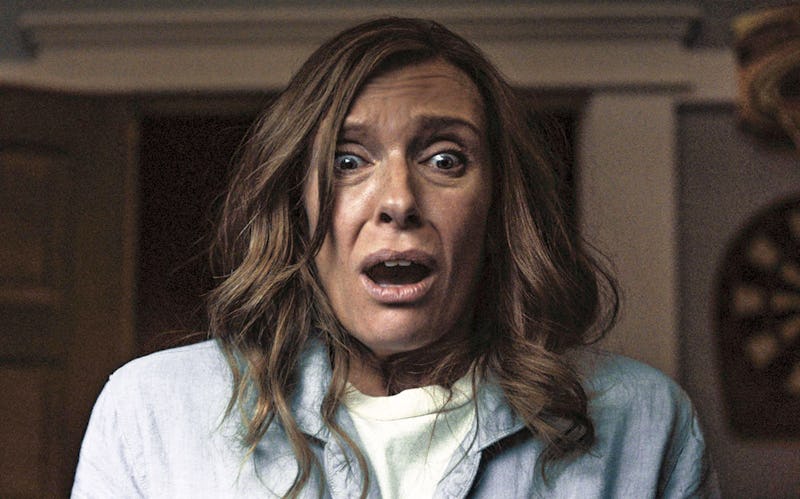 Moviestore/REX/Shutterstock
You might have heard of a new horror movie called Hereditary. It's being touted as one of the most most terrifying films in years. But while it's clear the scaredy cats out there might want to give it a miss, what exactly is Hereditary about and what makes it perfect viewing for those who do love a good fright?
Well, the drama is set in a home that, as you can see from the film poster (below), looks eerily like a dolls' house. That's no coincidence. Hereditary's main character Annie Graham (Toni Collette) is an artist who is preparing for an important upcoming exhibition. The works set to be on show? Exquisitely and fanatically-detailed miniature doll scenes she's creating in an attempt to better understand the events of her life. You can see how this is going to go right?
But Annie isn't just a busy artist getting ready for a crucial career milestone, she's also a grieving daughter. The film opens with the death of her mum who has passed away following a long battle with cancer. But the way Annie and her family (husband Steve, and children Peter and Charlie) deal with the death is far from straightforward. Sitting somewhere between grief and guilt, the aftershocks of the loss begin to take a toll on their lives.
As the family attempts to work through their trauma in strange and mysterious ways, disturbing events begin to undermine their perceptions of reality. And if that wasn't enough to deal with, before long, discoveries of ancestral secrets see their very identities start to unravel.
Make no mistake, this isn't a case of simple scare tactics. Hereditary is part horror, part psychological thriller, and its manipulations may just leave you looking over your shoulder for weeks. Oh and you'll probably never want to see a doll's house again or be in a dark room on your own for a while.
As Guardian film critic Peter Bradshaw put it: "Hereditary tripled my heart rate, prickle-massaged my scalp, cured my hiccups — and pretty much terrified me." Consider yourself warned, this isn't one for the faint-hearted.
You might think, given the darkness of the horror flick that the cast and crew would have found filming pretty hard work. Well you'd be sort of right. Collette told the Daily Mail that once it had wrapped she "really needed to go off to the gym and just run on a machine. I really needed to shift the energy. I didn't want it hanging over me."
But somewhat surprisingly, Collette revealed that the emotional intensity of the film actually made it easier to have fun on set and the actors found plenty to joke about. Speaking during Friday's episode of The Graham Norton Show, she explained: "If something is inherently heavy, hilarity rises to the surface. We were laughing all the time."
Not that the film is lighthearted enough to be suitable for children, as the cast and crew found out the hard way after an unfortunate incident where the film's trailer was shown to a cinema of kids in Australia. "Some mothers took their children to see the Peter Rabbit film and my film was among the trailers," said Collette later in the show. "They were screaming at the non-existent projectionist to stop the film and covering their children's eyes — I am sure it was a massive trauma."
Eek, this particular scaredy cat might join the kids in sticking with something nice and soothing like Peter Rabbit. But if the fear factor of Hereditary sounds right up your street, the film will be released in cinemas across the UK on June 15. Just maybe take a cushion to hide behind during the jumpy bits. You know, just in case.