Paging All Lexie Grey Fans, Here's What The Actor's Been Doing After 'Grey's Anatomy'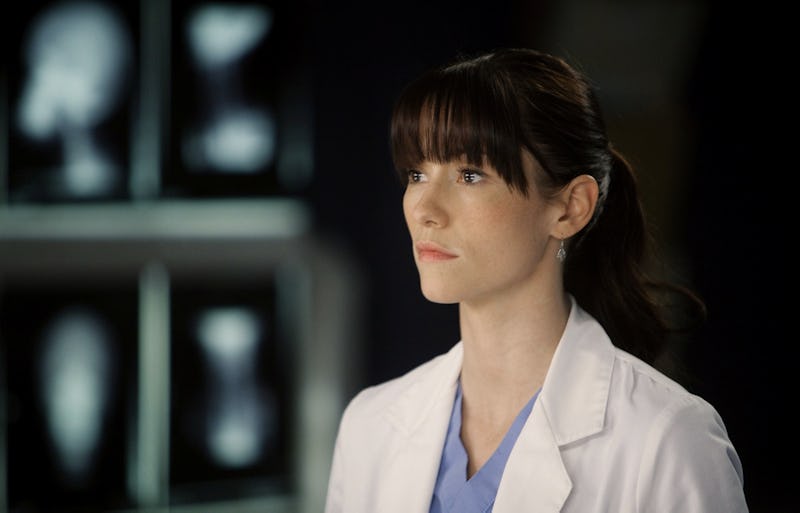 ABC
Remember when Derek flirted with a pretty young woman in a bar, only to learn that she was both a new intern at Seattle Grace and Meredith's half-sister? Yeesh. Lexie Grey made quite a splash with her entrance into ABC's procedural; but what is Grey's Anatomy's Chyler Leigh doing now? If the history of the medical soap to date was a three-act play, then Leigh's Lexie would have been a main character in its second act. First appearing in the Season 3 finale, she made waves in the hospital when she joined the cast full-time in Season 4. Obviously, her tenure came to an end in the Season 8 finale, when her character was killed in the plane crash that also claimed the life of her lover, Mark Sloan.
Now, 300 episodes into Grey's Anatomy, Lexie can sometimes feel like a distant memory. So much has happened in the six-plus seasons since she left! So many new characters, new cases, and new tragedies to make viewers sob into their tequila. But with such a landmark episode coming up on Nov. 9, many longtime fans are starting to feel nostalgic for the show's past — and that means reconnecting with some of the faces that have come and gone over the years, including Leigh.
So what has Leigh been up to since departing Shondaland in 2012? The actor was only 25 when she joined the cast of Grey's back in 2007; now, a decade later she's 35 and has found a comfortable new home as a regular on another popular broadcast television show. The CW fans will obviously recognize Leigh as Alex Danvers on the network's hit superhero series Supergirl. The Grey's alum has portrayed the title character's adoptive human sister since the show premiered on CBS in 2015. She stuck with the series through its transition from CBS to The CW after its first season and, in its second, was part of an acclaimed storyline that saw her character come to terms with her sexuality and strike up a relationship with another woman.
But Supergirl is far from Leigh's only claim to fame since leaving Grey's. The same year she departed the ABC series, she appeared in the feature film Brake, a psychological thriller starring Stephen Dorff (Blade) as a Secret Service agent trapped in the trunk of a car for 90 minutes. And in 2014, she even received her own short-lived NBC sitcom, Taxi Brooklyn, on which she starred alongside Jacky Ido (Inglourious Basterds).
Brooklyn Taxi was based on the popular 1998 French action-comedy Taxi, directed by Luc Besson (The Fifth Element), which previously spawned the 2004 American feature film remake Taxi, starring Queen Latifah and a young Jimmy Fallon. Although NBC's adaptation only lasted for one 12-episode season, it provided a great vehicle (pun intended) for Leigh to show off her action chops… which probably didn't hurt when it came to landing a role on Supergirl.
But acting isn't the only passion in Leigh's life. When she's not kicking butt and taking names on Supergirl, she is making music with her husband, actor Nathan West (Bring It On). The pair met on the set of 7th Heaven back in 2000, on which they played friends of Jessica Biel's character. They also appeared together in the 2001 comedy Not Another Teen Movie, and in the Season 6 Grey's Anatomy episode "Holidaze" — in which West guest starred as the befuddled new boyfriend of a young woman who suddenly finds herself in need of a heart transplant.
But when Leigh and West are not acting together (or raising their three children), they're singing together. You can find some of their covers on YouTube, as well as their two original songs: 2015's "Love Lit The Sky" and recent 2017 release "Nowhere."
Lexie's love life may have been foiled by that pesky plane crash, but at least it seems like Leigh's own romance — and career — is going strong.