Why We Need National Coming Out Day Now More Than Ever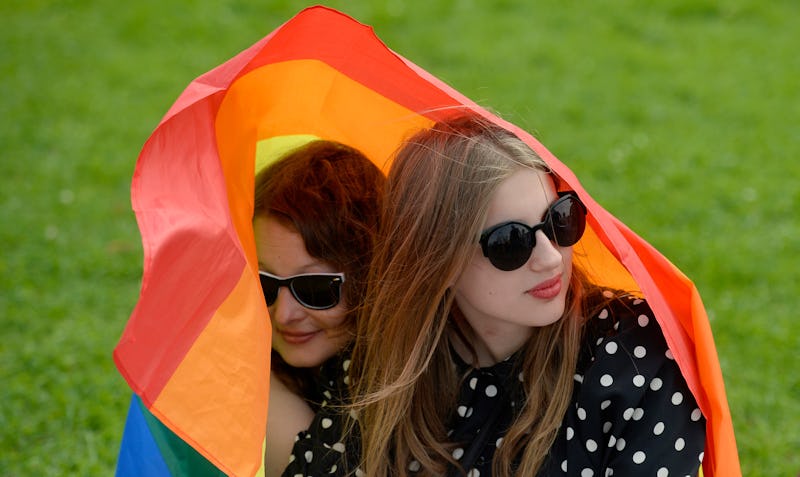 OLGA MALTSEVA/AFP/Getty Images
Every year, on Oct. 11, the world outside the closet becomes the place to be. National Coming Out Day, celebrated in the U.S. and mirrored in other events around the world, is a celebration of LGBTQ people's existence and their coming out to friends, family and those around them, living proudly and openly in a world that makes it very hard to do so. It's a very important day for LGBTQ people around the world, and now more so than ever. Bustle spoke with Nate Warden, founder of Coming Out, an open source platform for sharing stories about coming out, about the day's importance, and the complexities of honesty about LGBTQ identity in today's world.
Celebrations of Coming Out Day are widespread. Coming-out events occur across college campuses and LGBTQ spaces, with support, resources, aid and advice provided to people who have struggled with the coming-out process or their own identities. NewNowNext's campaign for Coming Out Day has luminaries like Sasha Velour and Melissa Etheridge writing letters to their younger queer selves. And these events acknowledge the truth of coming out: That it often can't be a glorious confetti-filled event of absolute acceptance, joy and love. For every loving embrace of LGBTQ people who come out, there are many who face discrimination, hatred, violence, doubt, and rejection. And, as any person who's out will tell you, coming out is a repetitive process: for work, for family, for friends, for every new acquaintance and connection, the process must be gone through again and again in a world that centers straight people. Having one day a year to focus on and commemorate what is, for many LGBTQ people, a very important series of events throughout their lives is a valuable recognition of the value and effort behind being honest.
"LGBTQ people have to first identify themselves privately in a world that continues to tell them that people like them are not welcome, are not equal, and then eventually try to work up the courage to announce themselves as being different," Warden tells Bustle. "Events like Coming Out Day and Pride are crucial in making this process easier because they are times when the LGBTQ community becomes visible — not just an idea, but a literally mass of people in the streets, or a collection of voices to be heard. We set an example for those who have yet to find and love themselves."