It's National Parents Coming Out Day & Here's Why It's So Important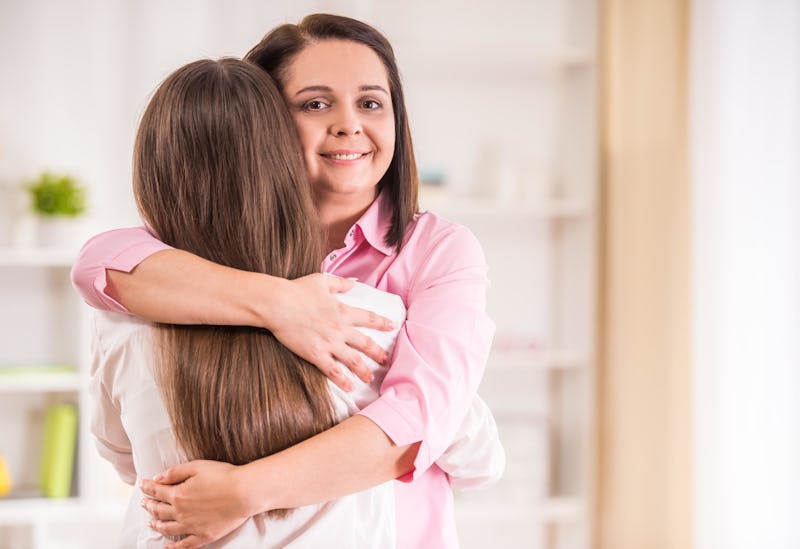 VadimGuzhva/Fotolia
October 12 is the first annual National Parents Coming Out Day. Started by the Strong Family Alliance, National Parents Coming Out Day (which is the day after National Coming Out Day) is not, as I first assumed, about parents coming out to their kids. It's actually about supporting parents of LGBTQ kids as they work through what can be an extremely tricky — and potentially dangerous — moment in their child's life. Founder Janet Duke struggled when her own daughter, Johanna, came out when she was 12.
"It was a midnight conversation that she woke me up for," Duke tells Bustle. "She was emotional that night — and certainly I was. It was a shock to me. I wasn't aware that she was having these feelings and, 17 years ago, there wasn't much to help a parent."
Coming out to your parents can be scary, no matter what age are you are. But for kids and teenagers — who are dependent on their parents for shelter and food and love — it can be an especially precarious situation. LGBTQ kids who are rejected after they come out are eight times more likely to report suicide attempts and six times more likely to report higher levels of depression, according to a 2009 study by researchers from San Francisco State University. However, those numbers drop down to the same level as that of any other teen if their parents react with love and care, instead of rejection. The Strong Parent Alliance was created to help parents help their children — and get those numbers down as low as possible.
The Strong Family Alliance started in 2016, when Duke was at a Christian women's conference in Central Texas. Duke and her two roommates — Jen Smith and Kendra Wright — were talking about their experience raising children and she shared the story of her daughter coming out and her subsequent struggles. She'd considered creating a seminar for churches to help parents of LGBTQ kids. However, so many parents fear rejection from the church if their kid is gay, so she didn't think that'd be the best way to reach them. Instead, she suggested, why not start a website? To her surprise, her roommates were already working in web development, social media and search engine optimization and, together, they created the Strong Family Alliance.
"We're really trying help those the parents that are taken aback and don't know what to do with their own emotions."
While Duke has had 17 years to adjust to her daughter's coming out, she knows that the crucial moment is right after a kid says "I'm gay" or "I'm bi" or "I'm trans." Her goal with both the Strong Family Alliance and National Parents Coming Out Day is to help parents through that specific moment in their child's life. She's clear about the fact that her site isn't about holding workshops or offering long term support or talking about ways you can support a gay kid later. She wants to be the go-to spot for parents in crisis; parents who aren't totally sure how to feel about their kid being gay or bi or trans.
"Some parents think, 'Oh, that's great!' and it's nothing," Duke says. "We're not for those parents. We're really trying help those the parents that are taken aback and don't know what to do with their own emotions. That's who we're trying to help. I think the thing that we offer them is a chance to take that breath, get their feet under them, and get some good information."
The site breaks down everything from actions that can hurt, to actions that can help, common myths, ways to manage your own emotions, and suggestions about issues — like dating — that might come up in the future. It also features a forum for parents to share their own stories, totally anonymously, and connect with other parents who are going through similar things.
The One Thing Parents Shouldn't Do On National Parents Coming Out Day
But while she's all about celebrating queer kids and their parents, there's one thing that Duke wants to make sure people don't do on National Parents Coming Out Day: Post "My kid is gay!" on social media — unless the kid gives their consent. One of the things about coming out that the Strong Family Alliance highlights is the idea that the way a parent reacts to their kid coming out — and the things they share about it — should be directly related to where in the process the kid is. It's not really about the parents, after all, no matter how many feels they're feeling. It's about making sure that kid feels safe and loved in a vulnerable time.
As for Johanna, she couldn't be prouder about the fact that a difficult time in her life led to her mother launching this site and movement. "It's quite touching to have such an awesome mother who's so involved in trying to correct a wrong and an injustice," Joanna Duke tells Bustle.
So this October 12, celebrate National Parents Coming Out Day with the Strong Family Alliance. You can check out their suggested actions — from totally private to fully public — here. And if you are a parent working to process your kid coming out, congratulations! You're already doing a great job.