A Timeline Of The Pantygate Feud On 'RHOBH'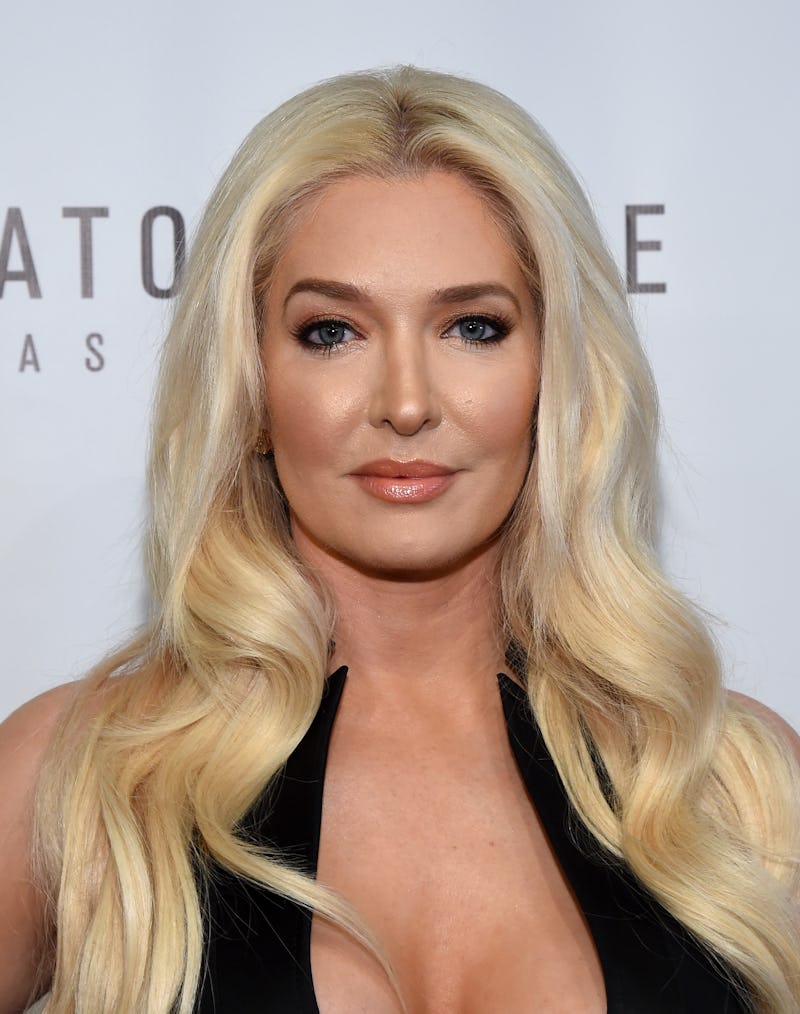 Ethan Miller/Getty Images Entertainment/Getty Images
Each season of Real Housewives of Beverly Hills seems to have a conflict that transcends the weekly minutia of the series and ends up becoming a constant source of tension until it finally explodes in a flurry of wine and hair extensions. This season's issue that just won't go away is somehow one of the most upsetting, in my opinion. "Pantygate", as it has been referred to, has dominated almost every episode this season. So, what exactly is "Pantygate" on Real Housewives of Beverly Hills?
The entire thing surrounds Real Housewives Dorit Kemsley and Erika Jayne. It began innocently enough when Erika chose to go commando to an event where she was wearing a designer dress and didn't want panty lines. Brand new housewife Dorit and her husband P.K. however, don't share my opinion that a woman has the right to choose what she wears or doesn't wear on her own body. They took Erika's wardrobe choice and they placed some pretty harsh judgement on her as a result. This tiny moment in time had some legs, though. Here is a timeline of "Pantygate." (And may I soon never have to type that word again, because this whole thing is ridiculous.)
The White Party
It begins at a pre-gathering for a white party at one of Lisa Vanderpump's restaurants. Kyle, Lisa, Ken, Dorit, her husband P.K., and Erika sat down for some drinks wearing their finest white attire and the subject of panty lines came up. Erika mentioned that she was going commando, and Lisa jokingly made a gesture up her dress. While it appeared that everyone laughed and moved on with their lives, Dorit and P.K. were not finished talking about Erika's underwear quite yet.
The Accusation
Next we see Dorit and P.K. having one of the most unsettling discussions I have seen on this show. Apparently, Dorit is convinced that Erika was flashing P.K. on purpose, or she at least strongly suggests that this is the case. This is when P.K. launches a disgusting judgement upon Erika, who is not present to defend herself, saying, "Maybe Erika's bits are available for the world?" He then adds, "What am I supposed to say? Close your legs darling, I don't like the view? I didn't mind the view!" You stay classy, P.K.
Spreading Rumors
After this unfortunate incident, Dorit literally goes on a campaign to tell anyone who will listen that Erika purposely flashed her husband. Eileen and Lisa Rinna didn't buy that Erika would do that on purpose. Also, Eileen called it the "Crotch Chronicles" and I think we all should have seized upon that name, but alas, "Pantygate" it is.
Dropping The Bomb
Dorit gets an idea to present Erika with a pair of new panties because, of course she does. At this point she has spoken about it to legitimately everyone she comes in contact with. She presents these panties to Erika in front of the entire group (while crudely informing her that they had "all seen your pretty little p*ssy") and Erika was embarrassed and angry. You see, since she didn't intentionally flash anyone, she was just finding out that people could see up her dress.
Men Have Self Control
Later the same night, the ladies pondered why P.K. would think it was appropriate to discuss another woman's vagina. Well, Dorit has an equally abhorrent response to that inquiry by saying, "Sorry, sweetheart but you served it up on a platter, what are you expecting? Of course he's going to stare at it." As if men can't control their eyes (or their manners).
The Junk Boat
"Pantygate" was brought to a crescendo when the ladies were sailing down a river in Hong Kong on a junk boat, as one does. Dorit and Erika's brewing feud exploded and things got tense to say the least. Erika brought up the fact that Dorit's accusations affected her husband Tom as well. Dorit didn't really care and instead went back to her old standby of saying, "What on Earth do you expect a man with a beating heart to be doing when a girl's vajayjay is in front of them?"
Eileen let her know that not everyone's husband has such little respect for women by saying, "Oh my god, I would never in a million years expect Vincent to sit there and stare up some girl's skirt who is not wearing underwear."
Dorit then turned the tables and blamed the whole thing on Rinna and Eileen, which was inventive of her. Erika actually left in tears and told the ladies that she was used to being judged wrongly based on her appearance.
Dinner Is Always Fun Around Here
Dinner in Hong Kong after that went just as well as expected. Erika reiterated that the main problem was that Dorit and P.K. kept talking about "Pantygate." When it was brought up that Dorit should be placing her anger on her husband for staring at another woman's vagina, everyone seemed to give deference to P.K., which made Erika ask why she and her marriage weren't being given the same respect. She elaborated further by telling Dorit that she and P.K. could apologize to her husband Tom and that would be enough for her. Dorit refused.
That is where we sit now on the eve of the finale. Anyone else looking forward to this season's reunion?