Dorit's 'RHOBH' Behavior Is Out Of Control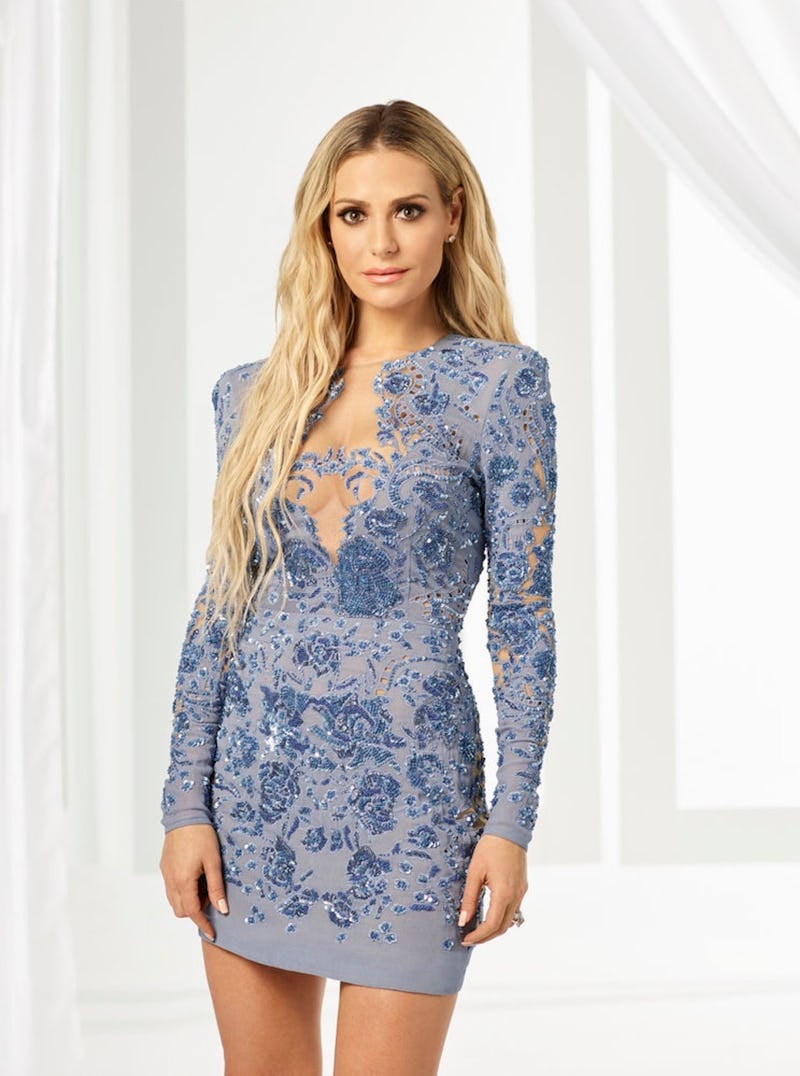 Richie Knapp/Bravo
There have always been a lot of interesting people on The Real Housewives of Beverly Hills. It is not unusual for someone to seem like they are stirring the pot for more screen time. This season, it seems like newcomer Dorit Kemsley and her husband will cause the most drama — and Tuesday night's episode was no exception.
The first scene she was in made my eyes roll into the next room. It involved her modeling a red dress for her husband P.K. When she asked him if the dress was appropriate, his response was, "I think compared to Erika Jayne, it's quite long." Um, they were not even speaking about Erika, and Dorit's husband just brought her into a random inappropriate conversation. Dorit just giggled and responded, "Well, at least I have underwear on tonight." Apparently relentlessly shaming other women is just going to be her M.O. this season. I really can't believe that it was an actual conversation that adults had on national television.
Erika isn't the only person the Kemsleys cause drama with, though. During Dorit's random dinner party, P.K. started grilling Lisa Rinna about her conflict with Lisa Vanderpump. When Rinna explained that she has let the whole thing go, P.K. snarked, "Yeah, a year later." Then when Rinna explained that she had lost her father and Eileen lost her mother in the same year, Dorit and P.K. basically just told her that that was obviously the reason they were fighting with Vanderpump.
Newsflash: Someone's expression of grief should not up for debate. Unfortunately, both Dorit and her husband claimed that it was unfair of Eileen to withhold the fact that her mother died before the reunion. Poor Rinna was left to defend the (obvious) fact that Eileen reserves the right to decide when she wants to tell the news of her mother passing.
After hearing about the dinner party conversation, Eileen decided it was a good idea to meet Dorit at the beach and discuss the whole thing. When Dorit arrived, the wind was blowing extremely hard and Eileen's dress blew up. Dorit put her hands together and said, "Eileen, thank you, thank you, thank you, thank you for wearing underwear. I think I have seen enough hoohaas lately." Why is she seriously still talking about this?
While they talked, Dorit first denied even talking about Eileen at the party. She couldn't remember her even being brought up. Of course she explained it super nicely by saying, "I'm not going to remember every single topic, particularly when it didn't actually mean that much to us."
Later, when she was listening to Erika talk about her thriving music career, Dorit name-dropped Boy George for the seven billionth time and then wondered out loud whether Erika's career was, "a hobby of hers." I mean, Erika has had nine #1 singles, but OK.
It's only been a handful of episodes, but Dorit and her husband need to be gone, guys. I can't watch them be this way anymore — so either something needs to change, or she needs to cut her time short.