11 Things You Should Know About Paris Jackson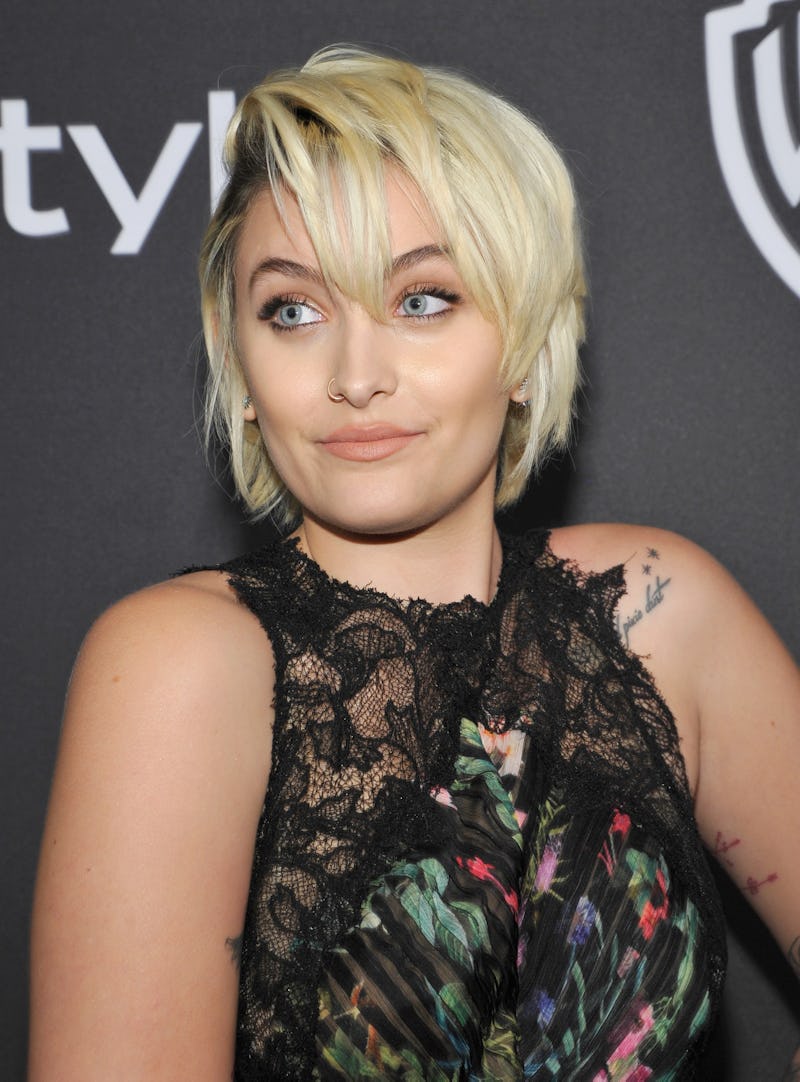 John Sciulli/Getty Images Entertainment/Getty Images
The 59th Annual Grammy Awards are almost here. On Sunday night, performers, winners, and presenters will take the stage. One of these Grammy presenters happens to be Paris Jackson. Yeah, that Jackson — daughter to the late King of Pop, Michael. She spent the majority of her early life out of the spotlight, sometimes wearing a mask when photographers flashed their cameras at her uber famous family. After her father's passing in 2009, Jackson made her voice heard when she spoke at her dad's televised memorial service. She's remained relatively under the radar since, but given that she's presenting at this year's Grammys, audiences will probably be wondering: What is Paris Jackson up to now?
The list of this years Grammy presenters spans across music, film, and TV. Jennifer Lopez, Nick Jonas, Taraji P. Henson, Céline Dion, Kelly Clarkson, Gina Rodriguez, John Travolta, and Laverne Cox will all present that night, amongst many other recognizable names. Jackson stands out amongst them, as she's neither a notable musician or actor (yet, anyway). However, this Grammys appearance could be a sign that she's moving into the direction of pursuing a career — or careers — in the industry.
Here's a round-up of what Jackson has been up to lately.
1. She's Been Getting Tatted Up
According to a candid interview Jackson gave to Rolling Stone in January, she has more than 50 tattoos. Nine of which are dedicated to her father.
2. She's Been Modeling
She recently did a high-fashion, old Hollywood style shoot in Paris. She told Rolling Stone, "There's a moment when I'm modeling where I forget about my self-esteem issues and focus on what the photographer's telling me — and I feel pretty."
3. She's Been Traveling
One look at Jackson's Instagram page, and it's clear that she's a woman of the world. It looks like she frequently takes road trips all across America, and recently spent some time in Europe.
4. She Went To 2017 Paris Fashion Week
Jackson sat front row at the Givenchy and Dior Homme shows. She rubbed elbows with A$AP Rocky, Bella Hadid, and Boy George.
5. She's Going To Make Her Acting Debut This Year
According to The Hollywood Reporter, Jackson will have a one episode role in Lee Daniels' new drama, Star.
6. She's Been Standing Up For Her Family
In January, Jackson voiced her feelings about the casting of Joseph Fiennes as Michael Jackson in a made for television movie. Because of her comments, the movie never aired.
7. She's Been Outspoken On Women's Rights
She also seems to be an advocate for the environment, and has numerous quotes about peace and love all over her Instagram page.
8. She's Been Chillin' With Her Adorable Dog
Time well spent.
9. She's Been Honing Her Photography Skills
Jackson has a second Instagram account, under the pseudonym Parisaurus Rex, where she catalogues snapshots from her life.
10. She's Been Practicing Music
According to that same Rolling Stone interview, Jackson "plays a few instruments, writes and sings songs." It doesn't sound like she'll necessarily follow down the path of her father, music-wise, but it's good to know he's passed on those talented genes.
11. She's "Happier Than Ever"
Jackson told Rolling Stone that she'd struggled with depression, anxiety, multiple suicide attempts (one of which was made pretty public), and drug use. Now, she's sober and as the magazine attests, "happier than she's ever been."
Catch Jackson at the Grammy Awards, airing this Sunday, Feb. 12.