The New 'Bachelorette' Is Busy On Social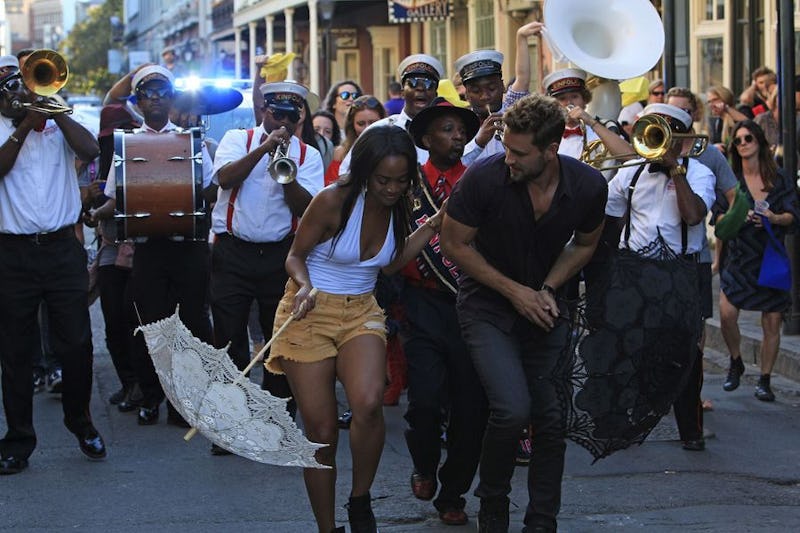 Mark Coffey/ABC
Now that Jimmy Kimmel has announced the next Bachelorette (it's Rachel Lindsay, duh), it's time to do what I do to every Bachelor and Bachelorette contestant as soon as their identities are revealed — I hardcore stalk them on social media. Sure, social media is just the screen that you want to portray to the world, but I don't care. I want to see what all of these people are doing and eating, and I want to see it now in all the ways that I can. So, what is Bachelorette star Rachel's Snapchat name in case you want to catch her there before her season starts?
Rachel captured hearts on Nick Viall's season of The Bachelor. She got the first impression rose from Nick, she had a great date in New Orleans, and then she got the gig as the new Bachelorette. ABC may have had its reasons for announcing Rachel's new job so early, but I'm okay with it — it gives me a chance to catch my breath and see who Rachel really is before she takes over with her own gig. I was hoping that Rachel would have a Snapchat, because that's my favorite form of social media at this point (you can't be too perfect in a Snap), but she does not seemingly have a public one. Sigh. At least not one that I could find. Rachel would be fun on Snapchat, but she does have both a Twitter and an Instagram, at least — you can find her at @TheRachLindsay.
And what do Rachel's social media channels have? Mostly her having fun with her friends and plugging her time on The Bachelor, so Rachel is like any other 31-year-old that I know. Living the life and trying to have fun on the weekends, you know? Hopefully, Rachel won't make any fatal social media mistakes like Kaitlyn Bristowe did — remember when she spoiled her season by posting a pic of her and beau Shawn Booth to Snapchat? Maybe producers won't let her have a Snapchat. Thankfully there's Twitter and Instagram for now.