Taylor Swift Fans Already Have *Lots* Of Theories About Her New Song's Deeper Meaning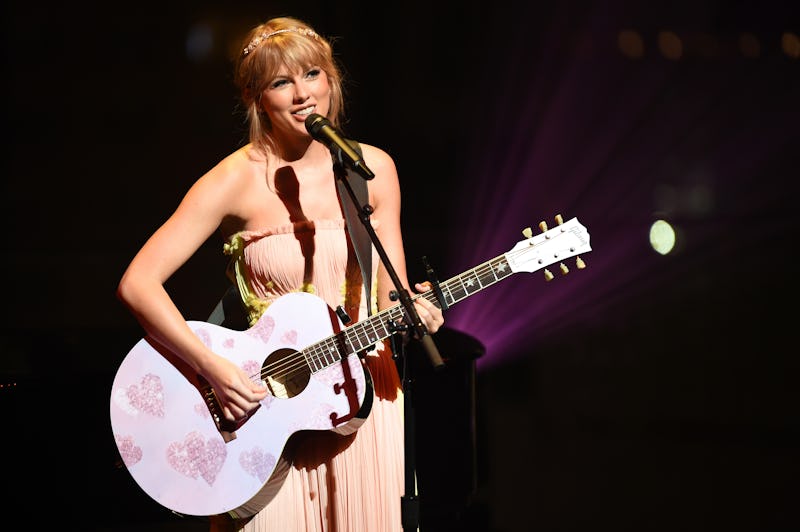 Dimitrios Kambouris/Getty Images Entertainment/Getty Images
The Easter Bunny of pop music warned us something was coming on Tuesday, July 23, and sure enough, that something arrived smack dab in the middle of an Instagram Live session. Now that the third song off of Lover is here, you may be wondering what Taylor Swift's "The Archer" is about. Whew, do the lyrics give fans a lot to pore over. The Jack Antonoff-produced track is an '80s-tinged synth dream in which Swift identifies as both "the archer" and "the prey," gives Humpty Dumpty a shout out, seems to reference to the ninth astrological sign, lets the listener know she is ready for combat, compares herself to a ghost, and so on. Suffice to say, there is a lot to mine here.
This gut-punch of a gorgeous song will be the fifth song on Swift's forthcoming seventh album... but it won't be an official single. According to Billboard, Swift explained via Instagram Live that "The Archer" is not a single, but she "really wanted to give [fans] track five before the album came out." She continued, "Track 5 is kind of a tradition that really started with you guys because, I didn't realize that I was doing this, but as I was making albums, I was instinctively putting very vulnerable, personal, honest, emotional songs as track 5." Praise the pop gods, because TS has once again made an emotional pop jam track 5 on an album.
Whew, do the feelings flow in this tune. And whew, you better believe fans have some thoughts about "The Archer" and what it may or may not mean. Because duh, of course there are theories. Come on, if a Taylor Swift song doesn't inspire lyric theories, does it make a sound?
It's About Platonic & Romantic Relationships
Wow, does a chorus like "I've been the archer, I've been the prey/Screaming, who could ever leave me, darling/But who could stay?/I see right through me, I see right through me" hit hard.
It's About Feeling Insecure
Are lines like "Easy they come, easy they go/I jump off the train, I ride off alone/I never grew up, it's going so old/Help me hold on to you" and " Dark side, I search for your dark side/But what if I'm alright, right, right, right here?/And I cut off my nose just to spite my face/Then I hate my reflection for years and years" not arrows aimed right at the ol' heart, or what?
It's About Owning Up To Things She's Done In The Past
She is the archer and the prey, the snake and the butterfly, et cetera.
It's A Sequel To "Delicate"
Maybe there is a connection between "The Archer" and Reputation song "Delicate," maybe they both just happen to be the fifth track on a TS album. Either way, both songs rule.
It's About Being A Sagittarius
Motion to make "The Archer" the new Sagittarius anthem.
Also? Motion to make "The Archer" an official single.