Taylor Swift Fans Think This "Delicate" Video Moment Was A Reference To Joe Alwyn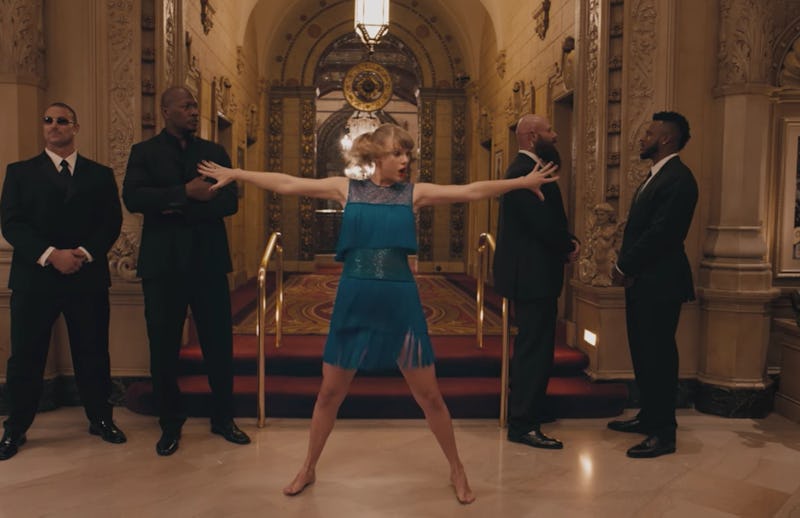 TaylorSwiftVEVO
Taylor Swift's new music video for "Delicate" is here, and fans are already scanning the clip for clues about the people in Swift's life. The singer has always loved a good reference — remember all the snakes in "Look What You Made Me Do?" — so it's not out of the question that there might be some sneaky details in the new video, too. One of those details? Fans think Taylor Swift spelled out Joe Alwyn's first name in the "Delicate" video — and they might have a point. The video premiered at Sunday night's iHeartRadio Music Awards, and fans are already analyzing it for potential hints about Swift's personal life.
As eagle-eyed fans on Twitter have pointed out, Swift's dance moves appear to spell out "J-O-E," in the "Delicate" video. That doesn't seem like a coincidence, considering it's her boyfriend's first name. It's totally plausible that the song, which describes someone liking Swift for who she is, is about Alwyn. And if that's the case, it makes sense that Swift would add in some hidden-in-plain-sight details about her boyfriend. After all, if the relationship is making Swift so happy she wants to dance in the rain, why wouldn't she want to give Alwyn a subtle nod in her new video?
The dance moves in question start around the 1:55 mark in the video. It's just after Swift's character appears to become frustrated with her security detail and with her friends, and she starts dancing in a hotel lobby.
The apparent reference to Alwyn fits with the theme of the song, too. In the "Delicate" lyrics, Swift talks about an unnamed beau, and many fans think the song is about her relationship with the British actor. The song's lyrics include lines like "My reputation's never been worse, so / You must like me for me." It's not hard to imagine those lines being about Alwyn, even if Taylor's character in the video doesn't have an on-screen love interest.
"Delicate" isn't the only Reputation single in which Swift talks about her own reputation, but it does seem noteworthy that she appears to be talking about one person's opinion of her in particular. Plus, there's also a lyric about how Swift has "never seen that color blue," which could be a reference to Alwyn's eye color. Swift hones in on the point by wearing a bright blue dress in the video, too.
Plus, the dance moves might not be the only reference to Alwyn in the "Delicate" video. Fans have also pointed out that there's a "Joe's Deli" sign in the background of one of the shots. Again, that doesn't seem like a coincidence. (You can see the deli sign in the background of the video starting around the 3:24 mark.)
Swift and Alwyn met in 2016, though it's not clear exactly when they started dating. The couple was seen together in Nashville last June, though they may have been dating before that appearance. It seems like they're super happy together these days, too. They were recently seen hiking together, and they look super comfortable with each other. And if "Delicate" is about Alwyn, it's nice to see Swift happy, and doing some carefree dancing. It's nothing like her songs about revenge and breakups, and that's not a bad thing.
It's safe to say fans will notice more details about the "Delicate" video. Whether there are more references to Alwyn or they're other references (like, say, to Swift's friends, or her lucky number 13), there are probably plenty of other hints just waiting to be uncovered in the "Delicate" video. After all, what's a Taylor Swift video without some hidden clues?