7 Things To Know About The Meat Allergy Transmitted By Ticks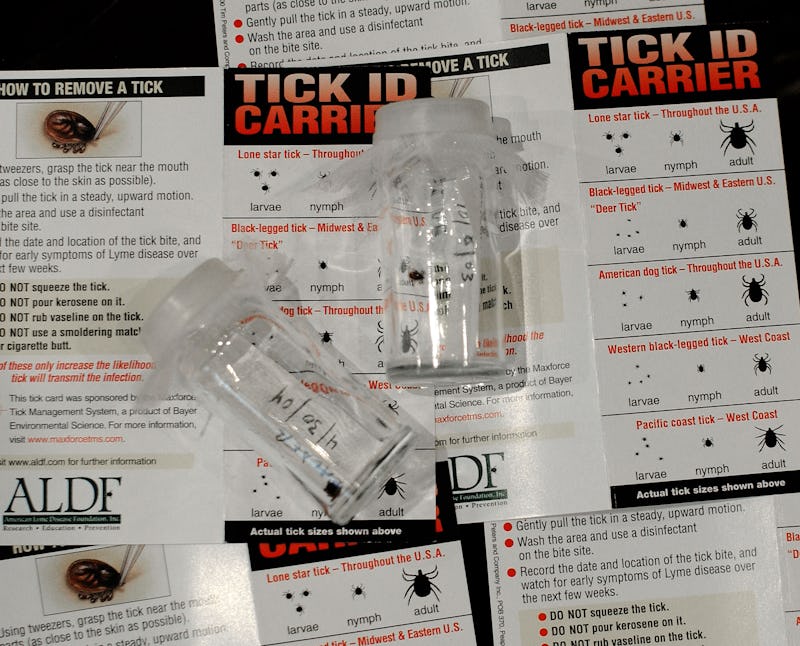 Stephen Chernin/Getty Images News/Getty Images
It sounds like it's straight out a science fiction movie, but this is real life: there is a tick whose bite leaves you allergic to meat for an unspecified amount of time, and it is spreading, fast. Dubbed the Lone Star tick, this teensy-tiny arachnid will suck your blood for a meal, then make it nearly impossible for you to enjoy meat again, which is exactly as horrifying as it sounds. Researchers are learning more about this rapidly spreading tick, but they're still searching for answers about the side effects of the bite. For now, though, we need to stay informed on what we do know about the meat allergy transmitted by ticks.
The Lone Star tick is a very small eight-legged tick with a hard outer shell and a small white dot right in the center of its back. It got the name "Lone Star" from both that small white dot. In the last few years, the tick has spread throughout the entire Southeast of the United States, going all the way up to Maine.
Unfortunately, the Lone Star tick is also the most aggressive kind of tick known to man. Unlike other ticks, who wait to stumble upon a host to suck the blood out of, the Lone Star tick actively seeks out a host. They can be found in wooded areas and by ponds or bodies of water where animals drink. Like any other tick, they are tiny and hard to spot.
While the meat allergy isn't the one side effect that comes with a Lone Star tick bite, it is certainly the one getting all of the attention — and for good reason. Here's what we know about this meat allergy so that you can keep yourself safe: