This Is the Most Popular Wedding Gift In Your State, If You Need A Good Idea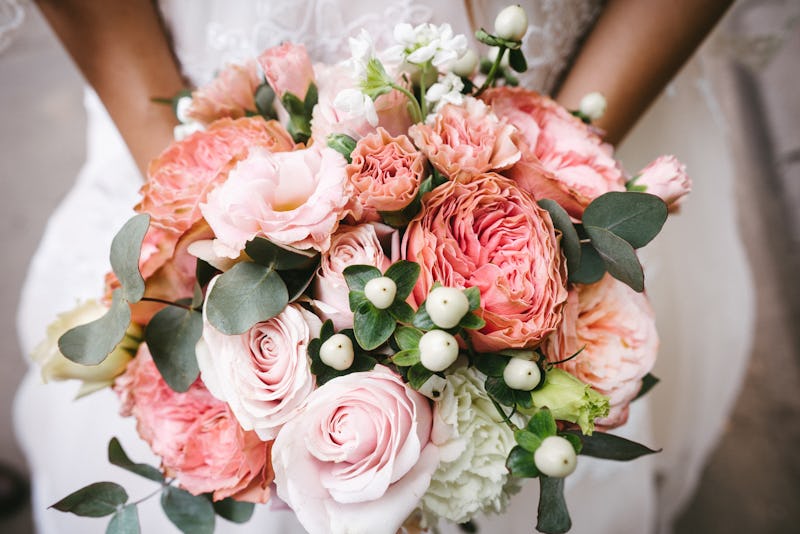 Fotolia
Wedding season is upon us once again. According to Brides Magazine, late spring is a prime time for wedding ceremonies to take place, as the weather is typically pretty nice. Who can blame someone for wanting it to be 70 degrees and sunny on their big day? If you have been invited to a wedding for the first time this season, congratulations! Bear in mind, any anxiety you may feel about all that comes with being a wedding guest are normal; one chart depicting the most popular wedding gifts in each state in the U.S. will surely give you some guidance. Wedding registry and planning company Zola compiled data about the most popular wedding gift ever into a neat little graphic.
Shopping for a wedding gift is an exceptionally stressful affair. You scroll through pages and pages of kitchen gadgets and other miscellaneous housewares looking for something you hope the couple will absolutely adore. But do you go with the waffle maker or the stand mixer? Maybe the cast-iron skillet is more versatile? But you also have to buy a dress for the big day so better not drop too much dough on one thing. In this case, it can't hurt to follow the masses and opt for the gift most-desired by those in your neck of the woods.
At first glance you can pretty easily notice a few trends. The Logic Lodge Cast Iron Skillet is the most popular gift in seven states: Alabama, Florida, Indiana, Kansas, Ohio, Pennsylvania, and Washington. The Cuisinart Classic Waffle Maker is the most popular gift in five states: Alaska, New Mexico, Oklahoma, Tennessee, and Utah. The KitchenAid Ultra Power 5-Speed Hand Mixer topped the list of most popular items in Delaware, Nevada, New York, and South Dakota.
If you think about it, nothing on this list is too surprising. The most popular item, a cast iron skillet, is viewed by many as a cupboard essential; a waffle maker is a fun gadget people often don't want to buy for themselves. Plus, any baker knows how vital an electric mixer is for crafting smooth cake batter. A hand mixer is a more space-efficient version of its iconic stand mixer — chances are the newlyweds aren't living in a mansion quite yet.
Another interesting thing to explore is regional trends in gifts. The Le Creuset Dutch Oven also made an appearance on the list twice — for Maine and Massachusetts. One may suggest this can be attributed to the fact that these two New England states have notoriously harsh, cold winters. A dutch oven is used for preparing hot meals like stews and soups. Bilbrite Indoor/Outdoor String Lights, which one can hang outside of their home, are popular in places like Kentucky and Arizona where it is warm most of the year.
Last year, the wedding magazine The Knot reported the average cost of a wedding in the United States is a whopping $35,329. In some areas the price tag could even be as high as almost $80,000. Further, the average price of attending a wedding (yes, just being a guest, not even a bridesmaid or anything) was $673 in 2015. Between airfare a dress, shoes, and of course a gift, it is easy to see how quickly things add up.
Overall, it is abundantly clear the most popular wedding gifts indicate a guest's desire to appeal to newlyweds' hearts ... through their stomachs. Kitchenwares were the most popular wedding gifts in 25 out of 50 states. If you have a wedding to attend this season, keep in mind how quickly those little expenses can add up.
But try not to let that stress overshadow the fact you were chosen to be present for your loved ones' special day. You can't put a price on that.