Trump's Election Day Plans Probably Aren't That Different From Yours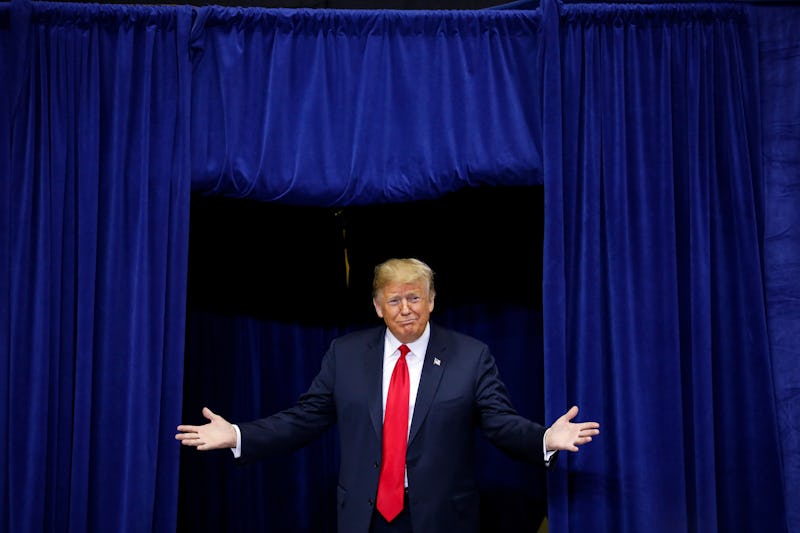 Aaron P. Bernstein/Getty Images News/Getty Images
The president has put a lot of energy into helping Republicans maintain control of both branches of Congress this year, and what President Donald Trump will do on Election Day shows how crucial the midterms are for him. Slowing down after weeks of campaign-related travel, POTUS will stay in Washington on Tuesday to watch the results slowly roll in, Politico reports.
"After 11 rallies in 8 states and weeks of campaigning for Republican candidates, the President will spend today making phone calls, monitoring Congressional, Senate and Gubernatorial races across the country and meeting with his political team for real-time updates," White House Press Secretary Sarah Huckabee Sanders said in a statement to Politico. She added that the president and first lady invited family and friends to join them in the White House residence Tuesday evening to watch election returns.
Political analysts largely expect Democrats to take back control of the House, while Republicans are predicted to keep a majority in the Senate. A split Congress would inevitably make it much harder for Trump to pass any major legislation, so whatever happens on Tuesday will be massively consequential for his political agenda going into 2019 — not to mention his 2020 bid for re-election.
"There's a great electricity in the air, like we haven't seen, in my opinion, since the '16 election. So, something is happening," Trump told reporters on Monday, per CNN.
The president didn't go on an early morning Twitter rant on Tuesday as he's often wont to do, but his feed has primarily featured photos and videos from his rallies in recent weeks. He campaigned for GOP candidates including Josh Hawley in Missouri's Senate race, Mike Braun in Indiana's Senate race, and Mike DeWine in Ohio's governor's race.
Florida has been on his mind, too, as he's repeatedly tweeted criticisms of Democratic Sen. Bill Nelson, who's seeking re-election, and Tallahassee Mayor Andrew Gillum, the state's Democratic nominee for governor.
During his stop in Missouri this week, the president preemptively complained about how the media will cover the midterm results. "If we don't do so well tomorrow, they will put me on the ticket. If we do great tomorrow, they will say, 'He had nothing to do with it; he was not on the ticket,'" Trump said, per CNN.
But regardless of which party wins a majority in Congress, midterm elections typically signal how the nation feels about the sitting president. For Democrats this year, that means voting for candidates they hope will combat Trump's anti-immigrant, anti-Obamacare platform. As David Corn wrote for Mother Jones:
As the egotist he is, Trump has proclaimed that this election is about him. In this instance, he is correct. That means the midterms collectively are a referendum on the damage Trump is doing to the office of the president and the political culture of the United States. Though Trump may not be on the ballot, decency is — and its future is on the line.
Because the stakes are so high, Trump will be keeping a close eye on midterm results Tuesday.