What I've Learned About Practicing Self-Care As A Queer, Indigenous Activist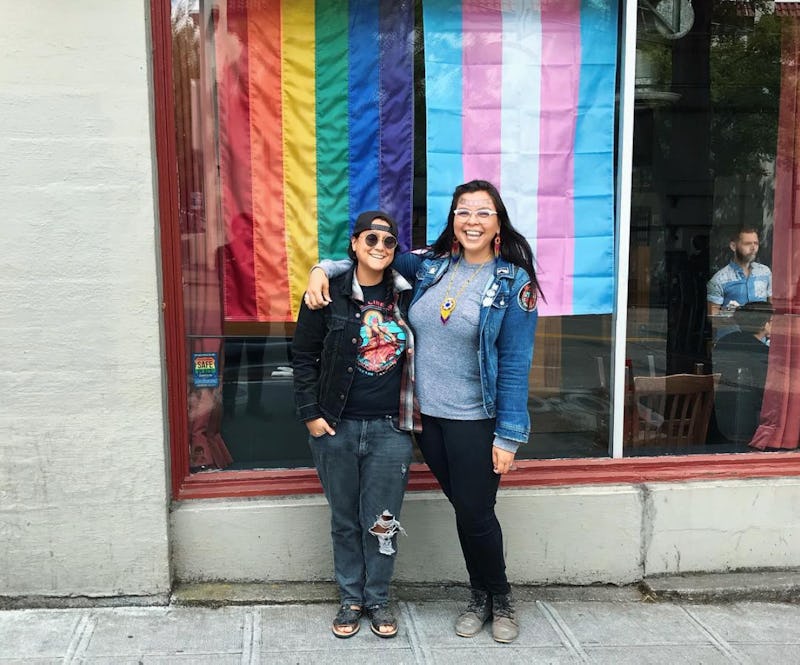 Courtesy of Eryn Wise
In this op-ed, Eryn Wise, Jicarilla Apache and Laguna Pueblo, Communications and Digital Director for Seeding Sovereignty, discusses practicing self-care as a queer, indigenous womxn activist in an emotionally tense and politically polarized nation. In her work with Seeding Sovereignty, Eryn assists in amplifying the voices of the womxn-led collective through media, video, and voice. To learn more about their work, please visit www.seedingsovereignty.org.
The Saturdays of my childhood began the same way every week: A breeze would blow through the house as my mother methodically opened every window, and just as I tugged my blankets tight up to my chin, Santana would blare out of the speakers, waking our neighborhood. If I wasn't dressed and out the door before Mom caught me, I'd have a broom in one hand and a dustpan in the other. Twenty years later, my Saturdays have become reserved for taking great pains to unpack and process how to protect myself and my people — all our people — from the virulence of racism, fascist fear-mongers, and the war waged on our earth.
As this country fades to black, awash in xenophobia, senseless acts of violence, and hate crimes, I often find myself overwhelmed by whatever trash the day has thrown out. I'm so invested in all that I'm helping to do, that I forget to eat, drink enough water, and sometimes only remember to shower when I'm mid-sentence, reminding my partner to do so. I feel guilty for wanting take out, knowing what single-use waste is doing to our oceans. Wrong for wanting a bath, knowing how much water I'll be using. I shouldn't have sex, because I don't deserve the privilege of pleasure amidst all this pain. Watching TV's always a bust because each channel is a testament to terrorism, and browsing the internet is often just a trigger for trauma.
In entering my third year of round-the-clock activism and advocacy, my work transitioned from ensuring youth didn't die fighting pipelines, to assisting with campaigns fighting CAFOs (concentrated animal feeding operations) in Iowa, raising awareness about the construction of more pipelines, amplifying youth-led webinars bringing awareness to the crisis of Missing and Murdered Indigenous Women, and rallying behind future ancestors... and this is just the Cliff Notes version of my current job description working for the resistance.
When I am daunted by the enormity of the world, and the work to be done to make it sustainable and equitable for everyone, I am reminded and encouraged to lean into my community. We are doing so much, yet come from people who have done even more. For the first time in my life, I am seeing people I identify with, and am proud of (even someone from my tribe) campaigning for upcoming elections. Midterms are making me manic, yes, but an unprecedented number of Indigenous peoples are running for office! Even when I am feeling inconsolable because of the danger of ignorance, the treatment of trans, non-binary, and gender non-conforming folks, or the bold and loathsome preparations being made to stop a migration of refugee relatives, there is still much to celebrate.
Silver linings are hard to identify in today's climate, but seeking them is part of my journey to wellness and reclamation of self. Learning how to survive in a world gone awry for me means drawing the sacred parts of me inward. I recognize that self-care is a duty and responsibility not only to myself, but to the future generations who deserve a healing world. Poet, queen, and beloved sister Nayyirah Waheed wrote, "Every once in a while, take off your life and rest." So I do.
I honor the resurgence of Indigenous peoples, and then I turn off my phone. I give thanks for the privilege of clean water, and then share a shower with my sweet. I allow myself the pleasure of loving and being loved, because I am as deserving of kindness and intimacy as much as anyone else. When people in power call evil from the grave, I sit in ceremony with myself, smudge, and speak to my ancestors.
Sometimes, I close my eyes to remember my mother in the '90s. She was an Apache thousands of miles from home, surrounded by suburban sprawl and bigots who'd never seen a biracial family, yet unapologetically played the loudest, brownest music she possibly could out our windows — every weekend. Even when I feel like I am not doing enough, I am reminded that my mere existence can be an act of resistance.
Since it is Native American Heritage Month (even though, TBH, we're out here living our traditions on the daily), and the current administration is getting continually more creative with the ways in which it attempts to strip us of our sovereignty, I know now more than ever that I must warrior up in a way I've never been called to before. My vote this week, as a queer indigenous woman, holds more weight because I have the ability to vote at all. State-sanctioned voter suppression in North Dakota is denying many of the relatives I fought the Dakota Access Pipeline with their ability to vote, and yet the people are fighting back. We always have.
"Things coexist even when we think they shouldn't," my best friend texted me as I wrote this. I'm taking that as a sign to continue to learn how to clear up this mess of an misguided nation, and thrive in spite of it.