Alexandria Ocasio-Cortez Did Everyone A Solid By Sharing Her Signature Red Lip Color — And Now It's Sold Out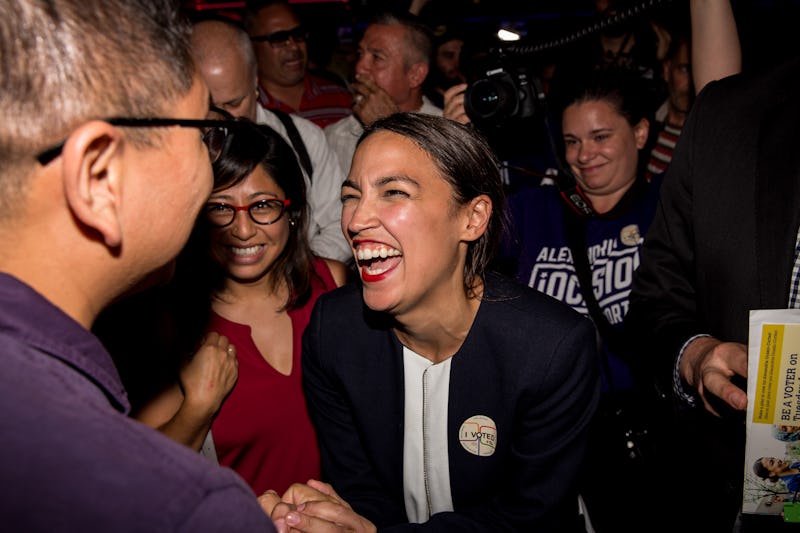 Scott Heins/Getty Images News/Getty Images
Women are more than their lipstick, but that doesn't mean they can't appreciate a perfect shade of red. Democratic congressional candidate Alexandria Ocasio-Cortez's red lipstick shade may be just the tiniest part of her major upset victory in the democratic primary race where she beat incumbent Joe Crowley, but that doesn't mean inquiring minds don't want to know where her gorgeous lipstick came from. Thankfully, the DC hopeful understands the struggle to the find the perfect red shade and is sharing her knowledge with the masses.
According to The Hill, Ocasio-Cortez tweeted out what lip color she was wearing back on June 17 following her debate with former competitor Joe Crowley. According to Ocasio-Cortez's tweet, many had been enquiring about her lip color after seeing her during the event, and obviously enquiring minds need to know. Thankfully, she was more than happy to oblige and told followers that her lip color that night was Stila Cosmetics Stay All Day Liquid Lipstick in Beso. Is anyone surprised it's a liquid lip? After all, no one wants red lipstick on their teeth during a debate, right?
Since Ocasio-Cortez's tweet, people have caught on that the shade has sold out on both Sephora's website and the Stila website. While the congressional hopeful is inspiring people through her campaign and platforms, she's always clearly inspiring their style as well.
Currently, the lipstick is still sold out at Sephora's website (though it may still be available in your local store), it looks as though it's back on the Stila website. Plus, it's also available at Ulta if you just have to get Ocasio-Cortez's debate look.
Ocasio-Cortez's Twitter followers were quick to respond to the tweet (though most of the attention seems to have come after she won her primary election on Tuesday, June 26). From those praising the candidate for not thinking beauty and politics can't mix to those sharing their love of the lip color, too, it seems like the potential congresswoman's popularity is only rising.
Some were even asking how long it would be until Stila decided to rename the lipstick. Honestly, it's not a bad idea given Ocasio-Cortez's stunning victory.
Some joked that the lipstick should be called "Congresswoman Crimson," and hello, that's clever. Stila should maybe listen to Ocasio-Cortez's constituents.
People love a woman who knows her politics and her lipstick shades. There's honestly no reason not to stan this powerhouse woman.
Others called it a Resistance lip, and that's also just so appropriate.
Some were just happy to have the shade in common with the candidate.
The debate also doesn't seem to be the only place she wore the lip color. If you've see video footage of her victory speech or photos of her from the night of her win, you'll notice that she's again wearing a gorgeous, true red lipstick. Since she seems like such a fan of the Stila hue, it makes sense that it'd be whats in pictures from that night as well. This time when she rocked it, though, she made history. Who said red lips aren't powerful?
If you want to get your hands on Ocasio-Cortez's red lipstick, you can head into your local Sephora (but not online), Stila's website, or Ulta. It seems you should hurry up, though. With one location to shop the color already sold out and news spreading about what lipstick she's actually wearing, it wouldn't be surprising if more shopping locations ran out of Beso.
Grab your credit card and get moving. You don't want to miss out on this stunning true red. Maybe while you're at it, shoot a donation Ocasio-Cortez's way. She did just give you your perfect red lip after all.