A Female Doctor Isn't The Only Huge 'Doctor Who' Change This Season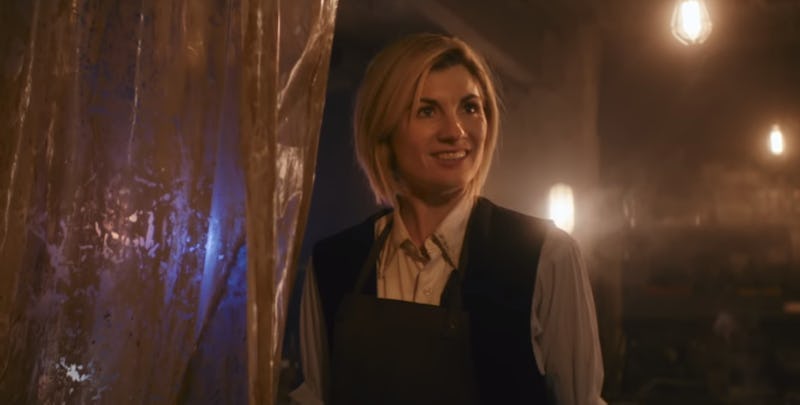 BBC America
After a long 15 months, the doctor is officially back in. Doctor Who Season 11 hits screens Oct. 7, and it ushers in an exciting new era: Jodie Whittaker will be the show's first female doctor in its 55-year history. There are plenty questions leading up to premiere, but at this point, the most important one is what time Doctor Who airs. We don't have the luxury of a time machine, so being late for Thirteen's big debut is not ideal.
Per its website, BBC America is celebrating this monumental occasion by airing the Season 11 premiere on Oct. 7 at 1:45 p.m. ET. This time coincides with the UK debut so fans can enjoy the show simultaneously. It's a seriously smart move by the network, because U.S. viewers usually have to dodge spoilers for several hours before they can settle in to watch. The hype around this season is huge, so even the most curious fans would probably be upset if a major plot point was revealed on social media.
And for Whovians at New York Comic Con, the episode's early broadcast will be extra sweet. Thanks to a Sunday panel, they get to watch the premiere as a collective fandom, then follow the whole thing up by partaking in a Q&A with Whittaker herself. According to the NYCC website, she'll be joined by new showrunner Chris Chibnall and executive producer Matt Strevens, and will discuss the episode and answer questions from excited fans. Those of us at home will have try hard not to be jealous of watching The Doctor with…The Doctor.
In the past, Dr. Who has aired in the U.S. on Saturday nights at 9 p.m. ET, so this is a major departure from what viewers have become accustomed to since its 2005 revival. Moving forward, Doctor Who's Sunday slot will stay the same, CimenaBlend reports, but the air time for subsequent episodes will move to 8 p.m.
This is yet another great decision because it means Doctor Who won't have to compete with Sunday's big TV hit, The Walking Dead, which coincidentally returns on the same day at 9 p.m. The back-to-back showing is going to be the perfect way to indulge in a little escapism before diving back into the real world on Monday.
And on top of that, there will be a Season 11 premiere encore presentation at Dr. Who's new regular time. So, people who can't make it to a TV during its initial airing will have a chance to see the episode on the same day as fellow fans, while viewers who love to re-watch episodes and examine every detail will have a second chance to catch everything they may have missed the first time! It's a win-win for everyone.
Doctor Who's debut is right around the corner and American fans are getting a chance to fulfill their anglophile dreams by watching it at the same time as their British buddies. So, grab a cup of tea and get ready for lots of running and time-traveling fun with lucky number 13.