Get Ready For Trump's Dramatic Address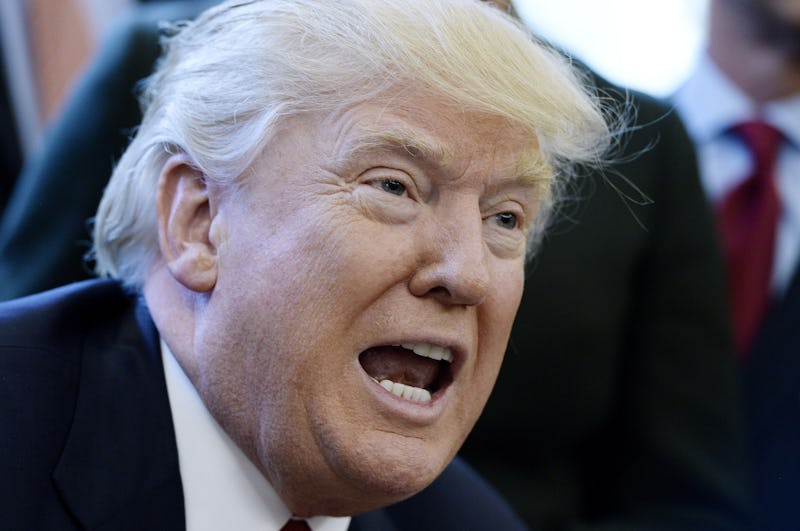 Pool/Getty Images News/Getty Images
An important milestone in Donald Trump's presidency is coming up, and it should be a great way to fuel your resistance to his administration. Trump's Congressional address will start at 9 p.m. ET on Tuesday, and between his policy points and his penchant for sticking his foot in his mouth, it's bound to be an interesting night of television. Get your popcorn and Twitter app ready to follow along as the drama unfolds.
The traditional speech before Congress in the president's second month in office already promises to bear some controversy, even before the actual content has been revealed (The Wall Street Journal preliminarily reported that healthcare and tax reform will be a central focus of the speech, but plenty of Trump's other favorite policy points could also be included).
It's unclear what version of Trump will show up to the party — his two public personas, Rally Trump and Teleprompter Trump, could be in serious competition to see who wins. On the one hand, the setting and company will demand decorum that Trump is capable, if seemingly reluctant, of providing. However, the televised event puts him in the position of maintaining the brash and establishment-disrupting character that won him the presidency.
Additionally, some Congressional Democrats have reportedly invited immigrants to join them at the speech in protest to Trump's Muslim travel ban. "I want Trump to see the face of a woman, the face of a Muslim, and the face of someone whose family has enriched and contributed to this country despite starting out as refugees," Rep. Luis Gutiérrez, who's bringing Chicago immigration attorney Fidaa Rashid, told PBS. You know that means there's going to be plenty of post-speech spin happening, so even though it technically ends at 10:30 p.m. ET, you should probably stick around for a little while to watch the aftermath, too.
The major news networks will have live streams online that you can access for free, and you should really try to watch if at all possible. What Trump does and doesn't mention before Congress could be a really important roadmap for the next year, which could help you plan resistance activities and stay one step ahead of his administration.
Even though it's agonizing to listen to him speak at this point, it'll worth it to watch how both Congressional Democrats and Republicans respond. Watching live is the best way to stay informed and make up your own mind about whatever happens.