I Wore My Tevas With 7 Wildly Different Outfits To Prove They Work For Every Occasion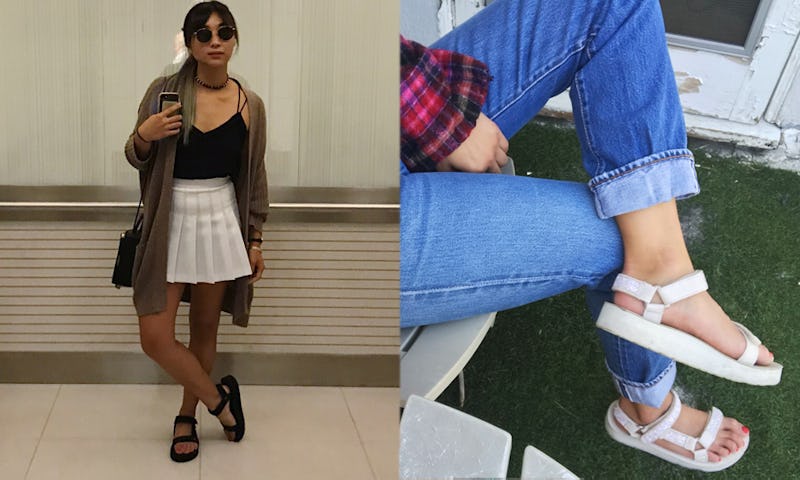 Dale Chong
Is it just me or have "ugly" shoes been experiencing a surprisingly long time in the fashion spotlight? But while I have see an endless variety of chunky "dad shoes" on my Instagram feed, I've noticed a new trend beginning to take over: the camping sandal (like Tevas). Various forms of this shoe have been appearing on influencers everywhere, from thick, leather slip-ons to intricate, strappy iterations. And while I might have once cringed at the sight of them, I've started to become a little more intrigued.
Take a look around, and you'll see that the camping aesthetic (also known as "gorpcore") has taken over. Thanks to designers like Off-White and Prada, city-slicker chic has gone on the back burner as designers have turned to the great outdoors for inspiration.
With the state of normcore constantly evolving, it was only a matter of time before gorpcore became a full-blown thing. Of course, as someone who loves a good controversial trend, I had to try it out for myself. While you might not find me sporting a pair of cargo pants or camouflage just yet, the camping sandal would be an easy first step — no pun intended — into trying out the look. For this reason, I decided to incorporate a pair of utilitarian Teva sandals inito my wardrobe every day for a week.
Teva (pronouned "teh-vah," not "tee-vah"), with its chunky foam soles and user-friendly velcro straps, has typically been known as a comfortable option among the camping crowd. In fact, the word "teva" is Hebrew for nature. But I wasn't going to go full-on camper chic for this experiment. I wanted it to be as organic as possible, so I opted out of wearing additional camping staples (like a bucket hat) with my shoes to make my Tevas look and feel way more chic than people typically perceive them to be.
To take a slightly more "fashion" approach, I ended up choosing the Midform Universal in Black and the Midform Universal Glam in White for this challenge.
Considering the fact that Birkenstocks, another popular sandal for nature lovers, are usually glued to my feet, I figured putting together outfits around Tevas would be easy, but I didn't expect what would come in the week ahead.
Day 1
Like any time I experiment with a new trend, I played it on the safe side for the first day, building my outfit around the sandal — or at the very least, not wearing anything that would overpower the look.
What resulted after about 30 minutes of exchanging pieces in and out was the simplest outfit of the bunch: a tube top, straight-leg jeans, and well, Tevas.
Maybe it's just because they're sparkly, or it's my love for dressing like a toddler (something I like to call "kinderdressing"), but I felt very excited to wear these shoes! I mean, just look at them — how can you not feel a little happier when you look at these glittery, comfortable sandals?
Day 2
When I started this challenge, I knew I wanted to style this chunky sandal with something a little more dainty, hence why I decided on this floral midi dress. But for some reason, I couldn't leave the house like this. I even tried a trendier take with the biker shorts (but let's be honest, that would have looked like I got the front of my dress stuck in my shorts—not cute).
Looking at this outfit from various angles, I dubbed the ensemble too frumpy for my liking, and made a last-minute decision to wear sailor pants and a t-shirt before heading out to lunch.
As I shared my former outfit with a friend later that day, she noted that I looked like Constance Wu's character on Fresh Off the Boat. Given that I want to be Wu when I grow up, that's a win in my book. I guess I'll be revisiting this outfit formula in the future.
Day 3
Since I had spent the first two days of this challenge in my sartorial comfort zone, I decided it was time to mix it up with my styling choices. I pulled pieces I hadn't worn for a while, like a short tennis skirt. To keep it from looking too rah-rah, I stuck to neutrals everywhere else, opting for the black pair of Tevas.
I wanted to jazz up the sandals a little more with accessories, and found a bracelet from a clothing tag and turned it into an anklet.
As much as I love the way this makeshift anklet turned out, I sat with my ankles crossed more than I realized and didn't love the feeling of it. So, that's probably a no-go on the anklets for me.
Day 4
This was the first outfit I had in mind when I started thinking about how to style the chunky sandal, so needless to say, I was the most excited to wear this one. Blame it on my nostalgia for the '90s, but I felt pretty cool.
Perhaps it's the fact that these shoes aren't your standard choice when heading out for a night of dancing, but my Tevas actually gave me an extra confidence boost. I played up the fun vibe of the glittery shoes and decided to match my makeup with my hair, sporting a lavender eye.
I've said it numerous times and I'll say again: No matter how you perceive your personal style, fashion is supposed to be fun. These shoes reminded me exactly that.
Day 5
At this point, it started to feel like the Tevas were becoming a seamless part of my wardrobe. Styling them with smart trousers and a puff-sleeve top, I felt like I had elevated the shoe to a whole new level.
However, I was slightly concerned that this look would feel a bit too intentional in referring to the '80s. But at the end of the day, I loved it so much I decided to just go with it.
I regret nothing.
Day 6
Earlier in the week, I was discussing this plaid top, a vintage Comme des Garcons find, to a friend of mine. I mentioned how I was at a loss for styling it; it's weird, kind of lumpy, and I don't really wear pink. He suggested a pair of medium wash jeans. After that, I immediately knew I had to wear my white sandals with this look. Voila! You have this outfit.
I still felt a little conscious wearing this look around, mostly because of the top. However, balancing it out with the glittering sandals made it feel more like I knew what I was doing.
Day 7
On my final day of the challenge, I returned to the idea of sporting this athletic, outdoorsy sandal with something more romantic and feminine, wearing a gauzy navy dress with relaxed sleeves. This is easily one of the prettiest dresses I own in my closet of tomboy staples, but with the white Tevas, this seemed like a natural pairing.
I envision wearing this effortless outfit on my dream vacation to some city along the Mediterranean coast (where I'd also be found sipping on a glass of rosé.)
My Final Verdict
At the beginning of this challenge, I stood among the skeptics — especially when it came to wearing Tevas with pieces other than your usual outdoor adventure gear. But in one week, they have reawakened my love and creativity for getting dressed.
Looking back, I found that my favorite looks were a result of putting "clashing" aesthetics together, which came with becoming more comfortable wearing these shoes. Styling this trend is easier than you think; you just have to get over the fact that they're camping sandals. Once you do that, the fashion world is your oyster.
Dare I say they could be a new replacement for my beloved Birkenstocks? There's a good chance they will. After walking in them for hours without feeling a thing, I can't deny the comfort that comes with Tevas, and when they complement my dressier outfits as well as they did, it's hard to imagine other options. There's something pretty sexy about the sound of ripping velcro apart, in my opinion
You will definitely find me wearing these in the future. Sorry, Birkenstocks.