All About THAT Drawer In Christian's 'Fifty Shades Freed' Red Room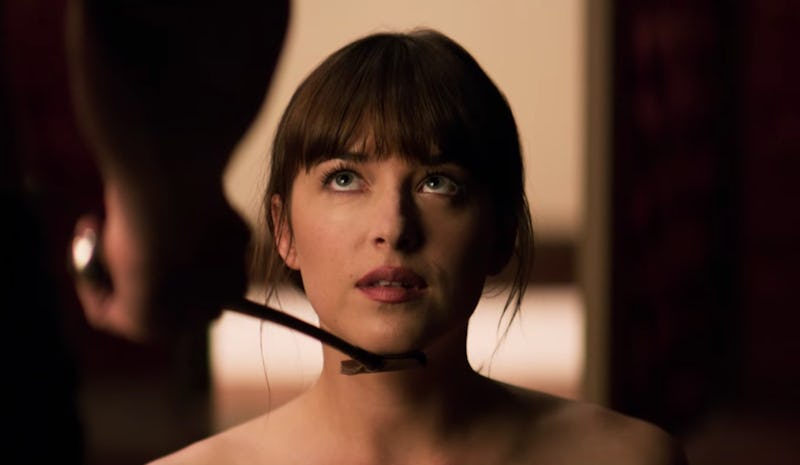 Universal Pictures
A Fifty Shades movie without a trip to the red room would be like, well, any other romance movie. As is tradition, Fifty Shades Freed introduces Ana to a few new sexual pleasures and sex toys in the red room of pain. And, while the toys Ana uses in Fifty Shades Freed aren't particularly scandalous, they are quite intriguing. Gone is the spreader bar from Fifty Shades Darker and the red rope of Fifty Shades of Grey, there are some new hidden treasures of the red room for the audience to discover.
Let's be honest: audiences don't turn to Fifty Shades for the same old vanilla sex scenes (unless they include actual vanilla ice cream — in that case, bring it on). And just because Christian and Ana get married in Fifty Shades Freed doesn't mean sex goes out the window. In fact, during one of their first married trips to the red room, things get pretty kinky when Christian orders Ana to take look into the top drawer. In the drawer are an array of metal butt plugs — something Ana had said was a hard limit during contract negotiations in Fifty Shades of Grey. Though at first Ana shuts the drawer and shakes her head, she ends up taking the toys out for a good time. (But no, there are now graphic shots involving butt plugs.) Fans will likely recognize this particular sex toy from E.L. James' original Fifty Shades Freed book.
The butt plug cameo might be the most talked about sex scene in the film, but for Dakota Johnson, who plays Ana, it didn't really stand out. It was actually the handcuffs, blindfold, and bondage frame combo that made more of an impression — and not the good kind. "There was a scene where Ana's chained to a drop-down gate that is in the red room and blindfolded, and she's handcuffed by her wrists and feet," Johnson described in an interview with Elle. "That was difficult, because no matter how much you know that the environment is not real and how much you are protected and safe and can work at your own speed, your senses are deprived."
Despite having worked on the films on and off for the past four years, Johnson revealed that it was a traumatic scene to shoot. "I couldn't really control it, so that was a difficult moment. My body betrayed me — you call into a panic attack without being able to decide whether or not to have a panic attack."
It's safe to say that what works for one person might not work for another, and that's OK. However, if the Fifty Shades Freed red room scenes sound exciting to you, Lovehoney recently released a new line of Fifty Shades Freed-inspired sex toys. Though not the same ones as used in the film, some of the toys will definitely look familiar to fans. There's even a special Fifty Shades Freed Pleasure Overload 10 Days of Play Gift Set perfect for bondage beginners.
"Lots of people got their first taste of pleasure products and soft bondage from reading the books," said Lovehoney Product Director Bonny Hall in a statement, via Refinery 29. "The products are designed for fans of the Fifty Shades books who want to inject some mystery and intrigue into the bedroom." The collection also includes silky rope, a riding crop, and leather cuffs, all things used by Christian in the films. Bonus: there is an official Fifty Shades Darker butt plug as well.
Don't knock Christian Grey's brand of "kinky f*ckery" until you try it — but if you do try it, please remember to do so responsibly. Safe sex is fun sex.