The Definitive Ranking Of Capri Sun Flavors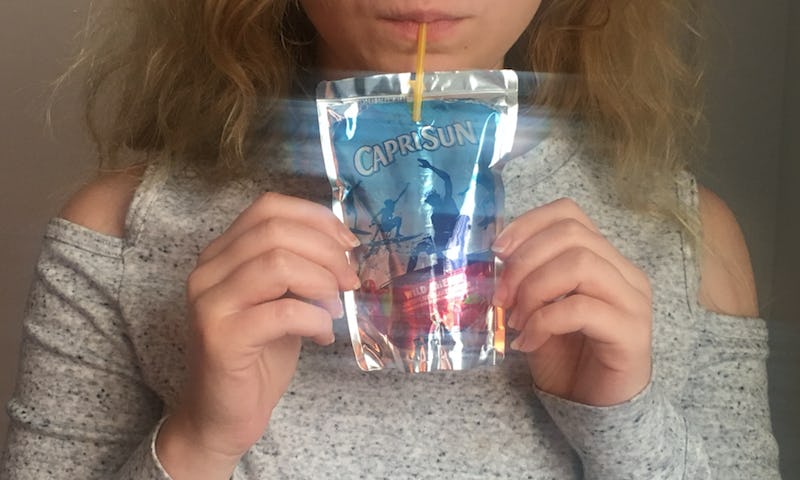 Cristina Arreola/Bustle
In the halcyon days of the '90s, when our tips were frosted, our clothes were bedazzled, and our bodies glittered, nothing was quite so refreshing as the first sip of a freshly-punched pouch of Capri Sun. It was the rare juice beverage tooth-achingly sweet enough for us to enjoy, and covered in enough pictures of fruit for our parents to feel good giving it to us.
First launched in Germany in 1969 under the name Capri Sonne, the fruity beverage became a staple for '90s recess, lunch, and weekend soccer games. But not all Capri Suns were created equal. I shudder to think of how many 8th birthday parties were ruined because, after a rousing game of tag, guests were horrified to discover that the cooler was full of *gasp* orange flavor.
While everyone had their own favorite pouch, there was an obvious hierarchy in the Capri Sun world, with the complex Coolers and exotic Punches vastly outperforming the single fruit flavors, like grape and lemonade. And though it may come as a surprise to those of you who pay your own rent, and no longer enjoy recess, Capri Sun is actually still around, and it is our responsibility as wise, experienced, only slightly emotionally-stunted children of the '90s to make sure today's youth don't make the same beverage mistakes we did. So, with that in mind, here is the definitive ranking of Capri Sun flavors (for the children).