'Big Little Lies' Season 2 Is Officially Happening & Needs To Explore These Storylines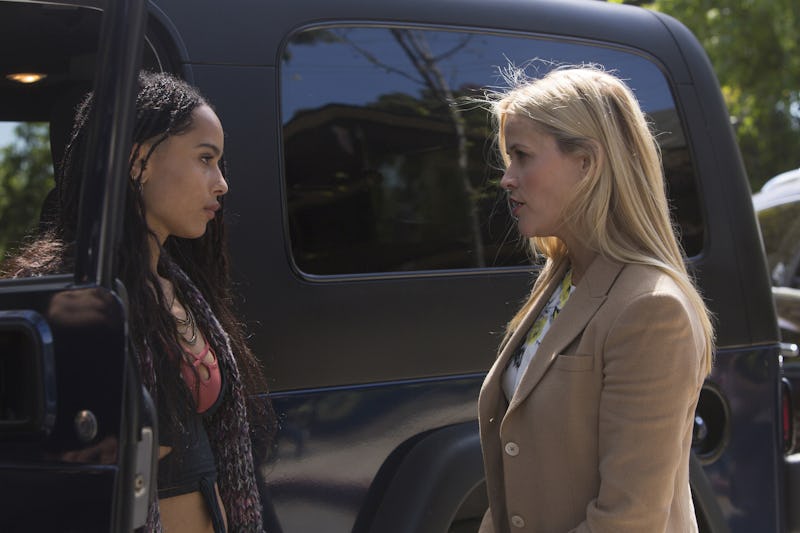 Hilary Bronwyn Gayle/HBO
After eight Emmys, ample hot takes, and months of contentious deliberation, it looks like Big Little Lies Season 2 is officially happening — at least, according to sources that confirmed the news to TVLine (HBO has yet to comment). Whether or not the series warrants more episodes has already been discussed ad nauseam, and now it's time to resign to the fates of television and embrace that, at some point, the moneyed town of Monterey will once again pry open its glass walls and bare its soul to screen. The question is no longer, "Will it happen?" but, "What will it look like?"
First off, it should be said that these characters do have stories left to tell. The women depicted are rich, complex, and honest, and in an industry still largely catered to the male gaze, they add necessary perspective. Their struggles are important. Their voices are worth hearing. But the issue was never with quality or content, it was with intent. The first season covered the entirety of the Liane Moriarty novel it's based upon, and was both designed and billed as a mini-series. Any continuation, then — no matter how compelling — is a response to demand, not inspiration. Inherently, that makes it feel less authentic.
That being said, the show is backed by some of the most in-demand talent in Hollywood, many of whom have gone on record to say that they would only do a Season 2 if felt natural, not forced. Considering how brilliant Big Little Lies' first season was, if its team has faith in their vision, perhaps we should, too.
And certainly, there's material left to be mined. The first season was a slow, mesmerizing crawl toward a town-shifting murder and the circumstances that prompted it; Season 2 seems primed to examine the aftermath. Will Bonnie come forward, as she did in the original book? Or will the women band together and cover up her crime? The finale seems to suggest the latter. During the episode's final moments, the women strolled down the beach, content and free. But from afar, someone peered at them through binoculars — perhaps a detective, unconvinced that Perry's death was accidental, or a witness who might threaten to come forward lest the women comply to their demands. Either way, someone is watching, and that will likely be a driving element in Season 2.
At a broader level, Jane (Shailene Woodley) and Celeste (Nicole Kidman) will have to cope with the death of their abuser, which could raise conflicting feelings rarely explored on-screen. Perry may be gone, but Jane will still have to confront the lingering trauma of his assault, and Celeste will have to come to terms with the loss of her husband — someone she simultaneously loathed and loved — as well as comfort her children, both too young to understand who their father was and the reason for his death.
And perhaps, Big Little Lies' second season can also course-correct one of its biggest missteps. Its first outing regrettably fell back on TV's tendency to cast aside minority characters in favor of their white counterparts. The novel lent some backstory to Bonnie's motivations — she was abused by her father in her youth, and the sight of a man hurting a woman ignited a long-buried rage — but it was largely glossed over on-screen. Big Little Lies is already a predominantly white show, and it would serve them well to better utilize the sole woman of color in their main cast. Having one diverse character does not presuppose inclusive story lines.
So, there are still stories left to be explored, and quite powerful ones at that. Whether you're fervently on board or staunchly opposed, Big Littles Lies Season 2 is happening. All we can hope is that it will live up to its precedent.