Christian's Job Outside Of 'The Bachelor' Makes Him An Ideal 'Winter Games' Competitor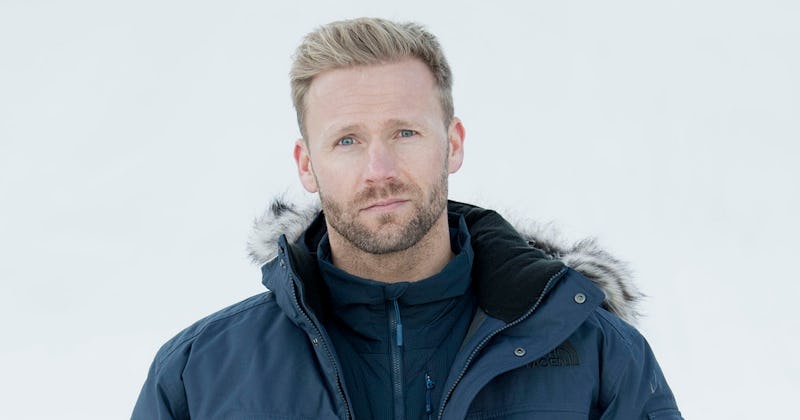 ABC
At its core, The Bachelor is supposed to be all about finding love, but Winter Games is adding an athletic component. So when the franchise recruited international contestants, it only made sense to bring on some seriously fit people. Christian on The Bachelor Winter Games competed on The Bachelorette in both Germany and Switzerland. In Christian's bio for The Bachelorette in Switzerland, it says that he "could not live" without sports. And based on Christian's job outside of The Bachelor franchise, that appears to be true since one his jobs is all about fitness.
The Bachelor Winter Games will be Christian's third time on a Bachelor show and he's been in a different country each time. Although Christian didn't have success on Die Bachelorette in Germany when he competed in 2014, the first Bachelorette of Switzerland, Frieda Hodel, chose him in 2015. Their romance didn't last long though with the Swiss publication Schweizer Illustrierte reporting that Christian and Frieda broke up just a month after the finale aired. But The Bachelorette opened doors for Christian in other ways outside of dating. His Bachelorette bios noted that he pulled double duty working as an airport employee and personal trainer, but that doesn't seem to be the case years later. According to Christian's personal website, it looks like he dropped the airport gig and is focusing on his fitness career.
Christian's website states that he's a personal trainer and a nutritionist (which is an "ernährungsberater" in German). He lists that he can help clients with nutrition counseling, muscle building, diet, relief of physical discomfort, and increase in physical well-being and performance. Beyond that aspect of his career, he says he is as a model and a personal shopper on his Instagram page.
Christian calls Switzerland home now, but he is originally from Germany. And before he was on The Bachelorette, he was a professional soccer player. He played for two football clubs (FCs) in his native country — Ludwigsfelder FC and Berlin FC Dynamo. So when you combine his current physical training career, his past soccer career, and the fact that he has lived in two countries that the Alps run through, he's pretty absurdly qualified to compete in The Bachelor: Winter Games. Frankly, if The Bachelor wanted to do a Summer Games (and no, Bachelor In Paradise doesn't count), he'd be suited for that too.
Photos fromWinter Games appear to show that the contestants will be competing in a biathlon — which is a where athletes do both cross-country skiing and rifle shooting. Although Christian's Instagram page doesn't show that he has any experience in that specific sport, he's no stranger to skis. After all, the Berlin, Germany, native currently lives in Zürich, Switzerland. So he has a couple photos of himself looking at home on the slopes on his Instagram, including this one at Wengen Jungfrau, which is a summit of the Bernese Alps in Switzerland.
He also shared a photo of him skiing in 2016. His caption, roughly translated using Google Translate, says, "On the boards ... Have a great Sunday."
Christian isn't a professional alpine skier like the people you will see in the actual Winter Olympics over on NBC. But these photos help to prove how physically active he is, which is essential to his job as a fitness trainer. And beyond skiing, he shares photos on Instagram where he's sporty in other ways — whether it's outside, in a boxing ring, or at the gym.
While the professions of personal trainer, former athlete, and model aren't very unique when it comes to Bachelor Nation, Christian's active lifestyle is ideal for Winter Games. And since he's good at both winning sporting games and hearts, he's most likely going to be one to look out for when The Bachelor Winter Games premieres on Feb. 13.