Why Christine McConnell Is The Perfect Host For This Totally Bonkers Netflix Show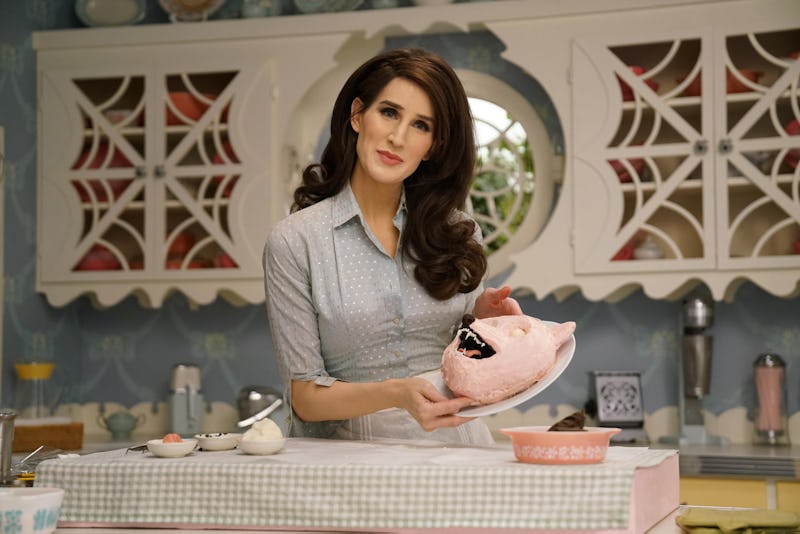 Netflix
What do you get when you combine baked goods, arts and crafts, Muppets, a '50s aesthetic, and a haunted house? Netflix's The Curious Creations Of Christine McConnell. Just like her new TV show, Christine McConnell's job is hard to pin down. But her eclectic how-to series, premiering Oct. 12, combines all the skills that have helped make her a star. So while McConnell may struggle with succinctly answering what her profession is on tax documents, viewers will benefit from the fact that this self-made artist has many talents.
The Curious Creations Of Christine McConnell features McConnell baking spooky treats and sewing elaborate decor. Each episode, a guest stops by to hang with McConnell and her puppet buddies. In an interview with Den of Geek, McConnell called Curious Creations a "weird mishmash of The Addams Family and a Martha Stewart how-to show." And the series' slightly indescribable nature is a reflection of its star.
McConnell gained fame thanks to her Instagram account. While she hasn't posted a ton in 2018, over the years she's share creepy and intricate cakes, recreations of old family portraits, and other Halloween-adjacent fare. Outside of social media, she's also a published author: She released her first cookbook, Deceptive Desserts, in 2016.
On top of that, she's had a hand in a number of entertainment marketing campaigns. She hosted a murder mystery event for Murder On The Orient Express, did a series of photo shoots for Alien: Covenant, created a Stranger Things spread, and baked a Freddie Mercury cake for the upcoming Bohemian Rhapsody biopic.
In a 2016 interview with Los Angeles' CBS affiliate, McConnell explained she doesn't have any formal training. "I didn't go to school for any of this. I don't have like a college degree or anything fancy," she said. "It was all just trial and error and watching YouTube videos basically. So like, if I had a question, YouTube was my teacher." That means that when it comes to her baking, sewing (she mentioned to CBS how she makes all her own clothes), set designs, modeling, and photography, she is completely self-taught.
As McConnell told Den Of Geek, she didn't have a planned career path. "I was doing secretarial work in my 20s, and not very well. I decided to stop doing that and I went to hair school," she explained. "I was thinking, 'Oh, maybe I could end up doing hair for people who are on TV, or in movies, or something like that.'"
McConnell continued: "While I was doing that, I started doing these photo shoots. Once I got out of that school and actually started practicing it, I just, in all of my free time, started baking. A girlfriend told me about Instagram and was like, 'Oh, you should get that.' So I did it and its just been this really slow trickle towards where we are now. It's just been a weird roller coaster to this point."
As you can tell, McConnell's list of accomplishments is long. And with Curious Creations, she can now add TV host to her résumé.