Why Clare Needs A Win On 'Bachelor Winter Games'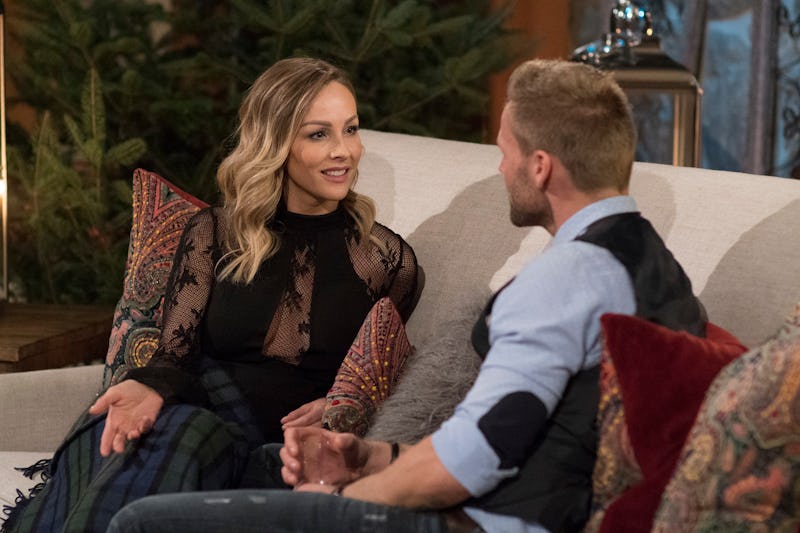 Lorenzo Bevilaqua/ABC
The Bachelor Winter Games is both exciting and taxing for Bachelor fans — exciting because it's a new show of our favorite franchise (don't even play), but taxing because the Bachelor rolodex is long, and sometimes it takes a while to remember all of these old contestants! But one I just can't forget is Clare Crawley. She made her debut on Juan Pablo's season of The Bachelor before heading to Bachelor In Paradise (twice), and now, Clare is making an appearance on The Bachelor Winter Games. What has Clare been doing since Bachelor In Paradise?
The first time America saw Clare on The Bachelor, viewers fell in love with her — she was bubbly and vivacious and beautiful, and Juan Pablo seemed really into her, too. She then appeared on Bachelor In Paradise twice, before swearing off dating on television… until now, in The Bachelor Winter Games. But in those few years between seasons of Bachelor spinoffs, Clare seems to have led a pretty normal life. She's a hairdresser in Sacramento, and you can even make appointments online for her to do your hair at DeFacto Salon, where she works. She has a bit of that Instagram influencer thing going on, but from a look at Clare's social media, it doesn't look like she's selling anything that she wouldn't use. Of course, there's the must-have HelloFresh partnership, but Clare also helps sell everything from curling irons to laser hair removal. This doesn't feel weird, because Clare works in beauty. It's literally her job to be an expert on these types of products.
And as for relationships, most of the pictures on Clare's Instagram feature nature or her dog, so it's safe to say that she has been single for a while now. That must be why she's chosen to jump on that Bachelor train once again. It doesn't work all the time, but happy couples have emerged from the show. Why not, I guess? Clare is super supportive of her Bachelor family, too, so she doesn't have any bad blood with the show.
It's not like being on national television has been great to Clare, though. On The Bachelor, Clare, being a modern, free-spirited, and smart woman, opted to invite Juan Pablo for a late-night dip in the ocean when the show visited Vietnam. During that dip, Juan Pablo and Clare hooked up, and everything was fine… until Juan Pablo pulled Clare aside at the rose ceremony to tell her that whatever they did, they can't do again, because he doesn't want to set a bad example for his daughter or whatever. He said, "I hope nobody knows. It was a little weird for me. I'm too fair with people … Maybe it wasn't right. I have a daughter, I don't want her to see what happens, if she sees it."
This was particularly frustrating for Clare, who thought that both parties had been game for some fun. Juan Pablo ultimately opted to send Clare home as the runner up on his season. To her credit, Clare told Juan Pablo that she would never have children with him, and boy, bye.
On Bachelor In Paradise 1, AshLee Frazier slut-shamed Clare for the aforementioned ocean episode, and Clare, extremely and rightfully hurt by the comments, opted to quit. She had been dating Zack Kalter for a minute, but it wasn't serious. On Bachelor In Paradise 2, Clare wasn't really vibing with anyone and she left and said she was quitting the reality TV game. Now that Clare is on The Bachelor Winter Games, she has to be due for a win, right? Clare's tried and failed to find love both in real life and on national television, and, hopefully, her heart is more attuned to winter sports and her time on The Bachelor Winter Games is a success.