Here's A List Of The Major Stores That Will Close On Thanksgiving Day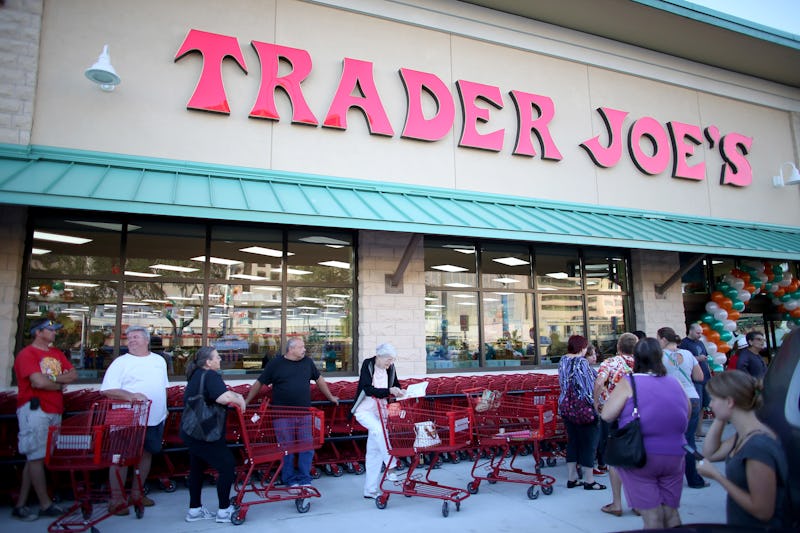 Joe Raedle/Getty Images News/Getty Images
Whether you're hosting at your place or just bringing a dish along to your Friendsgiving or family dinner, Thanksgiving day is bound to be a mad scramble of cooking, cleaning, making yourself presentable, and emotionally preparing for hours of socializing. Needless to say, it's not going to be shocking if you realize the morning-of that you're missing some key ingredients to a must-have dish. Stress. Let me save you a major headache and remind you that there are many stores closed on Thanksgiving 2018, so planning ahead and knowing where to shop before the big day is going to make life a whole lot easier.
While it's hella stressful to know you can't hit one of your go-to stops in the midst of Thanksgiving day madness, we've got to appreciate a store that closes down on a major holiday. It sucks to think of people not being able to take the day off to be with their families and friends (I've experienced it myself!) — and while overtime pay is certainly a nice perk, it's cool when stores ensure their employees get some much-needed R&R for the holidays. So, you know, don't get too upset if your fave store fails you on the big day.
Also, hate to break it to ya, but Mercury will be fully retrograde on Thanksgiving, so the chances of you showing up to a store only to find it's closed (or running into some other miscommunication-induced mayhem) is likely. I'm trying to minimize that risk for you the very best I can, so here's a solid list of what's closed on Thanksgiving 2018.
BJ's Wholesale Club
If you're a BJ's member looking to buy a giant case of vino or other bulk goods (although nothing beats bulk wine, IMO), you'll have to plan ahead, because yes, it'll be closed Thanksgiving day.
Costco
Here's another favorite buy-in-bulk warehouse that'll be closed on Thanksgiving. Once again, if you're attempting to make recipes that require bulk shopping, then you should probably try to take care of that grocery trip prior to Thanksgiving day in an effort to minimize some serious stress.
Cost Plus World Market
Love a trip to Cost Plus World Market, but stock up on the store's unique, artisanal foods and drinks beforehand, because its doors will be shut on the holiday itself.
Fleet Farm
While Fleet Farm's selection of must-have food ingredients and fun holiday decor is extensive, it's a no-go as far as Thanksgiving day is concerned. You're going to have to plan ahead on this one.
Fred Meyer
Supermarket chain Fred Meyer will be closing its doors for the holiday, so although it has tons of Thanksgiving discounts, recipes, and more, you'll have to take advantage of the offerings before the big day itself.
H-E-B
H-E-B may have all that you need supermarket-wise for your Thanksgiving meal (including fall harvest themed recipes, apparently), but it'll be closed day-of, so get your stuff together in advance.
IKEA
OK, not sure how many folks planned to drag their butts over to IKEA on Thanksgiving day, but FYI, they'll be closed. You know, juuuuust in case you needed some of those dank lil' Swedish cookies for your Thanksgiving spread (which, TBH, isn't a bad idea).
Pet Supplies Plus
Thanksgiving = big time food holiday. Obvs you're not going to forget your dinner, but do not run out of chow for your pups, kitties, and other animals — because Pet Supplies Plus (and most other major pet chains) will be closed on Thanksgiving. Stock up beforehand.
Publix
Publix supermarket chain will be closed for the Thanksgiving holiday. Spare yourself the drama of arriving to a locked door and head there pre-Thanksgiving to get what ya need.
Sam's Club
Sam's Club, another warehouse, bulk-buy store, is closed on Thanksgiving. Seriously, y'all, if your recipes require bulk-sized ingredients, practice self-care by prepping before the holiday.
Sur La Table
Let's all cross our fingers that you don't forget to buy a new pot, pan, serving tray, or other kitchenware must-have, because the go-to spot, Sur La Table, will officially be closed Thanksgiving day. Prep your cooking utensils early so you have time to make a store run if necessary.
Trader Joe's
Deep breaths in, because, well, news. A day without Trader Joe's is a day you will soon have — and that day is called Thanksgiving, so you'll have to grab your TJ's holiday staples in advance, peeps. I too am a certified Trader Joe's addict, so I know the strug is super real. We got this.
Final note for my fellow last-minute messes: If you do find yourself in a last-minute tizzy on Thanksgiving day (no judgies), here's a list of what's open on Thanksgiving 2018 so you can cover your procrastination-fueled bases if necessary. Xoxo, you're welcome.