What Deva From 'Dating Around' Was *Really* Thinking During That Awkward Date With True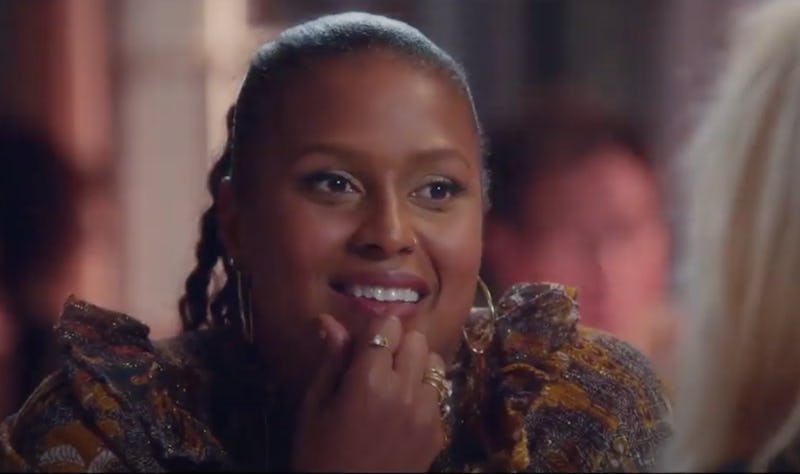 Netflix
One of the most compelling people featured in Dating Around Season 2 is Deva Mahal, an R&B singer who embodies the life and soul of New Orleans. After five dates, she ended up choosing to go out with a local artist named Maria for a second time, largely because of their "instant chemistry," Deva says. Maria's confidence was magnetic, and she had a "cheeky, funny, energy" that immediately drew Deva in. But while the two ended up going on a couple of dates afterward, their romance ultimately fizzled out.
"We still talk," Deva explains. "She's really talented, and just a really special person."
In contrast, not all of Deva's dates hit the same highs, and near the end of the episode she notably clashed with True, a property owner who's polyamorous but only wants the women he dates to see other women, not men. When Deva asked if True realized he was being misogynistic, he pushed back. It was a striking and dissonant moment, particularly compared to the other four dates that ended relatively well for Deva. "For me, it was a very clear representation of somebody who is dealing with some issues about control, and about his own experience with his sexism," Deva explains. She didn't want to be cruel and diminish what she thought was likely a past "trauma that he experienced that shaped his thinking," but she also felt compelled to speak up.
"I wanted to approach it with some sort of empathy," she says. "[But] it was one of the strangest dates I've ever been on."
Since filming, Deva has immersed herself in her music, and lately she's been using her art and her platform to speak out amid the nationwide protests against systemic racism and police brutality. "My heart is breaking, you know?" she says. " Just the rage and the anger and the pain and the feeling of having that boundary where [you're saying], 'Enough is enough.'"
In the wake of George Floyd's killing by police, Deva recorded an "at home edition" of her song "Fire" in support of Black Lives Matter. She was doing an Instagram Live fundraiser in conjunction with the ACLU of Minnesota when she realized "Fire" was the perfect song to perform for that moment. "It just felt like all the words meant something 100% completely different," she says. "When we ran through it, it just felt like, 'Oh my god, this is how I feel.'"
Deva adds that the deaths of George Floyd, Breonna Taylor, Tony McDade, and countless other police brutality victims feels like a "devastating" and "constant reminder" that you "don't matter as much," particularly as a Black, sexually fluid woman. "It's like the most profound reminder your life can be taken," she says, noting how traumatizing it is to acknowledge that the people you pay to protect you can then turn around and take your life.
You can hear Deva's anger and anguish in "Fire," which is also featured at the end of her Dating Around episode. "It's been a long time coming/Though it's in the strong/A real strong warning/That you try to fight/But this a losing battle...I was set on fire/And you can't heal these burns," she sings while the credits roll.
As Deva says, her art mixed with her activism is how she's choosing to share herself with the world at this moment. "That's how I commune with people," she says. "That's how I connect with people."
This article was originally published on