This Is What Ellis Grey Is Doing IRL After 'Grey's Anatomy'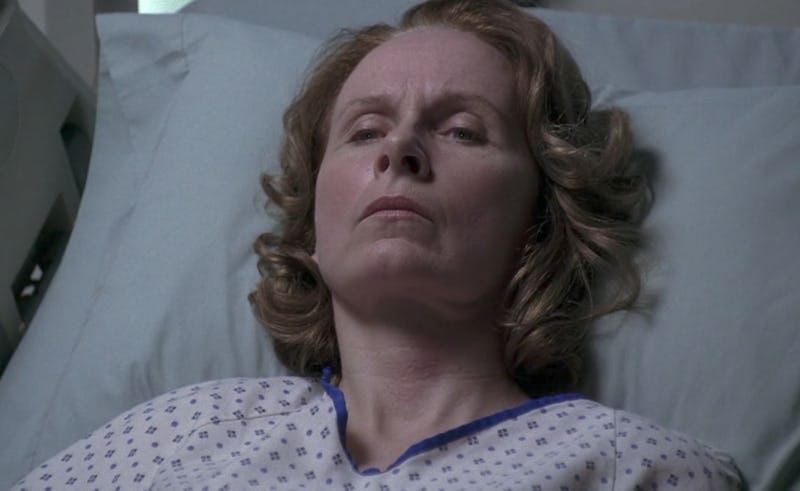 ABC
It's a sentence all Grey's Anatomy viewers got almost as used to hearing as the show's protagonist did — "Her mother is Ellis Grey." Meredith started as nothing more than a lowly surgical intern, but she had the blessing and curse of having some incredibly famous DNA. Ellis, viewers soon learned, wasn't exactly a doting mother, but rather a distant, cold, work-obsessed and sometimes unstable figure in Meredith's life. It's been quite some time since we've seen Ellis, as she passed away following a long battle with Alzheimer's and other health complications. So what is Kate Burton's Ellis doing after Grey's Anatomy? She's still hung around other Shonda Rhimes projects.
The 60-year-old actor shows no signs of stopping, according to her IMDb page. She has two projects in post-production right now, both slated for a 2017 release. She has also logged serious time on ABC's Scandal, also helmed by Grey's Anatomy showrunner Rhimes. There, she plays the former Vice President of the United States, and shares screen time with Jeff Perry's Cyrus, another Grey's Anatomy alumnus who also played Thatcher, Meredith's father and Ellis' ex-husband.
Aside from television and film, Burton is also a renowned stage actor. She's spent time on Broadway in productions like Present Laughter, both the original 1982 production and was most recently in the 2017 revival, which also starred big names like Kevin Kline and Cobie Smulders, according to Playbill. The return to the stage isn't really any surprise, given Burton's repertoire. Playbill also reports in the same article that she is a three-time Tony award winner, taking home the award for her performances in productions of Hedda Gabler, The Elephant Man, and The Constant Wife.
This fall, Burton added yet another item to her resume — she became a professor and master artist at Los Angeles' USC School of Dramatic Arts, according to another Playbill article. "I am greatly honored to be joining the faculty at USC and working with the wonderful Dean Bridel as he moves the School of Dramatic Arts towards new horizons," Burton said in a statement, according to the article. "I have had some magnificent experiences working with the USC faculty and students over the last years and feel blessed to be asked to join them in a more profound way."
Burton herself has several degrees to her name, so academia seems to be yet another natural progression. Playbill reports that she's earned a Bachelor's degree in Russian studies and European history from Brown University and an MFA in acting from the Yale School of Drama. Talk about a qualified professor.
Though Grey's Anatomy certainly wasn't her first or only professional success, by any stretch of the imagination, Burton has said that she found Ellis to be a very interesting role to play because of her complexities and her flaws. "The thing about Ellis is, she's a narcissist," Burton told The Hollywood Reporter in 2014.
"The truth is, at the end of the day, it's all about her. That's what made her so fascinating to play, even with the early onset Alzheimer's. I found her always so intriguing because even though I knew she was a brilliant woman with a terrible disease, the truly most important thing in her life had been her work."
Though she's long gone from Grey's, fans will remember Ellis as an incredibly important character — she gave us the link between Meredith and Maggie, as we found out in recent seasons that Ellis is also Maggie's mother — and she gave us some insight to why Meredith can get so "dark and twisty," as she so famously puts it. She helped us understand some of Meredith's fear — of men, of motherhood, of success, and of sickness. And, it's understanding Meredith's past traumas that makes it all the more rewarding to watch her continue to overcome them.