This K-Beauty Line With A 100,000 Strong Waiting List Is Now Available In Boots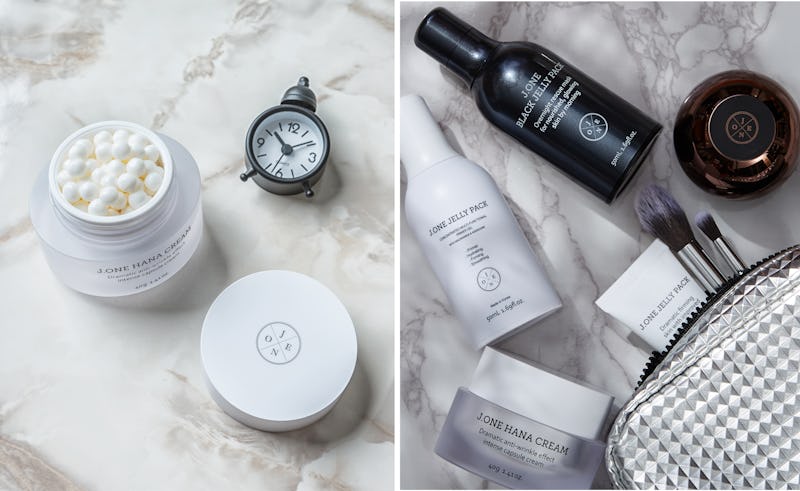 J.One
It's fair to say that Korean beauty has overwhelmingly overtaken any other skincare trend in recent years. While it was initially hard to get your hands on the really good stuff, Korean beauty brands are now readily available when and where we need them. The introduction of J.One in Boots stores is the best example of this. So what's in Boots' J.One collection and what should you be buying from the brand?
J.One was launched in order to give beauty consumers the chance to try out Korean beauty products without having to undergo the long-winded, 10-step routines Korean skincare is so often associated with. The range was created by famous Korean actress and influencer Ha Ji-Won, and focuses on hydrating and plumping.
The best-known product within the range is the J.One Jelly Pack, which you most likely will have spotted on your Instagram feed at some point. It claims to deliver "extreme hydration" and features a fragmented form of everyone's favourite hydrating ingredient hyaluronic acid. The formula is revered for its multitasking nature (it's a treatment, mask, and primer in one) and its ability to prep skin so effectively for makeup, "gripping" onto product for increased longevity.
YouTube channel Beauty By Jelly Bean claims the Jelly Pack is the best primer she had ever used, despite the slightly unique tacky texture. Editors such as Byrdie's Faith Xue have also raved about the product, saying it gave her "the smoothest skin ever."
The concise range also includes the J.One Black Jelly Pack (a night-time version of the original) and the J.One Jelly Cream, which works to plump and hydrate skin. The brand's newest launch, the Hana Cream, along with its other three products, are now available in Boots. The Hana Cream has created quite a name for itself already overseas.
"When the Hana Cream launched in Sephora it sold 10,000 units in 5 hours and continues to be a best seller," reads the brand's press release. "There was a Pre Order list of 100,000 people in the UK wanting to purchase J.One, which is why the range is now launching in Boots."
The unique cream is targeted towards skin with fine lines and those concerned with ageing, as it contains proteins and peptides that lift, firm and boost elasticity. It also features fermented black tea and water lily, both of which are effective antioxidants, while niacinamide and sea daffodil extract are included in order to target areas of hyper pigmentation.
Luckily for us, the Hana Cream is available in two sizes and at two price points (£22 for 20g, and £38 for 40g) so we can all get in on the action, regardless of our budget. J.One is also available on Cult Beauty and has been for some time, although it's great to hear the brand will now be available in bricks and mortar stores for trying before you buy. You can now shop J.One's full range over on Boots.com and in Boots stores. I recommend picking up the beloved Jelly Pack and giving the new Hana Cream a try.