Lilly Pulitzer Just Released A Summer Line & It's Beach Party Goals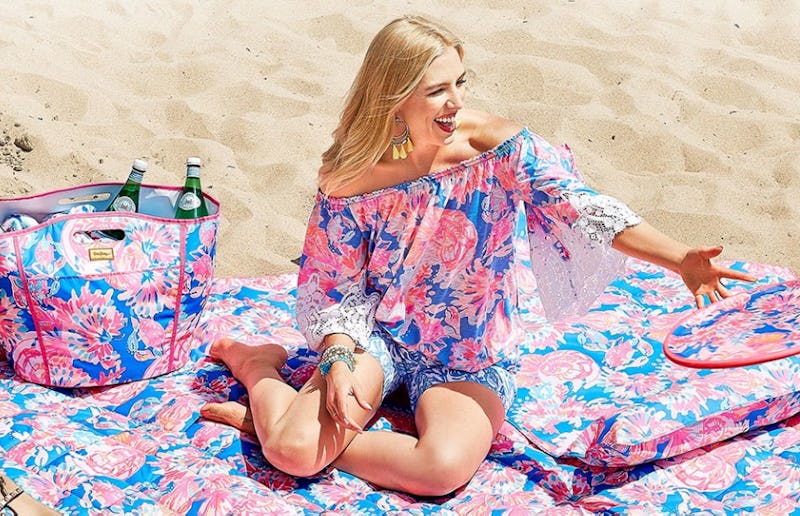 Lily Pultizer
Birds are chirping, bees are buzzing, and flowers are blooming. So, that could only mean one thing: Summer is on the horizon. But before you jump at the prospect of heading off to some exotic island, you've got to get your wardrobe in check. Enter: Lilly Pulitzer's summer collection that launched just in time for beach season.
Ahh, the summer. It's that time of year when the sun caresses your skin, cocktails and relaxing poolside go hand-in-hand, and sunnies are always in reach. Transporting you to a sunny paradise before the season even officially kicks off, Lilly Pulitzer's new offerings are the must-haves your summer wardrobe needed as of yesterday. Featuring classic silhouettes and the festive prints that fans of the brand know and love, the collection has hitting the boardwalk, cruising with the top down, and party at the beach house written all over it.
It's more than just a collection of flowy dresses, cropped shorts, and jazzy rompers, though. The new arrivals are all about that high you feel during the first weeks of summer when you finally feel sand between your toes or getaway from the office. Launching with a "That Feeling When..." campaign, here's a peek at what you can snag to look your best as you feel those summertime firsts.
The collection fits sizes 00 to 16, or XXS to XL. While there's certainly room to grow when it comes to sizing, the line still serves up a lot to love.
There's nothing quite like the first time you feel the sun's warmth on your shoulders and back after a grueling winter. Perfect for soaking in all of the rays, the Moira Top is an off-the-shoulder piece with comfort and flair.
A ruffled neckline and bell sleeves are the fun additions that give it vacay vibes. Paired with the "Bennet Blue" Kelly Skinny Ankle Pants, it's the ultimate ensemble for enjoying adventures outdoors in style.
Whether you're hanging poolside in flats or hitting the town in wedges, this knit romper is ideal. Its lace details and convenient skort design makes it a versatile piece in your summer wardrobe.
This chiffon fit and flare dress will give you every reason to celebrate the season. Just picture it now turning heads at a dinner party or during date night.
Look to the Luxletic Teegan Sports Bra and Marla Weekender Midi Legging for your outdoor workouts. There's no way their funky print won't dazzle in sunlight, capturing that joy felt when you finally get to feel an ocean breeze or get down and dirty in the sand.
If this jazzy little number doesn't scream Lilly Pulitzer, then nothing does. It features the brand's signature floral print-esque look and even has sun protection built into its fabric. Stylish with a UV barrier? Now, that's what we call a summer must-have.
Spice things up with the sassy Davina Stretch Dress. Its mini length and ruffled straps make it the ultimate summer party dress.
A Lilly Pulitzer classic now with a sleeveless twist, this version of the Skipper popover should be on your wish list. It practically screams summer, featuring a fun print and sleek design that could make it functional no matter what your day's activities involve.
There's nothing like that feeling when you finally let the top down, turn up the tunes, and let your hair flow. Now, that's what summer is all about. As long as you've got styles like the Shay Dress and Del Lago Romper on your side, you're sure to stun as you cruise the town.
Of course, there are plenty more Lilly Pulitzer summer goodies where all of these dresses, rompers, and tops came from. You'll just have to browse all of the brand's new inventory to see what could be in store for your future wardrobe.
Whether you're headed for a resort, attending a backyard barbecue, or painting the town, the collection has something for everyone gearing up to enjoy all of summer's surprises for the first time in a while.