Patrick Starrr's MAC Holiday Collection Is Going To Be Your Entire Christmas List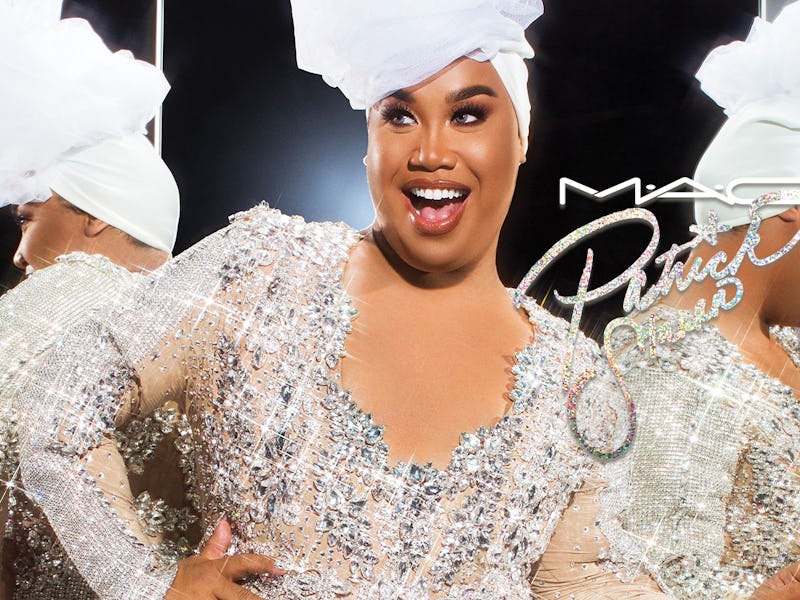 Courtesy of MAC
If you don't know who Patrick Starrr is — which you should — you'll certain know who he is now. The ultra-popular YouTube beauty guru was once a regular ol' MAC employee, but has since glammed up celebs like Kim K and Katy Perry. Now, Patrick Starrr is going back to his roots with the MAC Holiday Collection. If his celebrity wasn't on the rise before, people are sure to take notice once they see his glittering, festive AF collection with one of the world's most popular beauty brands.
MAC has long been championed as one of the most inclusive, diverse brands on the market — and perhaps that's why Starrr chose to work with them. Well, and because he used to be a MAC artist. When the MAC x Patrick Starrr collaboration was initially announced, the guru told Refinery29 that it crafting an inclusive set of products that anyone could use was integral to his work with the brand. Clearly, with the brand's mission of all ages, all races, all genders, MAC was the perfect fit.
Now, fans are finally getting a glimpse into what exactly is coming, and they should hold on to their eyelashes. MAC x Patrick Starrr will make your eyes water from all the Kira Kira-esque sparkles it's putting out into the world.
When Refinery29 broke the exciting news that Starrr was working with MAC, fans immediately discovered that the collaboration was more than just a one time gig. Instead, the brand and guru's partnership will last an entire year with five collections launching seasonally. Starrr is set to launch a 2017 holiday collection on Dec. 14. Collections for spring, summer, and fall will also be released with the collaboration ending with a final holiday 2018 collection.
What's coming in Starrr's first MAC holiday collection? Prepared to be dazzled. After all, Starrr himself is nothing short of dazzling.
1. Eyeshadow Quad in GoalGetter
Starrr's eyeshadow quad is a gorgeous collection of four shadows in muted gold, blush, and burgundy tones. It's basically Christmas in shadow form.
2. Eyeshadow Quad in Glam AF
Glam is a word fans often associate with Starrr — and for good reason. Now, they can point to this perfect shadow quad, too.
3. Set Powder in Patrick's Powder
Starrr's setting powder was the first product to be revealed. Not only is it clearly Patrick Starrr approved, but he's said that it's totally universal and great for baking.
4. Lipglass & Lipstick in She Betta Werrrk
Classic baby pink gloss is a must, right? The best news about this, though? It comes in lipstick form as well.
5. Lipglass & Lipstick in Patrick Woo
Hello, clever adaption. If this name sounds familiar to you, it's because it's a play on MAC cult classic Ruby Woo lipstick — and now it's in gloss form, too!
6. Lipglass & Lipstick in Mama Starrr
This classic nude is basically a must-have. If it's your favorite shade of the three, you can snag it in lip gloss or classic bullet lipstick form.
7. Lip Pencil in Mahogany
Starrr is known to overline his lips, so of course lip pencils made their way into his collection.
8. Lip Pencil in Brick
Brick is such a classic for MAC fans.
9. Lip Pencil in Edge to Edge
Pink hues for the win, amirite?
Clearly, Patrick Starrr didn't come to play with his MAC collaboration. From classic MAC products to his newly formulated MAC powder in Patrick's Powder, there's more than enough to go around for fans of the beauty guru. If you want shop these goods, set your alarm for Dec. 14 and get ready to slay (or sleigh) for the holidays.