This Subscription Box Will Basically Bring Your Pinterest Board To Life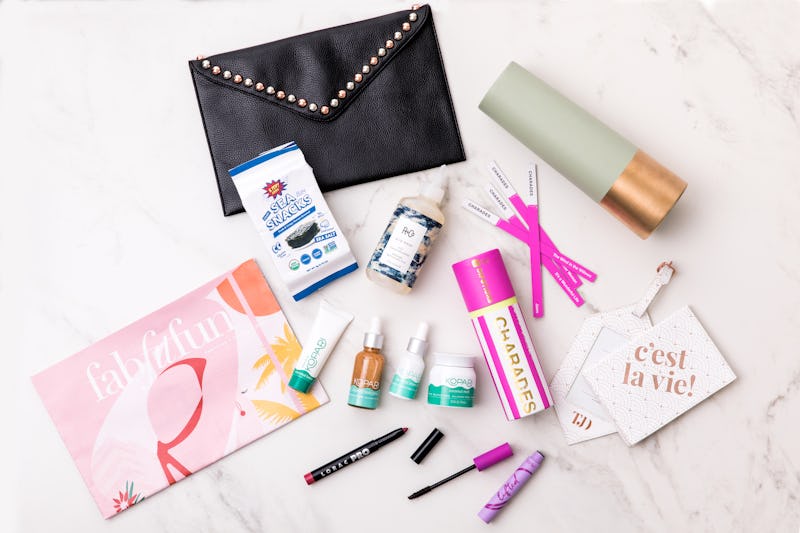 Courtesy of FabFitFun
Thanks to FabFitFun, product hoarders don't even have to leave the house to try the best the cosmetics, fashion and wellness spheres have to offer. Their curated box of goodies is delivered right to your doorstep, so you'd think things couldn't get much better than that. That is until the FabFitFun x Pinterest Box became a super incredible thing.
If you've never signed up for beauty box subscriptions before, this is the one worth making an exception for. FabFitFun's box-o-goodies already live up their hype, having one of the best curated selections of products, ranging from eyeshadow palettes to blanket scarves to skin care devices. The company's seasonal boxes truly have it all, making them so worth their $49.95 price tag.
As if FabFitFun wasn't already winning, they're taking things up several notches by partnering with the social media app that gives users so much inspo in every arena of life. The holy grail FabFitFun box to launch was inspired by Pinterest, and it's the first-ever curated lifestyle set to be fashioned after the app's trends. If everything in the set looks oddly familiar, then it's probably because you're an avid Pinterest user who's going to want the collaborative box ASAP.
Inspiration for what to include within the box all came from the Pinterest 100. So, "What exactly is the Pinterest 100?", you might ask yourself. Well, the answer is very simple.
It's the social site's annual forecast that shows the top trends from users across sectors that include beauty, style, wellness, home, food and more. The report is basically your guide to trying new, buzz-worthy things and staying hip with the trends in every aspect of your life.
So, it only makes sense that a trendy list this good would lead to a killer collaboration with a beauty box service. "Killer" is really an understatement, considering every single item in the curated box is worth adding to your beauty collection.
A home decor essential that kicks the box off with a bang, a Pier 1 Imports Sage Vase is the ceramic stunner included to add character to your living space. Then, for your munching pleasure, K POP crispy seaweed snacks have made it into the summer set, a Pinterest food trend that's sweeping the site.
As fas as beauty gems, the collab includes plenty of must-haves. Take Tarte's Lifted Sweatproof Mascara for example, a volumizing formula that won't fade as you go from hitting the gym to relaxing poolside. There's also the Kopari Coconut Multitasking Kit, a sample set including a cleansing oil, moisturizer, and body glow that's perfect for summer travels. A rose or nude Lorac Pro Matte Lip Color will also have a home inside of the box. And there's a R+Co Acid Wash ACV Cleansing Rinse thrown into the mix, for sleek, healthy hair that looks picture-perfect all summer long.
The FabFitFun x Pinterest collab also features a Jetset Diaries passport case and luggage tag duo, vacay essentials you're sure to love. A Talking Tables Dipstick Charades game is also nestled inside of the box so there's even something for game night worth breaking out when you have your friends and family gathered. Finally, the purchase will come with your choice of a studded clutch or a summer scarf. Talk about really getting a bang for your buck deal.
There are limited quantities of this summer hit, so you'd better act fast to make the Pinterest-inspired box yours. It's truly the best FabFitFun box yet.