A Shade In Kris Jenner's New Eyeshadow Palette Is Called '10 Percent' Because She's SAVAGE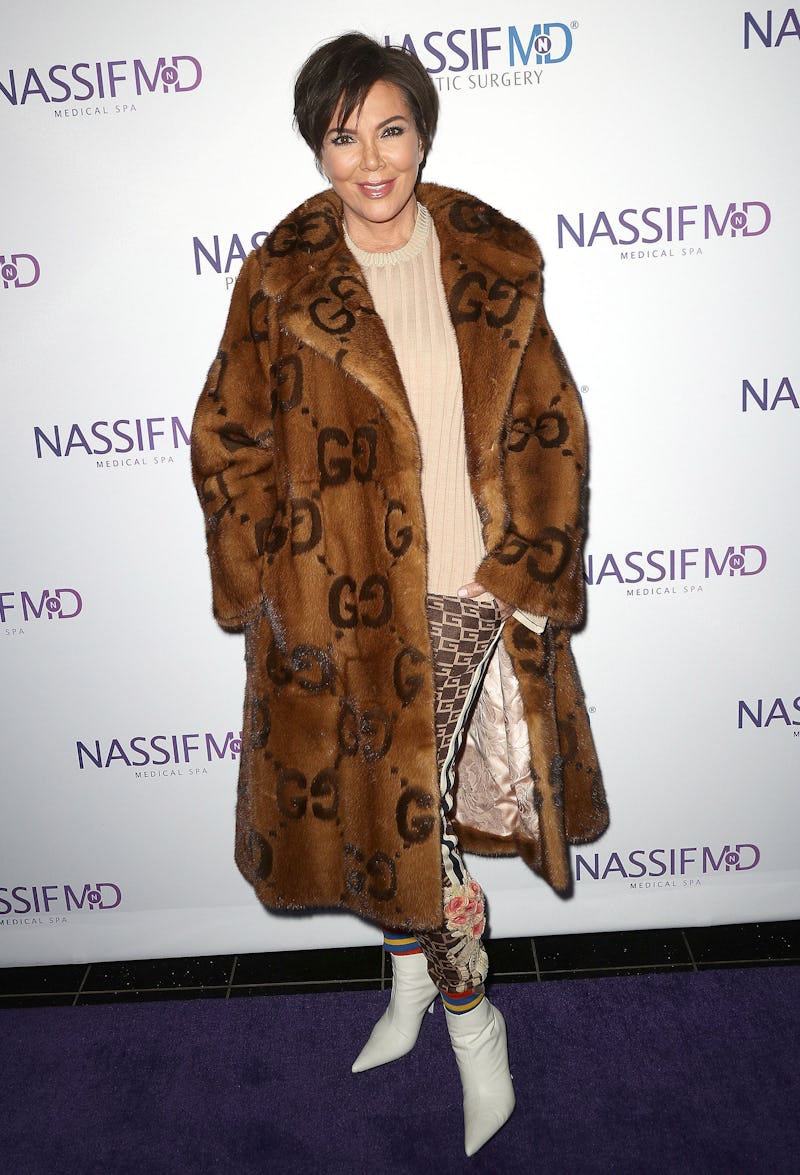 Frederick M. Brown/Getty Images Entertainment/Getty Images
There's a red alert going down in the beauty world, and it's not even Met Gala-related. Kris Jenner x Kylie Cosmetics is happening, and you won't even be able to believe the level of boss bitch vibes that you'll get from this collection.
Everything started on Tuesday when the Kylie Cosmetics Instagram account was allegedly "hacked." As it turns out, it wasn't hacked at all. Kris Jenner had taken over her daughter's brand and turned the entire thing into Kris Cosmetics because Kris is an icon, and your fav could never compete.
Ultimately, Kris and Kylie teamed up to announced that a Kris x Kylie Cosmetics collection was coming, and if Kris Jenner is going to do a collection, then Kris Jenner is going to DO a collection. Guess what? She did that.
Slowly but surely, both Kris and Kylie unveiled the epic, nay iconic, set of products that will be dropping on Mother's Day, and you need to hold on to your lip kits because neither of the Jenners came to play when it comes to packaging and shades names.
What exactly is in the Kris Jenner x Kylie Cosmetics collection? Get ready, Kris fans. Your dreams are about to come true before your very eyes.
Jenner's signature black and white is present through the entire collection, and hello, who doesn't want that middle finger emblem? No one. Can those be sold individually, please?
Inside, things just get even better. The packaging is above and beyond anything else Kylie Cosmetics has ever done. Kris Jenner is a legend, and this collaboration provides it.
First, viewers got a look at Kris's set of eight minis that come in the Momager set. Yes, this is really named Momager because it's Kris, and she's self-aware and brilliant.
The set of minis will come with a mix of mattes, velvets, and glosses with names like Boss, This is Wild, and Overwhelmed.
Next, fans got a look at the You're Doing Amazing, Sweetie highlighting palette. The quad set looks similar to others Kylie Cosmetics has done (like her Wet Set), but with names like Your Sister's Going To Jail and packaging featuring Kris's actual face, it's so much more than anything fans have seen before.
Then, there's the eyeshadow palette that appears to be named "I Have One Word For You Tonight...Vodka." As for the shades, you'll find the iconically name 10 Percent inside this beauty along with other gems like Payback's A Bitch and Vodka Tonic.
Finally, Kris created two individual lippies for the collection, but she only showcased one: a lipstick.
Yes, that is, in fact, middle finger packaging. Is your mind blown yet?
As for how fans are receiving the collaboration announcement? Well. They're receiving it well.
They're calling it iconic.
Kris x Kylie is a need, not a want, people!
See, people need it. Therefore, it's fine to finance it on a credit card, right?
Because Kris is worth every penny.
She's clearly doing amazing, sweetie.
Even those who have never been a huge Kylie Cosmetics fans are a fan of Kris Cosmetics because she's a legend, an icon, the true heart and soul of the Kardashian-Jenner empire. It's Kris Jenner's world, and everyone is just living in it.
Mark your calendars for Mother's Day, Kris Jenner fans. The Kris x Kylie Cosmetics collection is set to head your way so soon, and given fans' reactions to this epic set of products, there may just be a sell-out on the way. You know what they say, after all. The devil works hard, but Kris Jenner works harder.