Miley Cyrus Created A Converse Collection To Celebrate The LGBTQ Community & Pride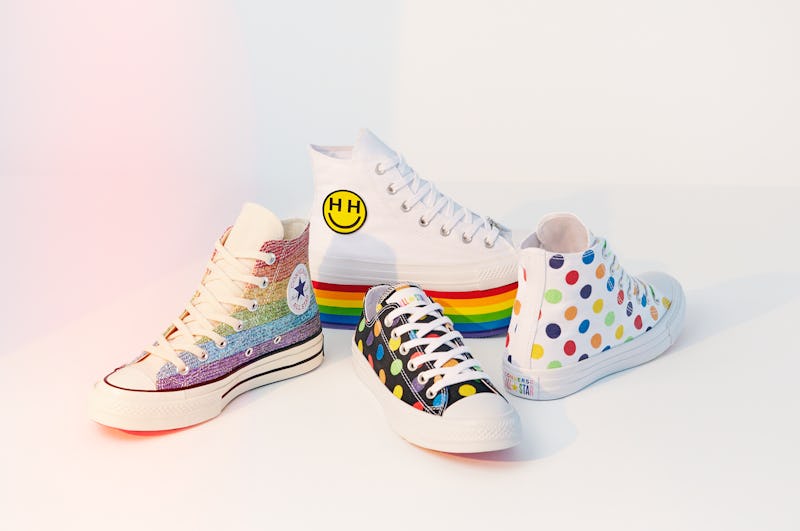 Courtesy of Converse
If you want to show your love of and for the LGBTQ community, especially during June which is Pride Month, you can make that statement fashionably via your footwear. The Miley Cyrus x Converse Pride collection incorporates the movement's signature rainbow into snazzy, fashion-forward upgrades to the shoe brand's instantly recognizable shapes and silhouettes.
But the singer and activist's new Converse range doesn't stop at kicks. In addition to four pairs of sneakers — two high tops and two low — there are accessories and apparel in the form of shirts, pants, and caps.
Miley x Converse Pride is 10 items strong and it's classic — because supporting LGBTQ lives will never go out of style. This range is the perfect follow up to her debut collection, which was also unisex and featured high top, double stacked Chuck Taylor platforms and lots of glitter.
The collection was designed by Cyrus and all net proceeds will support LGBTQ youth community partners globally — among them Cyrus' own Happy Hippie Foundation, which provides direct support to homeless and LGBTQ youth nationally, as well as the It Gets Better Project, Minus 18, and RainbowYOUTH.
This Cyrus Converse capsule can be worn by anyone who likes to add a pop of color to their ensemble via kicks and who wants to display their love for LGBTQ people.
Here's a rundown at the entire collection. You will look good when wearing the shoes and clothes but you will feel even better since your purchase benefits others. If you are a member of the LGBTQ community, wearing any of these pieces is also an act of self-love. It's hardly a simple style move.
1. Rainbow Platforms
2. Glittery High Tops
3. Polka Dot High Tops
4. Polka Dot Low Top
Like so! It's not an emoji — it's the Happy Hippie logo.
5. Pride Pullover
6. Pride Track Pants
7. White Polka Dot Tee
8. Black Polka Dot Tee
9. Polka Dot White Hat
There are polka dots on the underside of the brim, while the yellow Converse branding lives on the inside lining.
10. Black Polka Dot Hat
The shoes are major. They celebrate the notion of being your authentic self all of the time.
Pick up a Pride pair and you'll notice a spring in your step.