Vans Is Launching The COOLEST Disney Collection & The Minnie Shoes Are Extra Adorable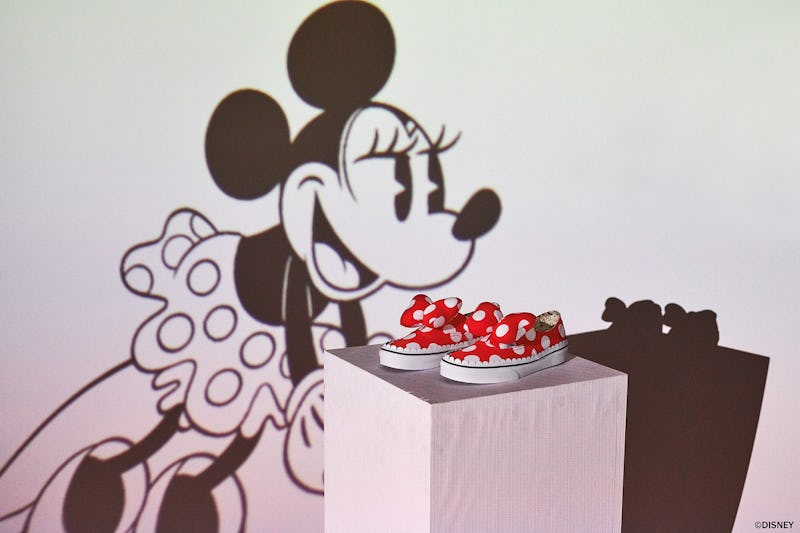 Courtesy of Vans
It's another day, and there's another Disney product. Let's be honest, though. No one can ever have enough Disney no matter what their age. This time, it's not beauty related. Now, Vans x Mickey Mouse is happening, so if you've had your fill of princesses, get ready because this collaboration is going to be the perfect Disney themed fashion good to relive your childhood.
Lately, it seems like there's a plethora of Disney products no matter where you look. Chalk it up to millennials wanting to relive their childhoods or the fact that Halloween is on its way, but there's no denying that Disney is back on trend (not that it ever wasn't), and people want it. Only last week, ColourPop Cosmetics launched their Disney Designer Collection filled with princess themed makeup goodies. Of course, there's the Disney Princess and Disney Villain sheet masks, and Target's got their own Disney beauty line.
If, however, you're not so much a beauty junkie and more of a fashion lover (though, hey, you can be both), the new Vans x Mickey Mouse collection is going to make your heart sing. From super cute new shoes to classic Vans apparel, it's got everything. This time, it's not princesses, and it's not beauty.
What's inside the Disney x Mickey Mouse collection? Get ready to blow your whole paycheck. There's a lot happening in this collaboration, and you'll definitely have it on your must-buy list.
Shoes
Of course, there are shoes. This is a Vans collection after all, and shoes are kind of their thing. You won't just find the classic Vans slip-ons, though (even if the Minnie Mouse ones are to die for).
You've got your pick from high-tops to classic sneakers as well as those Vans slip-ons, and the designs range from an homage to Mickey's role in Fantasia to Minnie Mouse's ultra cute bow.
Accessories
Vans fans will know that the brand isn't just about shoes. They've also got some killer accessories. For the Mickey collection, this means an assortment of backpacks and hats.
Apparel
If you want it, Vans x Mickey Mouse probably has it. The collection has pretty much every article of clothing inspired by Mickey and Minnie Mouse that you could need. From tees to joggers to sweatshirts, there's no shortage of styles.
When can you start shopping the Vans x Mickey Mouse collection? It's set to launch on Oct. 5 on the Vans website. You'll find the entire collection up for grabs there, and in a fun twist, this isn't just a random decision by Vans. The collection celebrates Mickey Mouse's 90th Anniversary and takes inspiration from his journey all the back to his debut film in 1928 until now.
If you love Disney, Mickey, or Minnie, the Vans x Disney Mickey Mouse collection is about to be your latest must-have. Whether it's the shoes that you can't wait to get your hands on or you're looking to rock a Mickey sweatshirt, Vans has it, and it's going to be so good.