Too Faced Is Celebrating April Fool's Day In The Best Way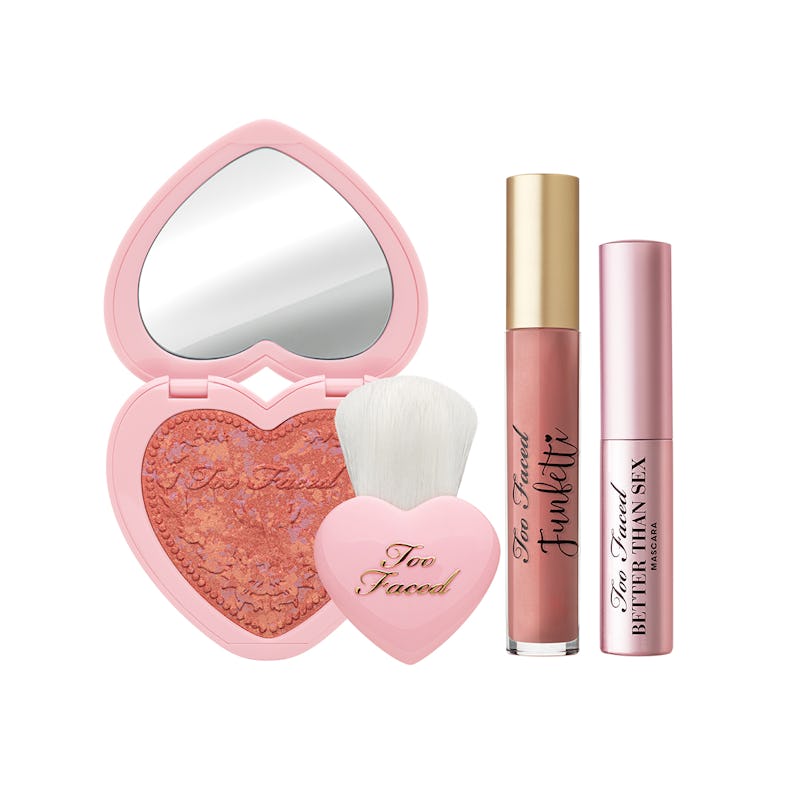 Courtesy Too Faced Cosmetics
Apr. 1 is a rough day, especially for gullible folks like me. But thankfully, there are beauty brands that take special offers very seriously, so they're certainly not joking around this April Fool's Day. I must say, it is greatly appreciated. What's in Too Faced's Love Fool Set? Shop this limited edition range while it's available or the joke's on you!
The brand sent out a promotional email to show off the new online exclusive. The subject line of the email was "We swear this is for real…" and they weren't kidding. When you head to the Too Faced website, you can shop the Love Fool Set, which contains a Funfetti Lip Gloss, Funfetti Love Flush Blush, a Heartbuki Brush and a deluxe size of the infamous Better Than Sex Mascara.
That's definitely not a bad way to celebrate April Fool's Day, if you ask me. You can get the entire range for just $30. These pink-y hues will have you set for the spring season as far as your everyday routine is concerned, making it even easier to shop the brand that doesn't joke around about makeup. Because some things are just too important to kid about, and that can definitely be said of beauty, you know what I mean?
Love Fool Set, $30, Too Faced Cosmetics
Four products for just 30 bucks? This is a must-have for your makeup bag!
Deluxe Better Than Sex Mascara, $12, Too Faced Cosmetics
A mini lacquer from the brand normally costs $12, so the fact that you get one of those along with three other products for just $18 more really isn't bad at all!
Heart-shaped blushes, brushes and a mascara that can be used on-the-go will make your springtime so much better.
Not to mention, the Funfetti blushes are practically a work of art.
A day spent shopping Too Faced goods is a day well-spent, so don't miss out on this limited time offer.