Lee Will Break His 'Bachelorette' Silence On 'The Men Tell All'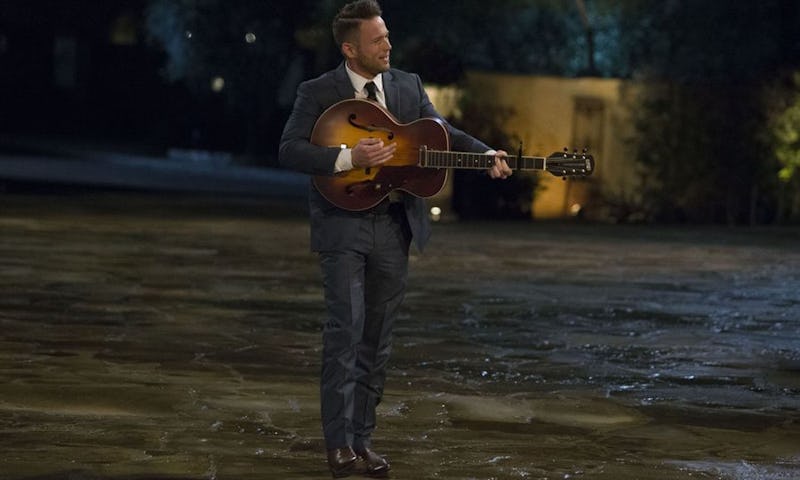 Paul Hebert/ABC
Every season of The Bachelorette brings a new so-called villain, and the latest man to nab the title is Lee Garrett. The singer-songwriter got the boot during Week 5 after stirring up drama with Kenny, and caught flack online when a string of his alleged tweets containing offensive remarks surfaced online. He subsequently privatized his social media accounts, leaving many viewers curious about what Lee is doing now. (When Bustle reached out about the alleged tweets, ABC and Warner Bros. declined to comment. A rep for Lee could not be reached.)
For those eager for an update, not much has changed. His tweets and Instagram posts are still protected, so unless you happen to follow him, it's difficult to track what he's been up to. The bio on his Instagram account describes him as an entertainer, actor, and entrepreneur, so it seems he's branched out from music since his time on the show. He also lists a business called Pure Pressure Power & Paint in Nashville, though the apparent Facebook page for the company doesn't appear to be working.
Anything beyond that, though, is quite the mystery. What we do know is that he'll be featured in The Bachelorette: Men Tell All on Monday night, during which it looks like he'll have a heated confrontation with Rachel. A preview leading up to the special shows both the men and Rachel — who's already made her feelings about Lee clear — finally airing their frustrations.
Rachel said:
"It's so disappointing to me because you had such strong opinions on such sensitive topics, and you turned it into something so ugly. Like, I didn't want to give any life into you, your opinions, or your brief time on the show. You had the opportunity to be about something so beautiful — and I'm not just talking about me, right? And I feel like I'm in such a unique position to where I have the opportunity to be a spokesperson for African Americans, for women."
But, because it's The Bachelorette, we're not offered a glimpse of Lee's response, leaving anticipation high. He could own up to his alleged behavior and apologize, or he could take the defensive route and insist he did no wrong. The latter seems more likely, since he still proudly declares himself "facetious" online (though that's admittedly a step up from his previous "pleasantly offensive" descriptor), but who knows, maybe he'll surprise fans. At the very least, after the episode, viewers should have a clearer idea about what he's doing now.